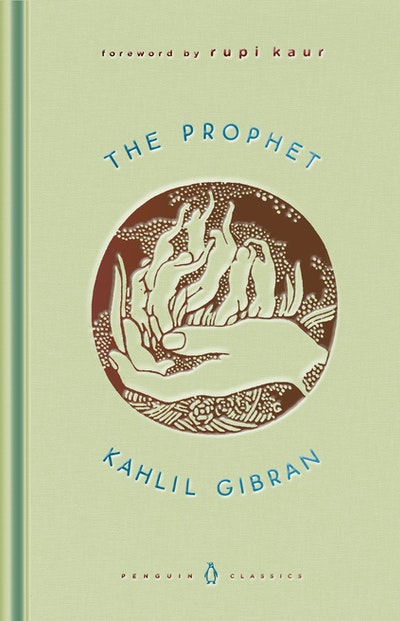 Published:

1 December 1993

ISBN:

9780434290819

Imprint:

William Heinemann

Format:

Hardback

Pages:

128

RRP:

$26.99
The Prophet
---
---
---
Hailed as the Bible of the twentieth century, The Prophet is the iconic religious book in the modern world. This perennial bestseller made Gibran the third bestselling poet in the world after William Shakespeare and Lao-Tzu, the Chinese philosopher and founder of the religious lifestyle Taoism. It has been translated into more than fifty languages and sells over 5000 copies a week worldwide.
The Prophet, an international besteller and translated into over fifty languages, is the best-known and best-loved of Kahil Gibran's many spiritual and religious writings. Inspired largely by the beauty and timelessness of nature, The Prophet, arrayed as twentysix prose poetry essays, speaks of love and marriage, joy and sorrow, reason and passion, beauty and death, and conveys the yearning for a Unity of Being that can only be achieved through love.
These qualities made The Prophet the iconic book of the 1960s counter-culture, which embraced love and spirituality. Illustrated with his own enchanting and mystical drawings, The Prophet is a masterpiece, the most famous work of religious fiction of the Twentieth Century, and a wonderful companion for anybody embarking on their own spiritual journey.
Published:

1 December 1993

ISBN:

9780434290819

Imprint:

William Heinemann

Format:

Hardback

Pages:

128

RRP:

$26.99
His power came from some great reservoir of spiritual life, else it could not have been so universal and so potent, but the majesty and beauty of the language with which he clothed it were all his own

Claude Bragdon
It's packed full of poems and sonnets and words of wisdom. Inspirational stuff

Tamzin Outhwaite, Daily Express
It was all the rage in the 60s, when it was almost like a bible to me. To any question, there was always a simple answer

Cynthia Lennon, Mail on Sunday
A book that changed me ... was The Prophet by Khalil Gibran, which has passages about every section of life. My parents gave me a copy when I left home; it's a bit of a family Bible

Julia Bradbury, Independent on Sunday