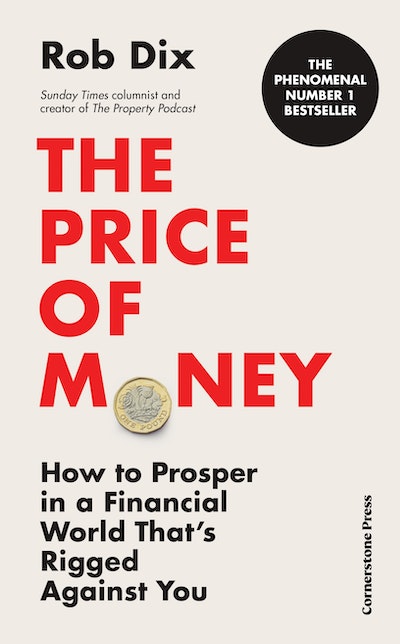 Published:

30 April 2023

ISBN:

9781529910988

Imprint:

Cornerstone Press

Format:

Hardback

Pages:

224

RRP:

$55.00
The Price of Money
How to Prosper in a Financial World That's Rigged Against You
---
---
---
The bestselling guide to why your money is losing value (and what you can do about it).
For centuries, working hard and saving up diligently would have set you up for financial security and a comfortable retirement. Not anymore.
Over the last 50 years, we've entered a new financial world - one where your savings lose value faster than you can build them, a global mountain of debt piles up ever higher, and most people slip backwards however hard they try.
In The Price of Money, a leading investment expert explains what's changed - and what you should do now we're here. You'll learn why currencies the world over have lost 99 per cent of their value, and how to use future declines to your advantage. You'll understand how the government can produce hundreds of billions out of thin air, and which investments benefit when they do. Most importantly, you'll be shown what's coming next - and how to position yourself to gain rather than suffer.
You don't need even the slightest knowledge of economics to read this book - just a desire to understand why the world of money is working against you, and what to do about it.
Published:

30 April 2023

ISBN:

9781529910988

Imprint:

Cornerstone Press

Format:

Hardback

Pages:

224

RRP:

$55.00
Praise for The Price of Money
Dix has produced as lucid and comprehensive account of money and its pitfalls as you are likely to find. In an age of elevated prices it is highly relevant to all our lives.

ALEX BRUMMER, City Editor of the Daily Mail
Dix has produced as lucid and comprehensive account of money and its pitfalls as you are likely to find. In an age of elevated prices it is highly relevant to all our lives.

ALEX BRUMMER, City Editor of the Daily Mail
Dix has produced as lucid and comprehensive account of money and its pitfalls as you are likely to find. In an age of elevated prices it is highly relevant to all our lives.

ALEX BRUMMER, City Editor of the Daily Mail
Dix has produced as lucid and comprehensive account of money and its pitfalls as you are likely to find. In an age of elevated prices it is highly relevant to all our lives.

ALEX BRUMMER, City Editor of the Daily Mail
Dix has produced as lucid and comprehensive account of money and its pitfalls as you are likely to find. In an age of elevated prices it is highly relevant to all our lives.

ALEX BRUMMER, City Editor of the Daily Mail
Dix has produced as lucid and comprehensive account of money and its pitfalls as you are likely to find. In an age of elevated prices it is highly relevant to all our lives.

ALEX BRUMMER, City Editor of the Daily Mail
Dix has produced as lucid and comprehensive account of money and its pitfalls as you are likely to find. In an age of elevated prices it is highly relevant to all our lives.

ALEX BRUMMER, City Editor of the Daily Mail
Dix has produced as lucid and comprehensive account of money and its pitfalls as you are likely to find. In an age of elevated prices it is highly relevant to all our lives.

ALEX BRUMMER, City Editor of the Daily Mail
Dix has produced as lucid and comprehensive account of money and its pitfalls as you are likely to find. In an age of elevated prices it is highly relevant to all our lives.

ALEX BRUMMER, City Editor of the Daily Mail
Dix has produced as lucid and comprehensive account of money and its pitfalls as you are likely to find. In an age of elevated prices it is highly relevant to all our lives.

ALEX BRUMMER, City Editor of the Daily Mail
Dix has produced as lucid and comprehensive account of money and its pitfalls as you are likely to find. In an age of elevated prices it is highly relevant to all our lives.

ALEX BRUMMER, City Editor of the Daily Mail
A pithy and punchy guide that explains in a very engaging and readable manner the essentials of modern finance and economics. It is profoundly useful for anyone wanting to understand why the current global economy is in such a mess, and what that might mean for your own finances.

GILLIAN TETT, Editor-at-Large of the Financial Times
A pithy and punchy guide that explains in a very engaging and readable manner the essentials of modern finance and economics. It is profoundly useful for anyone wanting to understand why the current global economy is in such a mess, and what that might mean for your own finances.

GILLIAN TETT, Editor-at-Large of the Financial Times
A pithy and punchy guide that explains in a very engaging and readable manner the essentials of modern finance and economics. It is profoundly useful for anyone wanting to understand why the current global economy is in such a mess, and what that might mean for your own finances.

GILLIAN TETT, Editor-at-Large of the Financial Times
A pithy and punchy guide that explains in a very engaging and readable manner the essentials of modern finance and economics. It is profoundly useful for anyone wanting to understand why the current global economy is in such a mess, and what that might mean for your own finances.

GILLIAN TETT, Editor-at-Large of the Financial Times
A pithy and punchy guide that explains in a very engaging and readable manner the essentials of modern finance and economics. It is profoundly useful for anyone wanting to understand why the current global economy is in such a mess, and what that might mean for your own finances.

GILLIAN TETT, Editor-at-Large of the Financial Times
A pithy and punchy guide that explains in a very engaging and readable manner the essentials of modern finance and economics. It is profoundly useful for anyone wanting to understand why the current global economy is in such a mess, and what that might mean for your own finances.

GILLIAN TETT, Editor-at-Large of the Financial Times
A pithy and punchy guide that explains in a very engaging and readable manner the essentials of modern finance and economics. It is profoundly useful for anyone wanting to understand why the current global economy is in such a mess, and what that might mean for your own finances.

GILLIAN TETT, Editor-at-Large of the Financial Times
A pithy and punchy guide that explains in a very engaging and readable manner the essentials of modern finance and economics. It is profoundly useful for anyone wanting to understand why the current global economy is in such a mess, and what that might mean for your own finances.

GILLIAN TETT, Editor-at-Large of the Financial Times
A pithy and punchy guide that explains in a very engaging and readable manner the essentials of modern finance and economics. It is profoundly useful for anyone wanting to understand why the current global economy is in such a mess, and what that might mean for your own finances.

GILLIAN TETT, Editor-at-Large of the Financial Times
A pithy and punchy guide that explains in a very engaging and readable manner the essentials of modern finance and economics. It is profoundly useful for anyone wanting to understand why the current global economy is in such a mess, and what that might mean for your own finances.

GILLIAN TETT, Editor-at-Large of the Financial Times
A pithy and punchy guide that explains in a very engaging and readable manner the essentials of modern finance and economics. It is profoundly useful for anyone wanting to understand why the current global economy is in such a mess, and what that might mean for your own finances.

GILLIAN TETT, Editor-at-Large of the Financial Times
This brilliant book offers a singularly clear, accessible and funny introduction to where our economic malaise has come from - and how understanding it can help any of us make better financial decisions. I cannot recommend it highly enough.

IAIN DALE
This brilliant book offers a singularly clear, accessible and funny introduction to where our economic malaise has come from - and how understanding it can help any of us make better financial decisions. I cannot recommend it highly enough.

IAIN DALE
This brilliant book offers a singularly clear, accessible and funny introduction to where our economic malaise has come from - and how understanding it can help any of us make better financial decisions. I cannot recommend it highly enough.

IAIN DALE
This brilliant book offers a singularly clear, accessible and funny introduction to where our economic malaise has come from - and how understanding it can help any of us make better financial decisions. I cannot recommend it highly enough.

IAIN DALE
This brilliant book offers a singularly clear, accessible and funny introduction to where our economic malaise has come from - and how understanding it can help any of us make better financial decisions. I cannot recommend it highly enough.

IAIN DALE
This brilliant book offers a singularly clear, accessible and funny introduction to where our economic malaise has come from - and how understanding it can help any of us make better financial decisions. I cannot recommend it highly enough.

IAIN DALE
This brilliant book offers a singularly clear, accessible and funny introduction to where our economic malaise has come from - and how understanding it can help any of us make better financial decisions. I cannot recommend it highly enough.

IAIN DALE
This brilliant book offers a singularly clear, accessible and funny introduction to where our economic malaise has come from - and how understanding it can help any of us make better financial decisions. I cannot recommend it highly enough.

IAIN DALE
This brilliant book offers a singularly clear, accessible and funny introduction to where our economic malaise has come from - and how understanding it can help any of us make better financial decisions. I cannot recommend it highly enough.

IAIN DALE
This brilliant book offers a singularly clear, accessible and funny introduction to where our economic malaise has come from - and how understanding it can help any of us make better financial decisions. I cannot recommend it highly enough.

IAIN DALE
This brilliant book offers a singularly clear, accessible and funny introduction to where our economic malaise has come from - and how understanding it can help any of us make better financial decisions. I cannot recommend it highly enough.

IAIN DALE
A tour of the nuts and bolts that hold the economy together is not supposed to be interesting, but Rob Dix makes it fascinating. This is a bracing ride through the unexpectedly wild world of money.

ED CONWAY, Economics Editor, Sky News
A tour of the nuts and bolts that hold the economy together is not supposed to be interesting, but Rob Dix makes it fascinating. This is a bracing ride through the unexpectedly wild world of money.

ED CONWAY, Economics Editor, Sky News
A tour of the nuts and bolts that hold the economy together is not supposed to be interesting, but Rob Dix makes it fascinating. This is a bracing ride through the unexpectedly wild world of money.

ED CONWAY, Economics Editor, Sky News
A tour of the nuts and bolts that hold the economy together is not supposed to be interesting, but Rob Dix makes it fascinating. This is a bracing ride through the unexpectedly wild world of money.

ED CONWAY, Economics Editor, Sky News
A tour of the nuts and bolts that hold the economy together is not supposed to be interesting, but Rob Dix makes it fascinating. This is a bracing ride through the unexpectedly wild world of money.

ED CONWAY, Economics Editor, Sky News
A tour of the nuts and bolts that hold the economy together is not supposed to be interesting, but Rob Dix makes it fascinating. This is a bracing ride through the unexpectedly wild world of money.

ED CONWAY, Economics Editor, Sky News
A tour of the nuts and bolts that hold the economy together is not supposed to be interesting, but Rob Dix makes it fascinating. This is a bracing ride through the unexpectedly wild world of money.

ED CONWAY, Economics Editor, Sky News
A tour of the nuts and bolts that hold the economy together is not supposed to be interesting, but Rob Dix makes it fascinating. This is a bracing ride through the unexpectedly wild world of money.

ED CONWAY, Economics Editor, Sky News
A tour of the nuts and bolts that hold the economy together is not supposed to be interesting, but Rob Dix makes it fascinating. This is a bracing ride through the unexpectedly wild world of money.

ED CONWAY, Economics Editor, Sky News
A tour of the nuts and bolts that hold the economy together is not supposed to be interesting, but Rob Dix makes it fascinating. This is a bracing ride through the unexpectedly wild world of money.

ED CONWAY, Economics Editor, Sky News
A tour of the nuts and bolts that hold the economy together is not supposed to be interesting, but Rob Dix makes it fascinating. This is a bracing ride through the unexpectedly wild world of money.

ED CONWAY, Economics Editor, Sky News
Very little affects your quality of life more than money - and it's hard to get and to keep if you don't really understand how it works. After you've read Rob Dix's short, sharp introduction, you will know more than most ordinary people about how money works - and also (I'm sorry to say) rather more than most Cabinet ministers too.

MERRYN SOMERSET WEBB, Bloomberg Columnist and host of Merryn Talks Money
Very little affects your quality of life more than money - and it's hard to get and to keep if you don't really understand how it works. After you've read Rob Dix's short, sharp introduction, you will know more than most ordinary people about how money works - and also (I'm sorry to say) rather more than most Cabinet ministers too.

MERRYN SOMERSET WEBB, Bloomberg Columnist and host of Merryn Talks Money
Very little affects your quality of life more than money - and it's hard to get and to keep if you don't really understand how it works. After you've read Rob Dix's short, sharp introduction, you will know more than most ordinary people about how money works - and also (I'm sorry to say) rather more than most Cabinet ministers too.

MERRYN SOMERSET WEBB, Bloomberg Columnist and host of Merryn Talks Money
Very little affects your quality of life more than money - and it's hard to get and to keep if you don't really understand how it works. After you've read Rob Dix's short, sharp introduction, you will know more than most ordinary people about how money works - and also (I'm sorry to say) rather more than most Cabinet ministers too.

MERRYN SOMERSET WEBB, Bloomberg Columnist and host of Merryn Talks Money
Very little affects your quality of life more than money - and it's hard to get and to keep if you don't really understand how it works. After you've read Rob Dix's short, sharp introduction, you will know more than most ordinary people about how money works - and also (I'm sorry to say) rather more than most Cabinet ministers too.

MERRYN SOMERSET WEBB, Bloomberg Columnist and host of Merryn Talks Money
Very little affects your quality of life more than money - and it's hard to get and to keep if you don't really understand how it works. After you've read Rob Dix's short, sharp introduction, you will know more than most ordinary people about how money works - and also (I'm sorry to say) rather more than most Cabinet ministers too.

MERRYN SOMERSET WEBB, Bloomberg Columnist and host of Merryn Talks Money
Very little affects your quality of life more than money - and it's hard to get and to keep if you don't really understand how it works. After you've read Rob Dix's short, sharp introduction, you will know more than most ordinary people about how money works - and also (I'm sorry to say) rather more than most Cabinet ministers too.

MERRYN SOMERSET WEBB, Bloomberg Columnist and host of Merryn Talks Money
Very little affects your quality of life more than money - and it's hard to get and to keep if you don't really understand how it works. After you've read Rob Dix's short, sharp introduction, you will know more than most ordinary people about how money works - and also (I'm sorry to say) rather more than most Cabinet ministers too.

MERRYN SOMERSET WEBB, Bloomberg Columnist and host of Merryn Talks Money
Very little affects your quality of life more than money - and it's hard to get and to keep if you don't really understand how it works. After you've read Rob Dix's short, sharp introduction, you will know more than most ordinary people about how money works - and also (I'm sorry to say) rather more than most Cabinet ministers too.

MERRYN SOMERSET WEBB, Bloomberg Columnist and host of Merryn Talks Money
Very little affects your quality of life more than money - and it's hard to get and to keep if you don't really understand how it works. After you've read Rob Dix's short, sharp introduction, you will know more than most ordinary people about how money works - and also (I'm sorry to say) rather more than most Cabinet ministers too.

MERRYN SOMERSET WEBB, Bloomberg Columnist and host of Merryn Talks Money
Very little affects your quality of life more than money - and it's hard to get and to keep if you don't really understand how it works. After you've read Rob Dix's short, sharp introduction, you will know more than most ordinary people about how money works - and also (I'm sorry to say) rather more than most Cabinet ministers too.

MERRYN SOMERSET WEBB, Bloomberg Columnist and host of Merryn Talks Money
An excellent primer for anyone who ever wondered how the financial system and economy really works - filled with knowledge that will help you make better money decisions in your own life, too.

LAURA WHATELEY, author of Money: A User's Guide
An excellent primer for anyone who ever wondered how the financial system and economy really works - filled with knowledge that will help you make better money decisions in your own life, too.

LAURA WHATELEY, author of Money: A User's Guide
An excellent primer for anyone who ever wondered how the financial system and economy really works - filled with knowledge that will help you make better money decisions in your own life, too.

LAURA WHATELEY, author of Money: A User's Guide
An excellent primer for anyone who ever wondered how the financial system and economy really works - filled with knowledge that will help you make better money decisions in your own life, too.

LAURA WHATELEY, author of Money: A User's Guide
An excellent primer for anyone who ever wondered how the financial system and economy really works - filled with knowledge that will help you make better money decisions in your own life, too.

LAURA WHATELEY, author of Money: A User's Guide
An excellent primer for anyone who ever wondered how the financial system and economy really works - filled with knowledge that will help you make better money decisions in your own life, too.

LAURA WHATELEY, author of Money: A User's Guide
An excellent primer for anyone who ever wondered how the financial system and economy really works - filled with knowledge that will help you make better money decisions in your own life, too.

LAURA WHATELEY, author of Money: A User's Guide
An excellent primer for anyone who ever wondered how the financial system and economy really works - filled with knowledge that will help you make better money decisions in your own life, too.

LAURA WHATELEY, author of Money: A User's Guide
An excellent primer for anyone who ever wondered how the financial system and economy really works - filled with knowledge that will help you make better money decisions in your own life, too.

LAURA WHATELEY, author of Money: A User's Guide
An excellent primer for anyone who ever wondered how the financial system and economy really works - filled with knowledge that will help you make better money decisions in your own life, too.

LAURA WHATELEY, author of Money: A User's Guide
An excellent primer for anyone who ever wondered how the financial system and economy really works - filled with knowledge that will help you make better money decisions in your own life, too.

LAURA WHATELEY, author of Money: A User's Guide
John Maynard Keynes once said that "not one man in a million" truly understands inflation: a state of affairs that is extremely problematic for millions of people and, by extension, for society as a whole. Rob Dix's book The Price of Money is an important contribution to redressing that problem.

ANDREW CRAIG, Author of How to Own the World
John Maynard Keynes once said that "not one man in a million" truly understands inflation: a state of affairs that is extremely problematic for millions of people and, by extension, for society as a whole. Rob Dix's book The Price of Money is an important contribution to redressing that problem.

ANDREW CRAIG, Author of How to Own the World
John Maynard Keynes once said that "not one man in a million" truly understands inflation: a state of affairs that is extremely problematic for millions of people and, by extension, for society as a whole. Rob Dix's book The Price of Money is an important contribution to redressing that problem.

ANDREW CRAIG, Author of How to Own the World
John Maynard Keynes once said that "not one man in a million" truly understands inflation: a state of affairs that is extremely problematic for millions of people and, by extension, for society as a whole. Rob Dix's book The Price of Money is an important contribution to redressing that problem.

ANDREW CRAIG, Author of How to Own the World
John Maynard Keynes once said that "not one man in a million" truly understands inflation: a state of affairs that is extremely problematic for millions of people and, by extension, for society as a whole. Rob Dix's book The Price of Money is an important contribution to redressing that problem.

ANDREW CRAIG, Author of How to Own the World
John Maynard Keynes once said that "not one man in a million" truly understands inflation: a state of affairs that is extremely problematic for millions of people and, by extension, for society as a whole. Rob Dix's book The Price of Money is an important contribution to redressing that problem.

ANDREW CRAIG, Author of How to Own the World
John Maynard Keynes once said that "not one man in a million" truly understands inflation: a state of affairs that is extremely problematic for millions of people and, by extension, for society as a whole. Rob Dix's book The Price of Money is an important contribution to redressing that problem.

ANDREW CRAIG, Author of How to Own the World
John Maynard Keynes once said that "not one man in a million" truly understands inflation: a state of affairs that is extremely problematic for millions of people and, by extension, for society as a whole. Rob Dix's book The Price of Money is an important contribution to redressing that problem.

ANDREW CRAIG, Author of How to Own the World
John Maynard Keynes once said that "not one man in a million" truly understands inflation: a state of affairs that is extremely problematic for millions of people and, by extension, for society as a whole. Rob Dix's book The Price of Money is an important contribution to redressing that problem.

ANDREW CRAIG, Author of How to Own the World
John Maynard Keynes once said that "not one man in a million" truly understands inflation: a state of affairs that is extremely problematic for millions of people and, by extension, for society as a whole. Rob Dix's book The Price of Money is an important contribution to redressing that problem.

ANDREW CRAIG, Author of How to Own the World
John Maynard Keynes once said that "not one man in a million" truly understands inflation: a state of affairs that is extremely problematic for millions of people and, by extension, for society as a whole. Rob Dix's book The Price of Money is an important contribution to redressing that problem.

ANDREW CRAIG, Author of How to Own the World
Not a moment too soon, Rob Dix has laid out in the most refreshing, entertaining, approachable and informative way the historical intricacies, intentional complexity, purposeful ambiguity and frustrating inconsistencies of the global markets, economic policy - and money. The Price of Money should be required reading for anyone who transacts (gets paid, pays for anything or tries to invest) at any point in their journey. As an investor I enjoyed and learned from every page and know other readers will too.

EILEEN BURBRIDGE, Partner at Passion Capital
Not a moment too soon, Rob Dix has laid out in the most refreshing, entertaining, approachable and informative way the historical intricacies, intentional complexity, purposeful ambiguity and frustrating inconsistencies of the global markets, economic policy - and money. The Price of Money should be required reading for anyone who transacts (gets paid, pays for anything or tries to invest) at any point in their journey. As an investor I enjoyed and learned from every page and know other readers will too.

EILEEN BURBRIDGE, Partner at Passion Capital
Not a moment too soon, Rob Dix has laid out in the most refreshing, entertaining, approachable and informative way the historical intricacies, intentional complexity, purposeful ambiguity and frustrating inconsistencies of the global markets, economic policy - and money. The Price of Money should be required reading for anyone who transacts (gets paid, pays for anything or tries to invest) at any point in their journey. As an investor I enjoyed and learned from every page and know other readers will too.

EILEEN BURBRIDGE, Partner at Passion Capital
Not a moment too soon, Rob Dix has laid out in the most refreshing, entertaining, approachable and informative way the historical intricacies, intentional complexity, purposeful ambiguity and frustrating inconsistencies of the global markets, economic policy - and money. The Price of Money should be required reading for anyone who transacts (gets paid, pays for anything or tries to invest) at any point in their journey. As an investor I enjoyed and learned from every page and know other readers will too.

EILEEN BURBRIDGE, Partner at Passion Capital
Not a moment too soon, Rob Dix has laid out in the most refreshing, entertaining, approachable and informative way the historical intricacies, intentional complexity, purposeful ambiguity and frustrating inconsistencies of the global markets, economic policy - and money. The Price of Money should be required reading for anyone who transacts (gets paid, pays for anything or tries to invest) at any point in their journey. As an investor I enjoyed and learned from every page and know other readers will too.

EILEEN BURBRIDGE, Partner at Passion Capital
Not a moment too soon, Rob Dix has laid out in the most refreshing, entertaining, approachable and informative way the historical intricacies, intentional complexity, purposeful ambiguity and frustrating inconsistencies of the global markets, economic policy - and money. The Price of Money should be required reading for anyone who transacts (gets paid, pays for anything or tries to invest) at any point in their journey. As an investor I enjoyed and learned from every page and know other readers will too.

EILEEN BURBRIDGE, Partner at Passion Capital
Not a moment too soon, Rob Dix has laid out in the most refreshing, entertaining, approachable and informative way the historical intricacies, intentional complexity, purposeful ambiguity and frustrating inconsistencies of the global markets, economic policy - and money. The Price of Money should be required reading for anyone who transacts (gets paid, pays for anything or tries to invest) at any point in their journey. As an investor I enjoyed and learned from every page and know other readers will too.

EILEEN BURBRIDGE, Partner at Passion Capital
Not a moment too soon, Rob Dix has laid out in the most refreshing, entertaining, approachable and informative way the historical intricacies, intentional complexity, purposeful ambiguity and frustrating inconsistencies of the global markets, economic policy - and money. The Price of Money should be required reading for anyone who transacts (gets paid, pays for anything or tries to invest) at any point in their journey. As an investor I enjoyed and learned from every page and know other readers will too.

EILEEN BURBRIDGE, Partner at Passion Capital
Not a moment too soon, Rob Dix has laid out in the most refreshing, entertaining, approachable and informative way the historical intricacies, intentional complexity, purposeful ambiguity and frustrating inconsistencies of the global markets, economic policy - and money. The Price of Money should be required reading for anyone who transacts (gets paid, pays for anything or tries to invest) at any point in their journey. As an investor I enjoyed and learned from every page and know other readers will too.

EILEEN BURBRIDGE, Partner at Passion Capital
Not a moment too soon, Rob Dix has laid out in the most refreshing, entertaining, approachable and informative way the historical intricacies, intentional complexity, purposeful ambiguity and frustrating inconsistencies of the global markets, economic policy - and money. The Price of Money should be required reading for anyone who transacts (gets paid, pays for anything or tries to invest) at any point in their journey. As an investor I enjoyed and learned from every page and know other readers will too.

EILEEN BURBRIDGE, Partner at Passion Capital
Not a moment too soon, Rob Dix has laid out in the most refreshing, entertaining, approachable and informative way the historical intricacies, intentional complexity, purposeful ambiguity and frustrating inconsistencies of the global markets, economic policy - and money. The Price of Money should be required reading for anyone who transacts (gets paid, pays for anything or tries to invest) at any point in their journey. As an investor I enjoyed and learned from every page and know other readers will too.

EILEEN BURBRIDGE, Partner at Passion Capital
'A fascinating and surprising tour through how the global monetary system shapes our everyday finances – really, really interesting.'

CLAER BARRETT, Author of What They Don't Teach You About Money
'A fascinating and surprising tour through how the global monetary system shapes our everyday finances – really, really interesting.'

CLAER BARRETT, Author of What They Don't Teach You About Money
'A fascinating and surprising tour through how the global monetary system shapes our everyday finances – really, really interesting.'

CLAER BARRETT, Author of What They Don't Teach You About Money
'A fascinating and surprising tour through how the global monetary system shapes our everyday finances – really, really interesting.'

CLAER BARRETT, Author of What They Don't Teach You About Money
'A fascinating and surprising tour through how the global monetary system shapes our everyday finances – really, really interesting.'

CLAER BARRETT, Author of What They Don't Teach You About Money
'A fascinating and surprising tour through how the global monetary system shapes our everyday finances – really, really interesting.'

CLAER BARRETT, Author of What They Don't Teach You About Money
'A fascinating and surprising tour through how the global monetary system shapes our everyday finances – really, really interesting.'

CLAER BARRETT, Author of What They Don't Teach You About Money
'A fascinating and surprising tour through how the global monetary system shapes our everyday finances – really, really interesting.'

CLAER BARRETT, Author of What They Don't Teach You About Money
'A fascinating and surprising tour through how the global monetary system shapes our everyday finances – really, really interesting.'

CLAER BARRETT, Author of What They Don't Teach You About Money
'A fascinating and surprising tour through how the global monetary system shapes our everyday finances – really, really interesting.'

CLAER BARRETT, Author of What They Don't Teach You About Money
'A fascinating and surprising tour through how the global monetary system shapes our everyday finances – really, really interesting.'

CLAER BARRETT, Author of What They Don't Teach You About Money