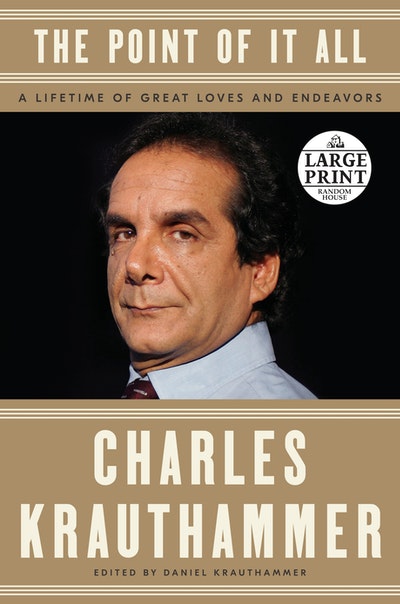 Published:

4 December 2018

ISBN:

9781984891594

Imprint:

Random House Diversified

Format:

Paperback

Pages:

544

RRP:

$49.99
The Point of It All
A Lifetime of Great Loves and Endeavors
---
---
---
NEW YORK TIMES BESTSELLER • A powerful collection of the influential columnist's most important works—featuring rare speeches and a major new essay about today's populist movements and the future of global democracy
"Charles will be remembered as one of the greatest public intellects of his generation."—John McCain
In his decades of work as America's preeminent political commentator, whether writing about statecraft and foreign policy or reflecting on more esoteric topics such as baseball, spaceflight and medical ethics, Charles Krauthammer elevated the opinion column to a form of art.
This collection features the columns, speeches and unpublished writings that showcase the best of his original thought and his last, enduring words on the state of American politics, the nature of liberal democracy and the course of world history. The book also includes a deeply personal section offering insight into Krauthammer's beliefs about what mattered most to him: friendship, family and the principles he lived by.
The Point of It All is a timely demonstration of what made Charles Krauthammer the most celebrated American columnist and political thinker of his generation, a revealing look at the man behind the words and a lasting testament to his belief that anyone with an open and honest mind can grapple deeply with the most urgent questions in politics and in life.
Published:

4 December 2018

ISBN:

9781984891594

Imprint:

Random House Diversified

Format:

Paperback

Pages:

544

RRP:

$49.99
Praise for The Point of It All
"For decades, Charles' words have strengthened our democracy. His work was far-reaching and influential - and…his ideas and values will always be a part of our country." —George W. Bush   "Charles will be remembered as one of the greatest public intellects of his generation. A true renaissance man, there was no topic too complex for Charles to probe; no party or politician too powerful to challenge…I'm confident his words will continue to inspire all of us to live bravely and think boldly." —John McCain   "Charles wrote for the right reasons. … To provoke us to think, to enlarge our understanding, at times to make us laugh. Like few others, he succeeded, week after week, Friday after Friday, year after year… he wrote a column of breathtaking range and intelligence and integrity." —The Washington Post "A giant, a man who not only defended our civilization but represented what's best in it." —National Review "A voice of reason and a powerful intellect in Democracy's cause." —Condoleezza Rice   "There are people you meet throughout your life that you just know will leave an impact forever. Charles Krauthammer was one of those people. His words and his knowledge and his eloquence on the issues of the day were unsurpassed. He could cut through the noise. He could get to the point better than anybody." —Bret Baier "The Point of It All is very wide-ranging, a true Krauthammer sampler. This is Krauthammer in full, or very nearly so. It is a book that says, 'This is what he believed. This is who he was.' As such, it is invaluable." —Jay Nordlinger