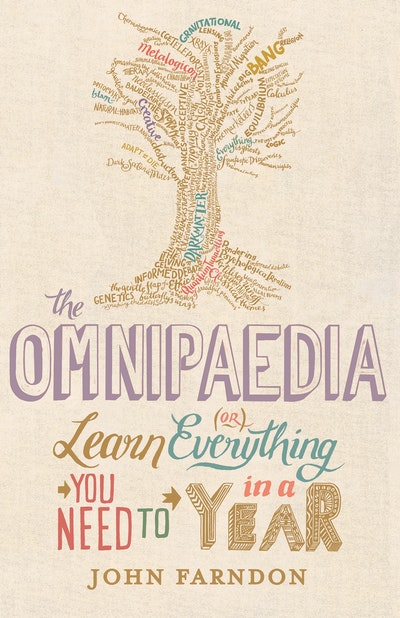 Published:

5 September 2013

ISBN:

9781448156665

Imprint:

Vintage Digital

Format:

EBook

Pages:

448
The Omnipaedia
Learn Everything you Need to in a Year
---
---
'Something about everything, and everything about something' - all the information you need to become a pocket polymath, by the bestselling author of DO YOU THINK YOU'RE CLEVER.
'The only thing that I know is that I know nothing ... but I'm working on it.'
(after Socrates)
In this age of increasing specialisation and information overload, how can anyone ever hope to emulate Renaissance man or woman, accomplished and informed across many fields? SurelyT. H. Huxley's maxim 'try to learn something about everything and everything about something' is impossible to realize?
Perhaps it was, but not now. John Farndon's indispensible The Omnipaedia shows us how anyone can be a pocket polymath. In the space of this compact volume, each chapter easily imbibed over a cup of cocoa at bedtime, you will be given the basic tools you need to become an Uomo or Donna Universale di Oggi.
Tackling science, nature and the Earth; politics, philosophy and economics; human sciences and culture, along with history and zoology, Farndon ranges across the whole spectrum of human knowledge, while also giving essential guidance in all those skills demanded of the well-rounded man or woman: from poetry and music to the art of debate and defending yourself with weapons (such as sarcasm).
The Omnipaedia cannot, of course, guarantee that you'll become a walking Wikipedia, but what it does promise to give you is the grounding and confidence to launch yourself into the unknown, to delve into any sphere of knowledge and become more than a mere jack of all trades, but a master or mistress of all you survey.
Published:

5 September 2013

ISBN:

9781448156665

Imprint:

Vintage Digital

Format:

EBook

Pages:

448