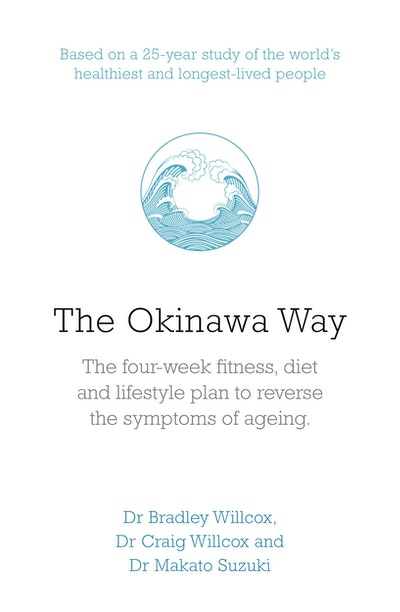 Published:

29 January 2018

ISBN:

9780241345603

Imprint:

Michael Joseph

Format:

Trade Paperback

Pages:

608

RRP:

$32.99
The Okinawa Way
How to Reverse Symptoms of Ageing in Four Weeks
---
---
The bestselling landmark diet book, revealing the secrets of the world's healthiest population
There is nothing more universal than the desire to slow down the ageing process, to live a long, full life with health, energy, and independence. The Okinawa Way presents the first evidence-based program, based on a real population, to show you the way.
Written in a friendly, accessible way by the lead scientists of the 25 year Okinawa Centenarian Study, this breakthrough book documents the diet, exercise, and lifestyle practices of the world's healthiest, longest-lived people and reveals how readers can apply these practices to their own lives.
· Introduces a delicious diet that emphasizes low-Glycemic Index carbohydrates, healthy fats and proteins, resulting in a calorie-lite diet that staves off hunger and maximizes fat loss over weight loss (provides two different eating plans for 4 weeks with more than 80 outstanding recipes)
· Teaches you how to: get fit using tai chi, reduce stress using meditation, and bring new meaning into your life by develop your inner spirituality by doing volunteer work, and building a solid network of friends and family
This comprehensive four-week plan is a practical method for slowing and even reversing the symptoms of ageing, that will help you to experience the health and longevity enjoyed by the Okinawans.
Published:

29 January 2018

ISBN:

9780241345603

Imprint:

Michael Joseph

Format:

Trade Paperback

Pages:

608

RRP:

$32.99
Praise for The Okinawa Way
Extraordinarily well written... the major message of The Okinawa Wayis that we can easily adopt the life-lengthening strategies that have served the Okinawans so well for generations. The authors pull their key recommendations into a comprehensive yet doable four-week plan that's meant to get you started. Following "The Way" isn't a free shot at immortality, but it certainly helps stack the deck in your favour.

Publisher's Weekly
The Okinawa Way is a very significant contribution to the science of longevity. Read this book carefully and follow the recommendations and you will add years to your life and life to your years.

Deepak Chopra MD, author of Ageless Body, Timeless Mind
You will learn in this scientifically factual and highly readable book, the general principles of living the Okinawa Way are not foreign. Indeed, they are highly accessible to everyone and quite consistent with the latest medical research on healthy lifestyles and healthy ageing

Andrew Weil MD, Author of Spontaneous Healing