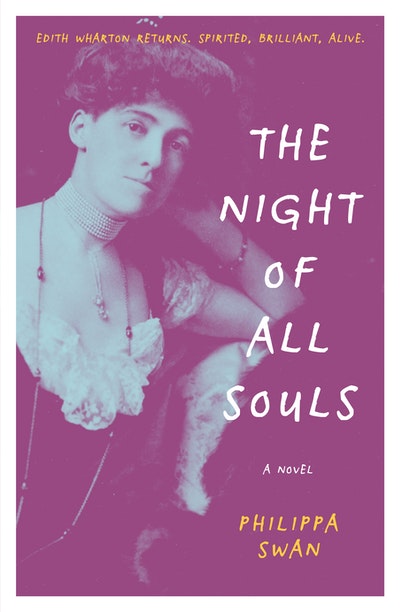 Published:

31 March 2020

ISBN:

9780143774303

Imprint:

RHNZ Vintage

Format:

Trade Paperback

Pages:

352

RRP:

$32.99
The Night of All Souls
---
---
---
Edith Wharton returns: spirited, brilliant, alive.

In this highly entertaining novel, Edith Wharton is variously reimagined: as a host in the afterlife, a historical figure in a modern novella, and as an elusive presence in the pages of her own writing. But when a lifelong secret is exposed, it's almost too shocking to be true.
Hugely acclaimed during her lifetime, writer Edith Wharton is back — with the most extraordinary opportunity. Summoned to a room in the afterlife, Edith finds the manuscript of a new novella inspired by her life. A letter from her one-time editor advises Edith to consider carefully whether to destroy the work or allow its publication. Is this a chance to correct her image of haughtiness and privilege, and to reignite interest in her writing?
Edith begins reading the novella to her astonished companions; and what unfolds is a cautionary story of online fame. But as she gradually remembers the details of her life, Edith becomes fearful about what the work might reveal and is haunted by the words:
The letters survive, and everything survives.
'Philippa Swan's is an original voice that is articulate, humorous and disarmingly refreshing.' - NZ Books
Published:

31 March 2020

ISBN:

9780143774303

Imprint:

RHNZ Vintage

Format:

Trade Paperback

Pages:

352

RRP:

$32.99
Praise for The Night of All Souls
Philippa Swan's erudite homage takes a page from Wharton's unheralded ghost stories: the author is resurrected in an anteroom to the afterlife, and given a novella about a woman who works at the Wharton museum in Massachusetts. Edith must decide whether to publish or burn the work, revisiting her own writing in the process. It may have the trappings of a ghost story, but the most appealing element of Swan's novel is its submerged literary appreciation of Wharton's oeuvre, delivered in tandem with lively elements of biography, and shades of the wit and style for which Wharton was renowned.

Cameron Woodhead, Sydney Morning Herald
A highly entertaining read

Newmarket
In this wildly imaginative novel, Pulitzer Prize winning novelist Edith Wharton (1862-1937), long dead, finds herself in a warm, atmospherically lit drawing room, waiting to see who will join her for the evening. . . . Edith is revealed in all her complexity. Not just the suffering wife of a disturbed husband but a passionate lover, intelligent and articulate writer and garden designer, widely travelled and admired by many. The novel is a glimpse into how life goes on after us; the characters are unaware of what the others did and said after their deaths, until events are disclosed to them through the novella and Mrs Gerould's uncanny revelations. The Night of All Souls is a refreshing, absorbing novel. The chance to see one's life after death, to recreate the narrative and see it as a newly rounded thing is a fascinating concept.Edith Wharton is newly minted within these pages, finally broken free of the constraints of the society in which she lived.

Louise Ward, NZ Herald
There's a story within a story as well, as her former publisher (also long-dead, but don't ask!) has sent her a novella proposed for publication, which features a modern woman volunteering at Edith's old home, The Mount in Massachusetts, then visiting Italy in Edith's footsteps. A most unusual story, if a little slow to establish itself, but worth the effort.

Good Reading Magazine
Video
The Night of All Souls | Reading
We hope that you enjoy this video of Philippa Swan's daughter, Kate, reading one of Philippa's favourite extracts from her novel The Night of All Souls. What a fantastic job Kate has done! Edith Wharton returns: spirited, brilliant, alive. But when a lifelong secret is exposed, it's almost too shocking to be true. EBook out now, physical book to come! You can read more about The Night of All Souls here: https://bit.ly/2ydjqw3
Video
The Night Of All Souls Book-Launch-In-a-Box
Today is the day Philippa Swan's novel, The Night of All Souls was due to hit kiwi bookshelves, but will be downloaded onto eReaders and mobile phones instead - the eBook is out now it will be available later as a physical book. This also means that Philippa's launch party couldn't go ahead as planned – but do not fear! Here's Philippa's virtual book-launch-in-a-box video, a special thanks to Marsden Books who were hosting the physical event. Congratulations, Philippa, we hope you enjoyed your bubbles ?? Edith Wharton returns: spirited, brilliant, alive. For those who love secrets and second chances. More info about The Night of All Souls and how to get the eBook can be found here: https://bit.ly/2ydjqw3