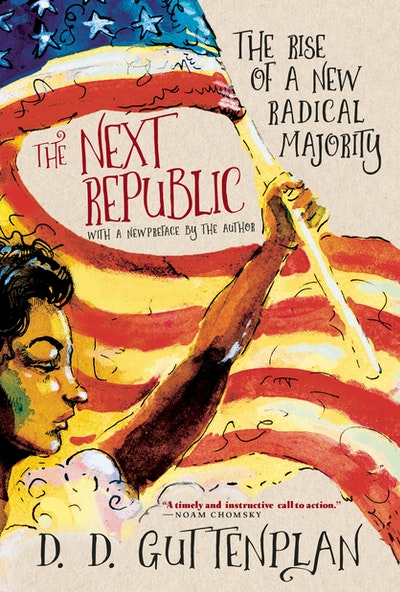 Published:

10 December 2019

ISBN:

9781609809690

Imprint:

Seven Stories Press

Format:

Paperback

Pages:

240

RRP:

$27.99
The Next Republic
---
---
A book for this moment: Both an assessment of our current political leadership and a vision of those who can bring substantive change.
Who are the new progressive leaders emerging to lead the post-Trump return to democracy in America? National political correspondent and award-winning author D.D. Guttenplan's The Next Republic is an extraordinarily intense and wide-ranging account of the recent fall and incipient rise of democracy in America.
The Next Republic profiles nine successful activists who are changing the course of American history right now:
new labor activist and author Jane McAlevey
racial justice campaigner (and mayor of Jackson, Mississippi) Chokwe Antar Lumumba
environmental activist (and newly elected chair of the Nebraska Democratic Party) Jane Kleeb
Chicago's first openly gay Latino public official Carlos Ramirez-Rosa
#ALLOFUS co-founder Waleed Shahid
young architects of Bernie Sanders amazing rise, digerati Corbin Trent and Zack Exley, founders of Brand New Congress
and author and anti-corruption crusader Zephyr Teachout.
Additionally, the introduction to The Next Republic ties in the election and first year of the Trump presidency to the current rise of populism of the left, and there are three historical chapters that describe key moments in American history that shed light on current events: the Whiskey Rebellion, the Lincoln Republic, and the Roosevelt Republic. Guttenplan understands the magnitude of the problem of democracy, and at the same time the great possibilities for its resurgence. Like a cross between George Packer's The Unwinding and John F. Kennedy's Profiles in Courage, The Next Republic is both unyielding and deeply hopeful, the first book to come out of the Trump ascendency that stakes a claim for seeing beyond it.
Published:

10 December 2019

ISBN:

9781609809690

Imprint:

Seven Stories Press

Format:

Paperback

Pages:

240

RRP:

$27.99
Praise for The Next Republic
"It's high time that someone resurrected authentic 'populism,' activism from below, and showed how it can be the path to a better future.  That's done very convincingly in D.D. Guttenplan's fine book, The Next Republic: The Rise of a New Radical Majority, introducing us along the way to some wonderful people and their achievements, interspersed with carefully executed and pertinent historical interludes.  A timely and instructive call to action." —Noam Chomsky "Don Guttenplan has written a profoundly subversive book. He briefly touches base with a few notable progressives (like the Bern and Zephyr Teachout), but at a moment when Trumpism, cynicism, and corruption seem to reign supreme in our politics—in the modest guise of a report on the battles of a series of quasi-anonymous, persistent anti-establishmentarians and political loners—he has made a compelling case for hope and optimism about the future of our democracy, and en passant he has put the meaning of our republic in its historical context." —Victor Navasky, publisher emeritus of The Nation "At a moment when history and truth are under attack, and the survival of our republic is once again in doubt, The Next Republic is a timely, humane, and forceful narrative of our insurgent political moment—and a deeply reported contribution to the fight for a progressive future in America." —Katrina vanden Heuvel, editor and publisher, The Nation