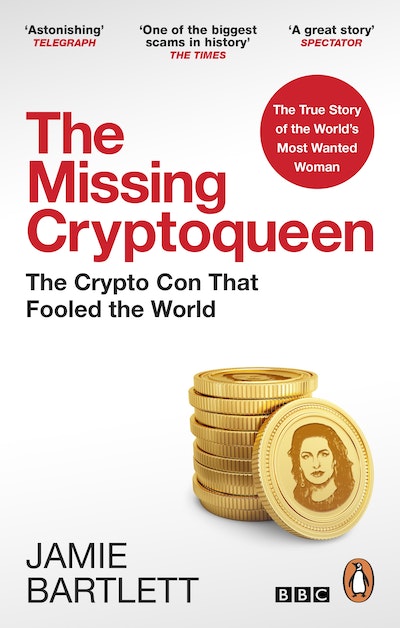 Published:

17 October 2023

ISBN:

9780753559598

Imprint:

WH Allen

Format:

Paperback

Pages:

320

RRP:

$29.99
The Missing Cryptoqueen
---
---
The inside story of the biggest business scam of the 21st century, and the hunt for the woman who got away with it.
'An astonishing read, plunging you into a toxic world of Insta-wealth, betrayal and ruthless ambition... A con that made Theranos look like small fry' - The Telegraph
'The largest financial scam ever' - Fortune
'The story of OneCoin stands out even among the outlandish capers of the cryptocurrency era' - Wall Street Journal
____________________________________________________
In 2014, a brilliant Oxford graduate called Dr Ruja Ignatova vowed to revolutionise money. The self-styled Cryptoqueen launched OneCoin, a bold new cryptocurrency that she promised would earn its investors untold fortunes and change the world. But by the end of 2017, with billions of dollars invested from every country on earth, Ruja Ignatova had disappeared - along with the money.
The Missing Cryptoqueen tells the outrageous true story of the world's most wanted woman and the author's five-year hunt for the truth. It is a modern tale of greed, rivalry and herd madness that reveals how OneCoin became the biggest scam of the 21st Century.
Published:

17 October 2023

ISBN:

9780753559598

Imprint:

WH Allen

Format:

Paperback

Pages:

320

RRP:

$29.99
Praise for The Missing Cryptoqueen
The Missing Cryptoqueen investigates a con that made Theranos look like small fry... The tragic account of how it happened is an astonishing read, plunging you into a toxic world of Insta-wealth, betrayal and ruthless ambition

The Telegraph
The Missing Cryptoqueen investigates a con that made Theranos look like small fry... The tragic account of how it happened is an astonishing read, plunging you into a toxic world of Insta-wealth, betrayal and ruthless ambition

The Telegraph
The Missing Cryptoqueen investigates a con that made Theranos look like small fry... The tragic account of how it happened is an astonishing read, plunging you into a toxic world of Insta-wealth, betrayal and ruthless ambition

The Telegraph
A gripping read. Jamie Bartlett races through this compelling tale of corruption, ambition and intrigue

Irish Independent
A gripping read. Jamie Bartlett races through this compelling tale of corruption, ambition and intrigue

Irish Independent
A gripping read. Jamie Bartlett races through this compelling tale of corruption, ambition and intrigue

Irish Independent
Bartlett skilfully [presents] OneCoin's turbulent history like a thriller

Reaction (Books Digest)
Bartlett skilfully [presents] OneCoin's turbulent history like a thriller

Reaction (Books Digest)
Bartlett skilfully [presents] OneCoin's turbulent history like a thriller

Reaction (Books Digest)
A story of a very modern scam full of intrigue

The i
A story of a very modern scam full of intrigue

The i
A story of a very modern scam full of intrigue

The i
A great story and a spectacular con

The Spectator
A great story and a spectacular con

The Spectator
A great story and a spectacular con

The Spectator
Outrageously entertaining... populated with the kind of gaudy crooks, ambitious crackpots and tragically hopeful hustlers we'd expect from a Coen brothers comedy. One can only hope this shocking, compulsively readable story serves as a cautionary tale

Irish Times
Outrageously entertaining... populated with the kind of gaudy crooks, ambitious crackpots and tragically hopeful hustlers we'd expect from a Coen brothers comedy. One can only hope this shocking, compulsively readable story serves as a cautionary tale

Irish Times
Outrageously entertaining... populated with the kind of gaudy crooks, ambitious crackpots and tragically hopeful hustlers we'd expect from a Coen brothers comedy. One can only hope this shocking, compulsively readable story serves as a cautionary tale

Irish Times