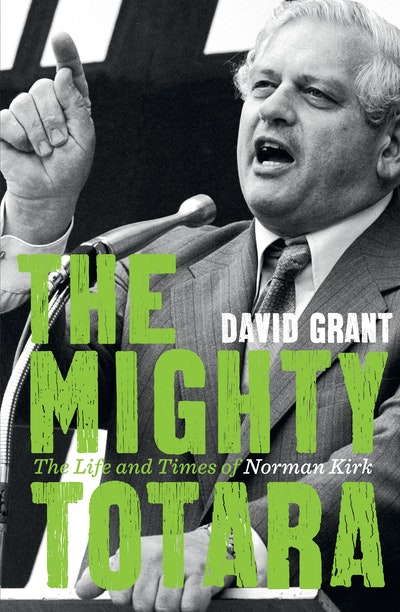 Published:

7 March 2014

ISBN:

9781775535805

Imprint:

RHNZ Adult ebooks

Format:

EBook

Pages:

512
The Mighty Totara: The Life and Times of Norman Kirk
---
---
A major biography of arguably New Zealand's greatest modern political leader
A major biography of arguably New Zealand's greatest modern political leader
As Norman Kirk's body lay in state near the steps of Parliament on the day after his death on 31 August 1974, a kaumatua wailed 'the mighty totara has fallen'. The lament reflected what many New Zealanders felt about this big, commanding and loved leader, dead at just 51. More than 30,000 people filed past Kirk's casket over two days, and again in Christchurch, in a commemoration that matched only Michael Joseph Savage's for emotional power.
Both men died in office, both men were humanitarians. Kirk also worked to move the Labour Party away from its cloth-cap heritage to embrace a much broader electoral compass, for it to become, in his words, 'the natural party of New Zealand'. Prime Minister of New Zealand between November 1972 and August 1974, Kirk's childhood was blighted with poverty, yet he thrived. He moved into a succession of manual trades, before booming into local body politics. His political rise was rapid, from mayor of Kaiapoi at the age of 30 to leader of the Labour Party within a few years.
This book examines Kirk's political leadership; his successes, especially his stunning performances on the international stage, but also his later difficulties when the country's economy was rocked by international oil shocks. He deferred the 1973 Springbok tour and sent warships into the French nuclear testing zone near Mururoa Atoll, his government set up ohu and the established the DPB. He was New Zealand's first truly regionalist Prime Minister, drawing New Zealand closer to Asia and the Pacific, as the ties to 'mother Britain' slowly loosened.
This landmark book takes the full measure of the remarkable New Zealander who was our last working-class Prime Minister.
Published:

7 March 2014

ISBN:

9781775535805

Imprint:

RHNZ Adult ebooks

Format:

EBook

Pages:

512
Praise for The Mighty Totara: The Life and Times of Norman Kirk
A very fine and very readable and well-researched and accessible book ...

Nicholas Reid, Reid's Reader
This is an utterly absorbing and superlatively celebratory political biography of a great New Zealander whose eclipse from the popular mind confirms why Norman Eric Kirk was one of Jim Anderton's ''Unsung Heroes''.

Bruce Harding, Waikato Times
Sometimes, David Grant tries too hard to force a complex and contradictory narrative around the frame of Big Norm. But, and I'm grateful for this, my sense of Kirk is now rich and vivid. Since I've read this book, I almost feel as if I met him. I didn't, of course. But I can see him and hear him, and I understand the will and dreams that drove him on. The absence I began with now has a man at its centre. Not a totara, but something more interesting and human than that: Norman Kirk.

John Campbell, New Zealand Books
NZ Post Book Awards
Finalist • 2014 • General Non-fiction category