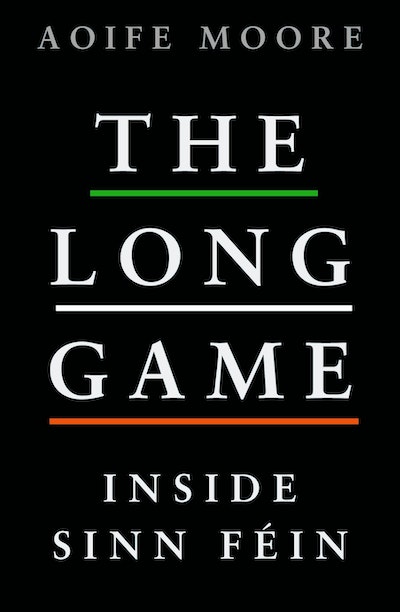 Published:

7 October 2023

ISBN:

9781844885794

Imprint:

Penguin Ireland

Format:

Trade Paperback

Pages:

336

RRP:

$49.99
The Long Game
Inside Sinn Féin
---
---
---
Inside the rise of the political party, once subordinate to the IRA, that is on the brink of taking power in Ireland
Sinn Féin is the most popular political party in both Northern Ireland and the Republic. A movement once synonymous with a paramilitary campaign is on the brink of taking real power through purely democratic means. But if Sinn Féin has mastered the art of electoral politics, it remains strangely opaque. Who really runs the party? How is it funded? And what can we expect of it as a party of government?
Aoife Moore, Irish Journalist of the Year in 2021, explores these and other burning questions in The Long Game. Drawing on exclusive interviews with current and former members of Sinn Féin, she builds up a picture of a party undergoing a profound, and still incomplete , transformation. She looks at the key individuals and moments that put the party on its present course, and she explores tensions within the party and the wider republican movement.
Packed with revelatory details, The Long Game is a groundbreaking telling of contemporary Ireland's biggest and most elusive political story.
Published:

7 October 2023

ISBN:

9781844885794

Imprint:

Penguin Ireland

Format:

Trade Paperback

Pages:

336

RRP:

$49.99
A fierce political commentator

Derry Journal
A fierce political commentator

Derry Journal
A fierce political commentator

Derry Journal
A fierce political commentator

Derry Journal
A fierce political commentator

Derry Journal
A fierce political commentator

Derry Journal
A fierce political commentator

Derry Journal
A fierce political commentator

Derry Journal
A fierce political commentator

Derry Journal
An explosive read ... important and revelatory

Business Post
An explosive read ... important and revelatory

Business Post
An explosive read ... important and revelatory

Business Post
An explosive read ... important and revelatory

Business Post
An explosive read ... important and revelatory

Business Post
An explosive read ... important and revelatory

Business Post
An explosive read ... important and revelatory

Business Post
An explosive read ... important and revelatory

Business Post
An explosive read ... important and revelatory

Business Post
Eye-opening and brave ... carefully researched, judicious and packed with revelatory detail

Fergal Keane
Eye-opening and brave ... carefully researched, judicious and packed with revelatory detail

Fergal Keane
Eye-opening and brave ... carefully researched, judicious and packed with revelatory detail

Fergal Keane
Eye-opening and brave ... carefully researched, judicious and packed with revelatory detail

Fergal Keane
Eye-opening and brave ... carefully researched, judicious and packed with revelatory detail

Fergal Keane
Eye-opening and brave ... carefully researched, judicious and packed with revelatory detail

Fergal Keane
Eye-opening and brave ... carefully researched, judicious and packed with revelatory detail

Fergal Keane
Eye-opening and brave ... carefully researched, judicious and packed with revelatory detail

Fergal Keane
Eye-opening and brave ... carefully researched, judicious and packed with revelatory detail

Fergal Keane
A compelling and revealing account of modern Sinn Féin ... written with gusto and verve

The Irish Times
A compelling and revealing account of modern Sinn Féin ... written with gusto and verve

The Irish Times
A compelling and revealing account of modern Sinn Féin ... written with gusto and verve

The Irish Times
A compelling and revealing account of modern Sinn Féin ... written with gusto and verve

The Irish Times
A compelling and revealing account of modern Sinn Féin ... written with gusto and verve

The Irish Times
A compelling and revealing account of modern Sinn Féin ... written with gusto and verve

The Irish Times
A compelling and revealing account of modern Sinn Féin ... written with gusto and verve

The Irish Times
A compelling and revealing account of modern Sinn Féin ... written with gusto and verve

The Irish Times
A compelling and revealing account of modern Sinn Féin ... written with gusto and verve

The Irish Times
Aoife Moore is perfectly placed to deliver a powerful portrait of the inner workings of Sinn Féin ... an important work

Sunday Independent
Aoife Moore is perfectly placed to deliver a powerful portrait of the inner workings of Sinn Féin ... an important work

Sunday Independent
Aoife Moore is perfectly placed to deliver a powerful portrait of the inner workings of Sinn Féin ... an important work

Sunday Independent
Aoife Moore is perfectly placed to deliver a powerful portrait of the inner workings of Sinn Féin ... an important work

Sunday Independent
Aoife Moore is perfectly placed to deliver a powerful portrait of the inner workings of Sinn Féin ... an important work

Sunday Independent
Aoife Moore is perfectly placed to deliver a powerful portrait of the inner workings of Sinn Féin ... an important work

Sunday Independent
Aoife Moore is perfectly placed to deliver a powerful portrait of the inner workings of Sinn Féin ... an important work

Sunday Independent
Aoife Moore is perfectly placed to deliver a powerful portrait of the inner workings of Sinn Féin ... an important work

Sunday Independent
Aoife Moore is perfectly placed to deliver a powerful portrait of the inner workings of Sinn Féin ... an important work

Sunday Independent
Painstakingly researched ... informed by countless inside sources

Ian Cobain, The Observer
Painstakingly researched ... informed by countless inside sources

Ian Cobain, The Observer
Painstakingly researched ... informed by countless inside sources

Ian Cobain, The Observer
Painstakingly researched ... informed by countless inside sources

Ian Cobain, The Observer
Painstakingly researched ... informed by countless inside sources

Ian Cobain, The Observer
Painstakingly researched ... informed by countless inside sources

Ian Cobain, The Observer
Painstakingly researched ... informed by countless inside sources

Ian Cobain, The Observer
Painstakingly researched ... informed by countless inside sources

Ian Cobain, The Observer
Painstakingly researched ... informed by countless inside sources

Ian Cobain, The Observer
An incisive, well-written, if critical, insight into the Sinn Féin of the here and now

Irish Times
An incisive, well-written, if critical, insight into the Sinn Féin of the here and now

Irish Times
An incisive, well-written, if critical, insight into the Sinn Féin of the here and now

Irish Times
An incisive, well-written, if critical, insight into the Sinn Féin of the here and now

Irish Times
An incisive, well-written, if critical, insight into the Sinn Féin of the here and now

Irish Times
An incisive, well-written, if critical, insight into the Sinn Féin of the here and now

Irish Times
An incisive, well-written, if critical, insight into the Sinn Féin of the here and now

Irish Times
An incisive, well-written, if critical, insight into the Sinn Féin of the here and now

Irish Times
An incisive, well-written, if critical, insight into the Sinn Féin of the here and now

Irish Times
[An] excellent, well-sourced account

The Telegraph
[An] excellent, well-sourced account

The Telegraph
[An] excellent, well-sourced account

The Telegraph
[An] excellent, well-sourced account

The Telegraph
[An] excellent, well-sourced account

The Telegraph
[An] excellent, well-sourced account

The Telegraph
[An] excellent, well-sourced account

The Telegraph
[An] excellent, well-sourced account

The Telegraph
[An] excellent, well-sourced account

The Telegraph