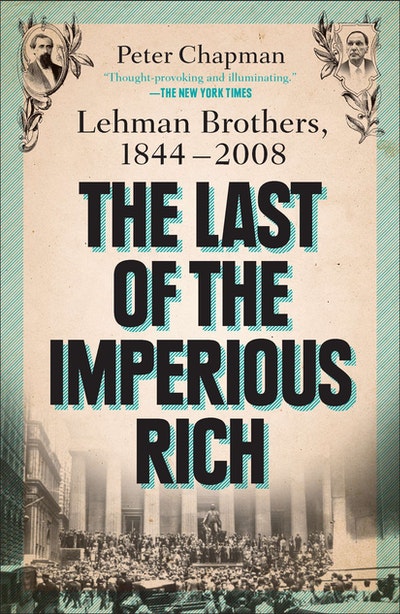 Published:

1 May 2012

ISBN:

9781591844327

Imprint:

Portfolio

Format:

Paperback

Pages:

336

RRP:

$29.99
The Last of the Imperious Rich: Lehman Brothers, 1844-2008
---
---
On September 11, 1844, Henry Lehman arrived in America on a ship from Germany. Soon after, he moved to Montgomery, Alabama, where he established a modest cotton brokering firm that would come to be called Lehman Brothers.
On September 15, 2008, Dick Fuld, the last CEO of Lehman Brothers, filed for corporate bankruptcy amid one of the worst financial crises in American history. After 164 years, one of the largest and most respected investment banks in the world was gone, leaving everyone wondering, 'How could this have happened?'
Peter Chapman answers this question by exploring the history of Lehman Brothers between those two historic Septembers. He also provides intimate portraits of the people who ran Lehman over the decades and their impact not only on American finance but also the American way of life. He also shows how, starting in the 1980s, Lehman's increased focus on short-term gain led the firm down the dangerous path to its demise.
In the end, this is not only the story of a truly important American company but a cautionary tale of what happens when leaders lost sight of their core mission in their quest for something too good to be true.
'A remarkable story of what Lehman once was and a somber story about what it became.' Frumforum
'An excellent, fast-paced account of the rise and fall of Lehman Brothers. Peter Chapman captures the firm's high and low moments with admirable clarity, especially the hubris that led to its ultimate demise. A valuable addition to Wall Street history.' Charles Geisst author of Collateral Damaged and Wall Street: A History
'Chapman has succeeded in holding up a mirror to America's past-and what its future might hold.' Bloomberg
'Chapman weaves a fascinating story.' Booklist

Published:

1 May 2012

ISBN:

9781591844327

Imprint:

Portfolio

Format:

Paperback

Pages:

336

RRP:

$29.99