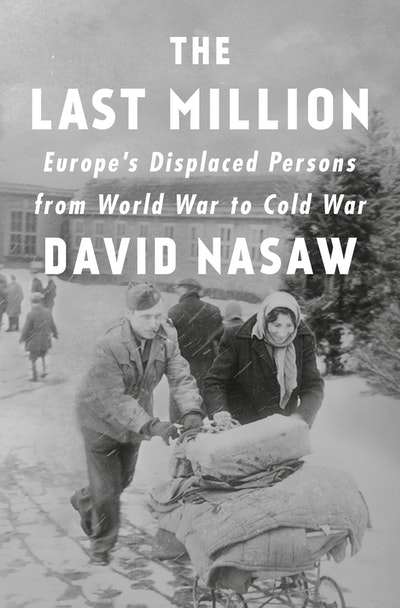 Published:

1 December 2020

ISBN:

9781594206733

Imprint:

Penguin Press

Format:

Hardback

Pages:

736

RRP:

$61.99
The Last Million
Europe's Displaced Persons from World War to Cold War
---
---
From bestselling author David Nasaw, a sweeping new history of the one million refugees left behind in Germany after WWII
In May of 1945, German forces surrendered to the Allied powers, effectively putting an end to World War II in Europe. But the aftershocks of this global military conflict did not cease with the signing of truces and peace treaties. Millions of lost and homeless POWs, slave laborers, political prisoners, and concentration camp survivors overwhelmed Germany, a country in complete disarray. British and American soldiers gathered the malnourished and desperate foreigners, and attempted to repatriate them to Poland, Estonia, Latvia, Lithuania, Ukraine, and the USSR. But after exhaustive efforts, there remained over a million displaced persons who either refused to go home or, in the case of many, had no home to which to return. They would spend the next three to five years in displaced persons camps, divided by nationalities, temporary homelands in exile, with their own police forces, churches, schools, newspapers, and medical facilities.
The international community couldn't agree on the fate of the Last Million, and after a year of fruitless debate and inaction, an International Refugee Organization was created to resettle them in lands suffering from labor shortages. But no nations were willing to accept the 200,000 to 250,000 Jewish men, women, and children who remained trapped in Germany. In 1948, the United States, among the last countries to accept anyone for resettlement, finally passed a Displaced Persons Bill - but as Cold War fears supplanted memories of WWII atrocities, the bill only granted visas to those who were reliably anti-communist, including thousands of former Nazi collaborators, Waffen-SS members, and war criminals, while barring the Jews who were suspected of being Communist sympathizers or agents because they had been recent residents of Soviet-dominated Poland. Only after the passage of the controversial UN resolution for the partition of Palestine and Israel's declaration of independence were the remaining Jewish survivors finally able to leave their displaced persons camps in Germany.
A masterwork from acclaimed historian David Nasaw, The Last Million tells the gripping yet until now largely hidden story of postwar displacement and statelessness and of the people who stood as living testimony to the inescapable consequences of war. By 1952, the Last Million were scattered around the world, and carried with them their wounds, fears, and secrets, as they crossed from their broken past into an unknowable future. Here for the first time, Nasaw illuminates their incredible history and, with profound contemporary resonance, shows us that it is our history as well.
Published:

1 December 2020

ISBN:

9781594206733

Imprint:

Penguin Press

Format:

Hardback

Pages:

736

RRP:

$61.99