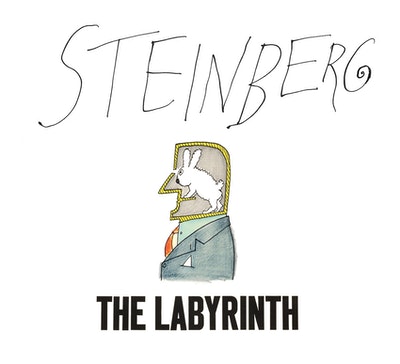 Published:

15 September 2018

ISBN:

9781681372433

Imprint:

NY Review Books

Format:

Hardback

Pages:

288

RRP:

$85.00
The Labyrinth
---
---
A seminal work by an artist whose drawings in The New Yorker, LIFE, Harper's Bazaar, and many other publications influenced an entire generation of American artists and writers.
Throughout his career, the acclaimed artist Saul Steinberg created a series of unique, wondrous books. Far richer than simple catalogs or collections of drawings, these carefully arranged works formed a kind of continuous visual autobiography—a record, in drawings both simple and detailed, comic and beautiful, of an inimitable mind's encounter with the world.
The Labyrinth, first published in 1960 and long out of print, may be the best of these. Here is Steinberg, as he put it at the time, "discovering and inventing a great variety of events: Illusion, talks, music, women, cats, dogs, birds, the cube, the crocodile, the museum, Moscow and Samarkand (winter, 1956), other Eastern countries, America, motels, baseball, horse racing, bullfights, art, frozen music, words, geometry, heroes, harpies, etc." This edition, featuring all the original art along with new editorial material, will allow readers to discover (and invent) Steinberg's world all over again.
Published:

15 September 2018

ISBN:

9781681372433

Imprint:

NY Review Books

Format:

Hardback

Pages:

288

RRP:

$85.00
"One of the towering creative forces of the 20th Century." —Françoise Mouly, art editor, The New Yorker "For the six decades, [Steinberg's] amazing work levitated this magazine; here was a major twentieth-century artist who also possessed an unmatched gift for the magazine page especially The New Yorker's." —Ian Frazier, The New Yorker "Is there any subject—or object, for that matter—that Saul Steinberg didn't have at with his swordlike pen? Cartoonist-artist extraordinaire, he was a veritable Leonardo of graphic drollery." —Grace Glueck, The New York Times "Steinberg certainly produced his share of classics, and in the process he helped pave the way for a culture of boundary-blurrers.... He showed that literature can be created without using a single sentence." —Deborah Solomon, The New York Times Book Review