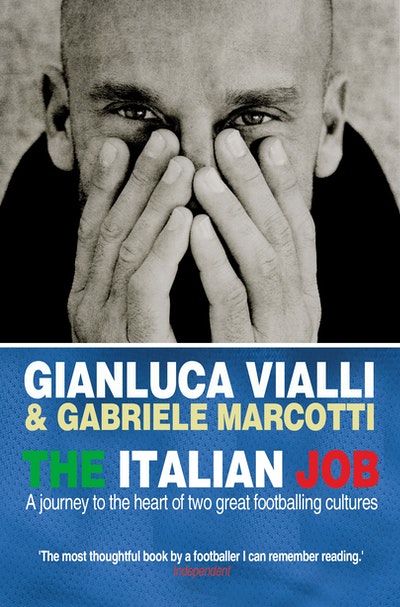 Published:

15 May 2007

ISBN:

9780553817874

Imprint:

Bantam

Format:

Paperback

Pages:

448

RRP:

$19.99
The Italian Job
---
---
A journey to the heart of two great footballing cultures.
Football lies at the heart of popular culture in both England and Italy. It is played, watched, written about and talked to death by millions virtually every day of the year. But how do the characteristics of England and Italy affect the game in these two footballing nations? Do the national stereotypes of Italians as passionate, stylish lotharios and the English as cold-hearted eccentrics still hold true when they kick a ball around?
In The Italian Job, for the first time, a footballer of the first rank, Gianluca Vialli, in conjunction with sportswriter and broadcaster Gabriele Marcotti, tackles this debate head on. Uniquely positioned across both the English and the Italian games, they provide a fascinating and highly controversial commentary on where football is now and where it's headed. And they have invited some of the biggest names in the sport to join in their discussion. Sir Alex Ferguson, Jose Mourinho, Arsene Wenger, Sven Goran Eriksson, Fabio Capello and Marcello Lippi, amongst others, add their not inconsiderable weight to the highest-profile symposium on football ever convened.
Gianluca Vialli and Gabriele Marcotti explore every aspect of football, be it tactical and technical or cultural and sociological. Stuffed full of controversial opinions and gripping revelations, The Italian Job takes you on a journey to the very heart of two of the world's great footballing cultures.
Published:

15 May 2007

ISBN:

9780553817874

Imprint:

Bantam

Format:

Paperback

Pages:

448

RRP:

$19.99
Praise for The Italian Job
The book is essentially a memoir but with the aid of some really interesting interviews...it gives some astonishing insights into the workings of the modern game

GQ Style
The Italian Job reveals how rival cultures in England and abroad are reflected on the pitch

The Times
Gianluca Vialli's new book is an interesting comparison of sporting attitudes here and on the Continent - To the Italian player, football is a job: to the English one, it's a game

The Observer
...this fascinating book that analyses the difference between English and Italian football...The Italian Job tackles the questions which inform football debate in England and Italy - from the tactical and technical to the cultural and sociological

Italia
An early contender for this year's literary prizes in sport

Sunday Tribune
Vialli (aided by noted Italian football writer Gabrielle Marcotti) has fixed his inquisitive mind on exploring the differences between English and Italian football cultures, covering everything from tactics to supporters

Time Out
The most thoughtful book by a footballer I can remember reading

The Independent
Interesting look at the relationship between football and culture in both Italy and England

Nuts
A fascinating examination of football in England and Italy...the result is a thoughtful, thorough examination

Programme Monthly & Football Collectable
...deeper than your average footballer's autobiography, it is far from impenetrable and appeals to a wider audience than just die-hard Chelsea fans...Marcotti's prose is both entertaining and informative for the smarter-than-average armchair supporter

City AM