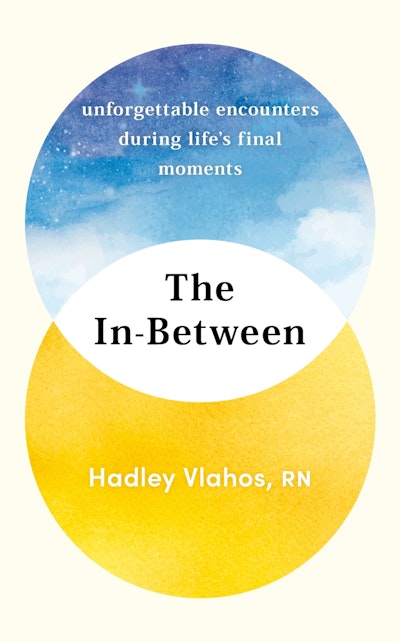 Published:

29 August 2023

ISBN:

9781529927849

Imprint:

Square Peg

Format:

Hardback

Pages:

288

RRP:

$36.99
The In-Between
Unforgettable Encounters During Life's Final Moments – THE NEW YORK TIMES BESTSELLER
---
---
---
In this #3 New York Times bestselling memoir TikTok star and hospice nurse Hadley Vlahos demystifies death through inspiring stories about her patients.
What can people at the end of their lives teach us about living well today? In this heart-warming memoir of wisdom, redemption and even joy, Hadley Vlahos beautifully shares life lessons and stories from being a palliative care nurse, and how end-of-life patients informed her sense of purpose.
With warmth and compassion, she tells the stories of patients who have changed her life. From the woman who never once questioned her faith until she was close to death, to the older man seeing visions of his late daughter and the young patient who laments that she spent too much of her short life worrying about what others thought of her, each story raises vital questions about living, dying and the afterlife, offering comfort to those navigating loss and inspiring us to live our lives to the fullest.
Published:

29 August 2023

ISBN:

9781529927849

Imprint:

Square Peg

Format:

Hardback

Pages:

288

RRP:

$36.99
Praise for The In-Between
Gentle encouragement for all those who live under life's running clock and for those who love them

Kirkus Reviews
The combined beauty, faith, and compassion found in each patient's death is meaningful and sublime

Theresa Brown, author of 'The Shift'
Vlahos's compassionate, beautifully written book contains profound wisdom

Katy Butler, author of 'The Art of Dying Well'
Tender and transformative . . . it makes dying feel like a peaceful, dynamic, and nourishing event

Christie Tate, author of 'Group'
Extraordinary ... helps dispel fear around death and dying - revealing it to be a natural part of our soul's evolution

Laura Lynne Jackson, author of 'The Signs'
Here's what you need to know about Vlahos's memoir: It's heartfelt without being woo-woo, and it's not as sad as you'd expect it to be. Vlahos walks readers through her time caring for 11 patients (names, identifying details and medical information have been changed) and her mother-in-law, who died in 2018. Her tone is gentle, refreshingly forthright and befitting of a professional who tells us what to expect from an event that has launched a thousand euphemisms.

The New York Times
Gentle, refreshingly forthright ... helps readers wrap their minds around - and perhaps make peace with - the great unknown

New York Times