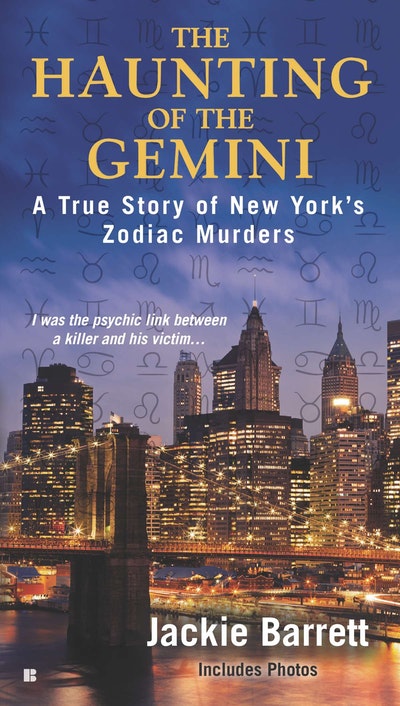 Published:

4 March 2014

ISBN:

9780425267226

Imprint:

Berkley

Format:

Paperback

Pages:

304

RRP:

$16.99
The Haunting of the Gemini
A True Story of New York's Zodiac Murders
---
---
On a sweltering summer day in 1992, the body of Patricia Fonti was found in the Brooklyn neighborhood of Highland Park.
She had been stabbed more than 100 times.
The Zodiac Killer had struck again.
Renowned psychic medium Jackie Barrett is no stranger to visits from the dead. But when the spirit of Patricia Fonti comes to her twenty years after her death, Jackie finds herself caught in an unexpected battle for the restless, schizophrenic soul of a murder victim. Here is Jackie's first-person account of her connection with Patricia Fonti and her murderer, New York Zodiac Killer Heriberto "Eddie" Seda, whose early 1990s killing spree paralyzed the city with fear.
In exclusive letters, drawings and recorded telephone conversations from prison, Eddie divulges things to Jackie that have never been made public, including how he killed and why. Her astounding interviews with the man who calls himself "The Soul Collector" give rare insight into the recesses of a very dark mind. And while Jackie struggles to help Patricia Fonti find peace, Eddie insists he and Jackie are two halves of a whole, that together they make up the astrological sign of the twins—the Gemini…
INCLUDES PHOTOS
Published:

4 March 2014

ISBN:

9780425267226

Imprint:

Berkley

Format:

Paperback

Pages:

304

RRP:

$16.99
Praise for The Haunting of the Gemini
Praise for Jackie Barrett and The Devil I Know "This is the final word on the matter straight from the killer's mouth, it has ended the only way it could have. Barrett has given us one last look at the case that engulfed New York, and does not disappoint."—Fangoria Magazine "Jaw-dropping, utterly fascinating.'"—MobileGhost.net "Barrett is a wonderful writer and the details…about the Amityville case that come to light through her interactions with DeFeo are fascinating…Barrett does give readers an intimate look into the mind of a notorious killer and an in-depth description of what she has experienced as someone with extraordinary gifts."—Library of the Dead "Fans of horror and of true crime are certain to enjoy this book…[The Devil I Know] is a book you must add to your…reading list. Highly recommended."—Jenn's Book Shelves