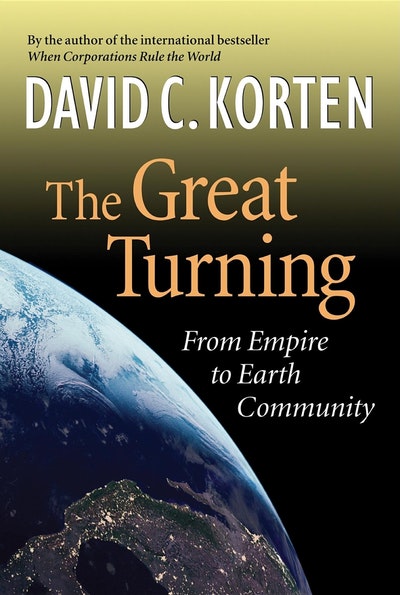 Published:

1 January 2018

ISBN:

9781887208086

Imprint:

Berrett-Koehler

Format:

Trade Paperback

Pages:

424

RRP:

$37.99
The Great Turning
---
---
In his classic international bestseller, When Corporations Rule the World, David Korten exposed the destructive and oppressive nature of the global corporate economy and helped spark a global resistance movement. Now, he shows that the problem runs deeper than corporate domination—with far greater consequences.
Here, Korten argues that corporate consolidation of power is merely one manifestation of what he calls "Empire": the organization of society through hierarchy and violence that has largely held sway for the past 5,000 years. Empire has always resulted in misery for the many and fortune for the few, but now it threatens the very future of humanity. Korten points to global terrorism, climate change, and rising poverty as just a few of the signs that the burdens of Empire now exceed what people and planet will bear.
The Great Turning traces the roots of Empire to ancient times and charts the long evolution of its favored instruments of control, from monarchies and bureaucracies to the transnational institutions of the global economy. Korten also tells the parallel story of the attempt to develop a democratic alternative to Empire, beginning in Athens and continuing with the founding of the United States of America. But this remains an unfinished project—Korten documents how elitists with an imperial agenda have consistently sought to undermine the bold and inspiring "American experiment," beginning in the earliest days of the republic and continuing to the present day.
Empire is not inevitable, not the natural order of things—we can turn away from it. Korten draws on evidence from sources as varied as evolutionary theory, developmental psychology, and religious teachings to make the case that "Earth Community"—a life-centered, egalitarian, sustainable way of ordering human society based on democratic principles of partnership—is indeed possible. And he details a grassroots strategy for beginning the momentous turning toward a future of as-yet-unrealized human potential. The Great Turning illuminates our current predicament, provides a framework for grasping the potential of this historic moment, and shows us how to take action for the future of our planet, our communities, and ourselves.
Published:

1 January 2018

ISBN:

9781887208086

Imprint:

Berrett-Koehler

Format:

Trade Paperback

Pages:

424

RRP:

$37.99
Praise for The Great Turning
"The Great Turning sets forth a compelling, devastating, and ultimately profoundly hopeful story that provides a framework for the new, unifying political conversation our nation so desperately needs. A must-read for every person of conscience." —Van Jones, Executive Director, The Ella Baker Center for Human Rights "What a gift David Korten has given us with this prophetic book! In this well-written and thorough story of the crises of late Modernity, Korten gives us a beautifully reasoned, carefully researched look at why we absolutely have to turn away from imperial power and wealth and, instead, create an Earth Community. This is a must-read for activists, for lovers of contemporary American studies, and for Cultural Creatives." —Paul H. Ray, coauthor of The Cultural Creatives "Employing history, psychology, economics, spirituality, and common sense, Korten not only critiques the dilemma we are in as a species, he also shows us doable and workable ways out of our morass. He has cre- ated a tour de force —a call to compassion as much as a blueprint for survival. This book is a kind of Bible to the 21st century, a revelation of where we might travel if we have the moral imagination and the courage to choose and act wisely." —Matthew Fox, educator and theologian, author of Original Blessing and A New Reformation "If you read only one book on how to address the looming ecological and social crises facing humanity, make it this one! Korten fearlessly grapples with 'the big picture' and goes beyond merely diagnosing the problem (which he does with great precision), as he outlines a positive and realistic plan for actually creating a just and sustainable global society." —David Cobb, 2004 Green Party United States Presidential Candidate "Korten has done it again—created a masterpiece of big thinking to help us find our way in this death-or-life historical moment. With fascinating analogies, intriguing stories, and eloquent analysis, Korten engages and emboldens us to believe that we can trust and cultivate the best in our- selves and, despite the lateness of the hour, choose life." —Frances Moore Lappé, author of Hope's Edge and Democracy