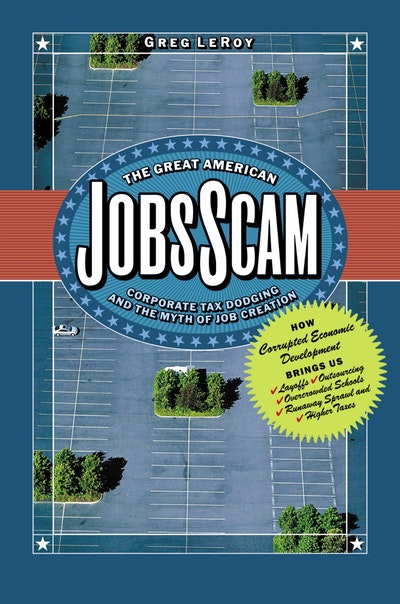 Published:

1 January 2018

ISBN:

9781576753156

Imprint:

Berrett-Koehler

Format:

Hardback

Pages:

304

RRP:

$44.99
The Great American Jobs Scam
---
---
What do Wal-Mart, Dell, Fidelity Investments, Boeing, and Cabela's have in common? They're all part of a $50 billion a year scam in which—in the name of "job creation"—corporations play states and cities against each other to win hefty taxpayer subsidies that routinely exceed $100,000 per job. But do they provide more jobs, higher wages, or improved living standards in exchange? Greg LeRoy exposes these deals for what they are—no-strings-attached free rides for corporations that rarely create any new jobs. In fact, after securing these packages, many companies lay people off, pay poverty wages, or even relocate to other states.
This is the Great American Jobs Scam: a costly bait-and-switch that swindles communities in more ways than one. They lose jobs—or gain jobs so low-paying they do nothing to help the community—and they lose revenue through massive corporate tax breaks. That means fewer resources for maintaining schools, public services, and infrastructure.
LeRoy exposes corporations' careful orchestration of this scam, dissects government and corporate mumbo-jumbo with plain talk, and offers commonsense reforms that will give taxpayers powerful new tools to protect our communities.
Published:

1 January 2018

ISBN:

9781576753156

Imprint:

Berrett-Koehler

Format:

Hardback

Pages:

304

RRP:

$44.99
Praise for The Great American Jobs Scam
"Greg LeRoy brings this arcane debate out of the shadows of economic theory by telling the stories of real businesses from across the United States. He draws on years of experience to suggest how subsidies can work better for American workers and for our communities." —Congressman Earl Blumenauer, founder and co-chair, U.S. House of Representatives Livable Communities Task Force "The Great American Jobs Scam is one-stop shopping for every citizen who wants to understand why and how corporate welfare doesn't work. And when Greg LeRoy describes how Wal-Mart got over $1 billion in taxpayer deals at only 244 of its facilities as 'the tip of the iceberg,' he's inviting all of us to discover the rest of the iceberg—and melt it." —Joe Trippi, author of The Revolution Will Not Be Televised: Democracy, the Internet, and the Overthrow of Everything "Greg LeRoy not only tells us what's wrong with job subsidies—he shows us what we can do about it, so we can get our priorities straight and our democracy back." —Si Kahn, coauthor of The Fox in the Henhouse: How Privatization Threatens Democracy, and Executive Director, Grassroots Leadership "LeRoy does a wonderful job of pulling back the curtain and revealing the truth behind the broken promises of great riches that are sold to com- munities and taxpayers across America. Perhaps most valuable are his clear suggestions and solutions—absolutely critical tools for the policymaker or citizen activist." —Chellie Pingree, President and CEO, Common Cause, and former Majority Leader, Maine State Senate "LeRoy has written an important book on an issue that is of vital concern to working Americans." —John Sweeney, President, AFL-CIO "Americans know the economy is not working, but most don't know why. This book outlines the problems, proposes concrete solutions, and offers strategies for moving forward toward policies that create and support family-wage jobs. A must-read for all of us." —Kim Bobo, Executive Director, Interfaith Worker Justice, and author of Organizing for Social Change "This book fills a pressing national need for a comprehensive analysis and criticism of the economic 'incentives,' or should we say 'subsidy,' issue afflicting the United States. Taxpayers—particularly small and middle-sized businesses—should be outraged." —Robert F. Orr, Executive Director, North Carolina Institute for Constitutional Law, and retired Justice, North Carolina Supreme Court "Finally, a book that will propel policymakers to end the hemorrhaging of public treasuries from bidding wars. LeRoy exposes the disjuncture between the rhetoric of job creation and the reality of huge subsidies for paltry numbers of jobs, often fleeting and usually underpaid. He doesn't just leave us shaking our heads—he offers us a full course menu of smart and doable remedies." —Professor Ann Markusen, University of Minnesota and author of Second Tier Cities "The Great American Jobs Scam offers a lively chronicle of the exploits of corporate mercenaries who have mastered the art of bait-and-switch in the name of job creation and economic development. LeRoy shows us how our communities can battle back to achieve the good life for families and more livable communities." —Don Chen, Executive Director, Smart Growth America "By showing how the tax-dodging system works, [this] book will empower taxpayers to hold their elected officials (and the corporate special interests) accountable. It should be required reading for governors, mayors and legislators around the country who want to invest their citizens' money wisely and effectively." —Robert S. McIntyre, Citizens for Tax Justice "Anyone concerned about sustainable economic development, decent schools, urban sprawl, or their children's future should read this book." —Mike Matejka, Alderman, City of Bloomington, Illinois "SEIU enthusiastically supports Greg LeRoy's new book . . . No one has helped the labor movement more than Greg LeRoy to learn how to investigate these subsidies and leverage them for working families." —Andrew L. Stern, Service Employees International Union "I like Greg's stuff immensely; he cuts through the jargon with incredible skill, presents the issues, brings them alive." —Professor William W. Goldsmith, Chairman, Department of City and Regional Planning, Cornell University