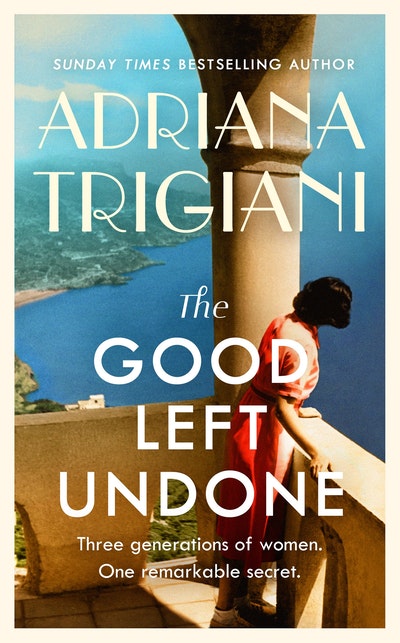 Published:

12 April 2022

ISBN:

9780241565858

Imprint:

Michael Joseph

Format:

Trade Paperback

Pages:

448

RRP:

$32.99
The Good Left Undone
The instant New York Times bestseller that will take you to sun-drenched mid-century Italy
---
---
---
A captivating novel about the stories we choose to hand down to our families - set against the sun-drenched backdrop of early twentieth century southern Europe
Proud matriarch Matelda Cabrelli always has something to say. But, as she faces the end of her life, she worries she's failed to tell the stories that matter. Most of all, the story of her mother Domenica's two great loves.
First, her childhood sweetheart: a boy from the same small coastal town of Viareggio. Second, a mysterious Captain: a passion forged in the midst of WW2 - the father Matelda never knew.
Now, it falls to Matelda to tell Domenica's story. And for the Cabrelli women to unpick the mysteries, infatuations and tragedies that sent Domenica away from Italy - then brought her home again. . .
Published:

12 April 2022

ISBN:

9780241565858

Imprint:

Michael Joseph

Format:

Trade Paperback

Pages:

448

RRP:

$32.99
Praise for The Good Left Undone
A comedy writer with a heart of gold

New York Times
Trigiani is a master of palpable and visual detail

Washington Post
Exquisite writing and a story enriched by the power of abiding love

USA Today
Full of romance, drama and snappy dialogue

People
Eminently readable and richly imagined

Publisher's Weekly
Utterly addictive

Glamour
Praise for Adriana Trigiani

:
Hilarious and romantic. I couldn't put it down

Sarah Jessica Parker
One of my all-time favourite novels

Whoopi Goldberg
Honest, wholesome entertainment

Daily Mail
Adriana Trigiani never fails to sweep you away with her richly transportive prose. The Good Left Undone takes you through time and across the globe from the Italian coast to the Scottish Highlands as long-held secrets of the Cabrelli family come to light. An emotional and beautiful tale of family, love, and loss

Taylor Jenkins Reid, bestselling author of <i>Malibu Rising</i>
At once epic and intimate, a delightful novel about the mysterious lore of an unforgettable Italian family whose characters walk right off the page

Jess Walter, author of <i>Beautiful Ruins</i>
A sprawling, majestic historical fiction feast that spans countries and generations to find the heart and soul of a beautiful family. This is Adriana Trigiani at her best

Laura Dave, author of <i>The Last Thing He Told Me</i>
A wondrous novel of storytelling, love, war, religion and that which defines us all: family. Adriana Trigiani has outdone herself with her sharp eye, her humor and her warm and generous heart

Elin Hilderbrand, <i>New York Times</i> bestselling author
Adriana Trigiani is a gifted, natural storyteller and The Good Left Undone is her at the top of her game. This beautiful, sweeping historical epic about three generations of women paints an exquisite portrait of love, loss, the ravages of time and the price a family pays for its secrets. Brava!

Kristin Hannah, <i>New York Times</i> bestselling author of <i>The Nightingale</i>
Adriana Trigiani merges life and fiction so completely it's impossible to sort one from the other. Through Matelda and the Cabrelli women, readers will find themselves fully immersed in another place and time, but also vividly recalling the histories of their own ancestors. An enduring testimony to the power of family and stories - those we know well and those that have shaped us without our knowing. Breathtakingly beautiful, powerful, lyrical, and ultimately filled with goodness

Lisa Wingate, <i>New York Times</i> bestselling author of <i>Before We Were Yours</i>
An exquisite gem of a novel, as it flits between present day and the calamitous times of World War II. No one does historical fiction better than Trigiani. You will fall in love with the characters, especially Matelda Roffo. Godere!

David Baldacci
From time to time, readers are fortunate enough to come across a novel that transports us so completely to a different time and place, we can smell the air, taste the food. The Good Left Undone is such a book: the power and the beauty of Italy and the Italians, the devastation of wars and callous disregard for humans, the love of life and others; all come across in this exquisite novel. Trigiani has accomplished a true miracle

W. Bruce Cameron, <i>New York Times</i> bestselling author
Adriana Trigiani has written the triumph of her career in this historical epic. This novel is the dramatic, emotional, and profound saga of three generations of women in the Cabrelli family of gemcutters-Domenica, Matelda, and Anina-and each character is more brilliant than the last. This novel shines like a flawless diamond, with a multifaceted narrative that shifts seamlessly between Viareggio, Marseilles, and Scotland, bringing to light a sweep of history that I never knew existed. Most of all, at its core is the generous, beating heart of family - and a love story that will seep into your soul. I have always loved Adriana Trigiani's books, but The Good Left Undone is a crown jewel of historical fiction

Lisa Scottoline, <i>New York Times</i> bestselling author
Adriana Trigiani is a treasure and The Good Left Undone is a gem: a sweeping epic that spans a century. Chronicling the fallout from the cataclysmic sinking of the Arandora Star - torpedoed by a German U-Boat in 1940 - this extraordinary novel manages to mourn the dead, celebrate the living, and remind us that every family has secrets that are heartbreaking, heartwarming, and (yes) inspiring

Chris Bohjalian, <i>New York Times</i> bestselling author
A wildly entertaining story about the life of the remarkable Italian nurse Domenica Cabrelli and her daughter Matelda. The novel is a wonderful love story, rife with sea captains and childhood sweethearts and a family that never gives up on one another. I adored it

Ann Napolitano, author of <i>Dear Edward</i>
Adriana Trigiani reshapes the words of Phillip Larkin - 'the good not done, the love not given, the time torn off unused' -- as a focal point for a wonderfully agile novel that rounds off the sharp edges of our times

Colum McCann
I can lie on my couch and travel the world - and through time - reading Adriana Trigiani's The Good Left Undone. Italy, France, Scotland. 1920s to the present. Her storytelling is genius. Her understanding of love and family moves me to tears

Delia Ephron
Adriana Trigiani knows that a great life is made up of memories and morsels: Kisses and cakes; heartbreak and honey salves. In The Good Left Undone, Trigiani's women share secrets in the safety of kitchens, are carried off to bed during war, fight to keep a sense of themselves, and appreciate that a first love that arrives second is the sweetest and most substantial of all

Helen Ellis
Adriana Trigiani's latest novel is a delicious immersion into a hidden Italy, a world of Vatican jewelers, of ledgers, maps and strega, of people who tell time by the 'bells and the baker,' and are connected to their history and to the far corners of the spinning globe by love, blood, and rubies. And that's just the first course of this literary feast, that is also a profound meditation on old age and an intimate conversation between generations of a quietly dazzling family

Alice Randall
A story only Adriana Trigiani could have told. Rich in all the elements that make a story memorable, relatable; family complications we all share, choose to ignore, or seek to explain as time closes in on us. Family secrets, family jealousies, across the generations, across the landscapes under the Tuscan sun, the charm of Marseille and the rugged beauty of Scotland, Domenica creates a legacy for her children and grandchildren to unravel. Adriana is, indeed, a storyteller second to none.

Heather Morris, bestselling author of <i>The Tattooist of Auschwitz</i>
Trigiani writes an unforgettable historical epic in Italy, France, Scotland and Churchill's England on the cusp of World War II. Matelda Cabrelli Roffo, the matriarch of her contemporary Italian family is determined to reveal her mother's secret past before it's too late. This rich family story is magnificent in the telling.

Lisa Jewell
With its epic sweep, radiant characters, and uncommon insight, The Good Left Undone expertly spans generations and geography, luring the reader into a world where family love and family legacy are both a gift and an inspiration.

Lisa Grunwald
A gorgeous and lush multi-generational epic about the Cabrellis, a vibrant Italian family descended from master jewelers, from the harrowing days leading up to WWII to the modern era, celebrating the pieces they create and the myths that power them and hold families together; an absolute triumph from Adriana Trigiani

Gigi Levangie
She's done it again, given us a story deep and wide, written with heart and soul. Each one of Trigiani's books is a rich tapestry, woven with stories that reach back through generations with love and family at the center. . . The Good Left Undone is a complex and absorbing reminder of the connection and grounding of family, the stories that bind us and the resilience of love amidst the devastation of war.

Lee Woodruff
This master storyteller has outdone herself with The Good Left Undone. What an epic, wonderful sprawling novel, her writing lush and luminous as she draws us into the world of three generations of women with her signature warmth, humor and huge heart. There is no-one like Adriana, and here she is at her absolute best

Jane Green, author of <i>Sister Stardust</i>
It's impossible not to be absolutely enthralled by the latest immersive Trigiani masterwork about family, food (oh my God, so delicious), loyalty and legacy. A story bristling with so much generous life, you'll swear you are there for all of it: the great loves, the unfathomable losses, the betrayals and the secrets of the artisan Cabrelli family, especially with matriarch Matelda, caught between the end of her own life, the beginning of her granddaughter Anina's, and the dramatic, love-torn and war-torn life her mother Domenica had led. Spanning Italy, France and England, and decades, The Good Left Undone is thrilling proof that, 'A family is only as strong as their stories.'

Caroline Leavitt
Adriana Trigiani once again proves her mastery at breaking your heart, and then mending it together again. Writing of strong women, steadfast loves, settings that whisk you away, and the legacy of the Cabrelli family, this is Trigiani at her finest. Sweeping yet intimate, The Good Left Undone is a love letter to matriarchs everywhere-prepare to be dazzled

Karma Brown, author of <i>Recipe for a Perfect Wife</i>
The Good Left Undone is as exquisite as the jewels the Cabrelli family creates. The breadth of the story, Trigiani's trademark humor, and emotional depth is a memento mori. What a gift for us who now truly contemplate our mortality to follow Matelda Roffo as she contemplates her life and its meaning. Trigiani writes, 'A family is only as strong as their stories.' This family is made of iron.

Susan Fales Hill
This beautifully written, immersive novel gripped me from the first page and didn't let go. In The Good Left Undone, Adriana Trigani sweeps you up and takes you on an epic journey both geographically and emotionally in a story about love, grief and the heartbreaking secrets woven into the tapestry of every family. Trigani's evocative, richly textured prose conjures a fully-realised world with characters and situations that you feel acutely invested in - the cast of strong female characters resonated with me in ways I didn't imagine and as I turned the last page I didn't want this book to end. An emotional rollercoaster of a read, it's a book that you'll need tissues for, but also one that brings immense joy. A must-read for 2022

Sarah Pearse, bestselling author of <i>The Sanatorium</i>
In The Good Left Undone Adriana Trigiani creates a powerful evocation of grief, love and war through three generations of one family. The memorable Tuscan setting is interleaved with tender relationships that bring history to life. Trigiani's love of place and people leaps off the page

Lucy Jago, bestselling author of <i>A Net for Small Fishes</i>
There is a reason Adriana Trigiani is so beloved by her millions of devoted readers. We all wait for the next book by this gorgeous writer. It's here at last. Let Adriana Trigiani take you far away

Sarah Jessica Parker
I honestly can't remember the last time a novel gave me such absolute pleasure. The Good Left Undone is the perfect novel. It carried me away and wrapped me up in the lives of generations of women in one family. It touched on love and loss, on life and death, on what's truly important; it made me forget everything except what I was reading. A big, beautiful, wonderful book; romantic, moving, transporting, affecting I will do everything I can to encourage everyone to read it because I know they won't be disappointed

Louise Douglas, Richard and Judy and Kindle Top 5 Bestselling Author
We are swept from Italy to France, Scotland, England, given memorable characters, rich detail, tragedy, triumph, secrets and surprises. Epic and captivating, this is a multi-generational saga told by a gifted storyteller

Choice
An epic story that takes its readers on a journey through several generations, from past to present day

My Weekly
This is a sweeping story of the complexities of love and family . . . A beautiful historical romance, this book manages to be epic and intimate at the same time

ADELE PARKS, SUN