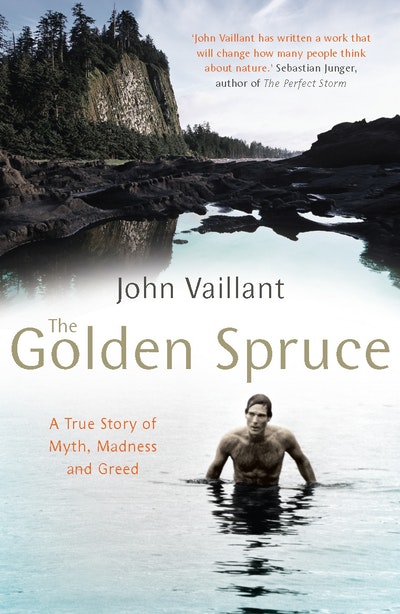 Published:

3 September 2007

ISBN:

9780099515791

Imprint:

Arrow

Format:

Paperback

Pages:

352

RRP:

$19.99
The Golden Spruce
A True Story of Myth, Madness and Greed
---
---
'His story is about one man and one tree, but it is much more than that. John Vaillant has written a work that will change how many people think about nature.' Sebastian Junger, author of The Perfect Storm
_____________________________________
On a bleak winter night in 1997, a British Columbia timber scout named Grant Hadwin committed an act of shocking violence: he destroyed the legendary Golden Spruce of the Queen Charlotte Islands. With its rich colours, towering height and luminous needles, the tree was a scientific marvel, beloved by the local Haida people who believed it sacred.
The Golden Spruce tells the story of the sadness which pushed Hadwin to such a desperate act of destruction - a bizarre environmental protest which acts as a metaphor for the challenge the world faces today. But it also raises the question of what then happened to Hadwin, who disappeared under suspicious circumstances and remains missing to this day.
Part thrilling mystery, part haunting depiction of the ancient beauty of the coastal wilderness, and part dramatic chronicle of the historical collision of Europeans and the native Haida, The Golden Spruce is a timely portrait of man's troubled relationship with a vanishing world.
Published:

3 September 2007

ISBN:

9780099515791

Imprint:

Arrow

Format:

Paperback

Pages:

352

RRP:

$19.99
Praise for The Golden Spruce
Writing in a vigorous, evocative style, Vaillant portrays the Pacific Northwest as a region of conflict and violence, from the battles between Europeans and Indians over the 18th-century sea otter trade to the hard-bitten, macho milieu of the logging camps, where grisly death is an occupational hazard. It is also, in his telling, a land of virtually infinite natural resources overmatched by an even greater human rapaciousness. . . . Vaillant paints a haunting portrait of man's vexed relationship with nature.

Publishers Weekly
In rich, painterly prose, [Vaillant] evokes the lush natural world where the golden spruce took root and thrived, the temperate rain forest of the Pacific Northwest. . . . Vaillant is absolutely spellbinding when conjuring up the world of the golden spruce. His descriptions of the Queen Charlotte Islands, with their misty, murky light and hushed, cathedral-like forests, are haunting, and he does full justice to the noble, towering trees. . . . The chapters on logging, painstakingly researched, make high drama out of the grueling, highly dangerous job of bringing down some of the biggest trees on earth.

New York Times