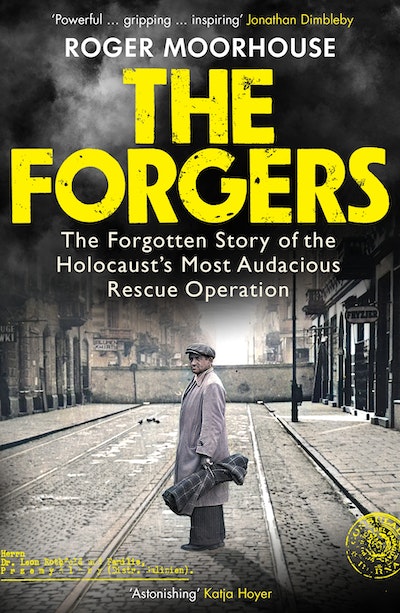 Published:

14 November 2023

ISBN:

9781847926777

Imprint:

Bodley Head

Format:

Trade Paperback

Pages:

352

RRP:

$36.99
The Forgers
The Forgotten Story of the Holocaust's Most Audacious Rescue Operation
---
---
---
This is the untold story of The Lados Group, a group of Polish diplomats and Jewish activists based in Switzerland during the Second World War who conceived an extraordinary operation to produce false identity documents and passports, often to Latin American countries
This is the untold story of The Lados Group, a group of Polish diplomats and Jewish activists based in Switzerland during the Second World War who conceived an extraordinary operation to produce false identity documents and passports, often to Latin American countries. These were smuggled into occupied Europe and would end up saving the lives of an estimated eight to ten thousand Jews - more, as he points out, than the famous efforts of Oskar Schindler. The Holocaust was made possible by the creation of lawless spaces and stateless individuals, so a passport to a non-European country was for many the difference between being sent to the camps and retained as a potential bargaining counter.
Roger is an excellent historian of Nazi Germany and Poland. Where FIRST TO FIGHT, Roger's most recent book, was the first history for 50 years of the mostly overlooked brutal 1939 war in Poland that western Europe took no part in, RIGHTEOUS has the potential to speak to a more general readership. Beyond what's in the proposal, we've already had useful exchange about the sources it draws on and how he plans to shape the narrative. Roger fully intends to put the human story at the heart of this book and is confident about how much first-hand material there is to draw on; he is also actively tracking down more accounts from those their passports saved.
RIGHTEOUS has as its focal point a small group of characters who achieved something truly remarkable. Their story has not been told in a book in any language and cries out to be turned into a film. FIRST TO FIGHT had excellent reviews and has sold very well across trade pbk, audio and ebook.
Published:

14 November 2023

ISBN:

9781847926777

Imprint:

Bodley Head

Format:

Trade Paperback

Pages:

352

RRP:

$36.99
Many inspiring stories have emerged from the horror of the Holocaust. This is one of them. Moorhouse's account of the remarkable humanitarians who gave life to thousands of Jews by providing them with forged South American passports, is as gripping as it is moving

Julia Boyd, author of Travellers in the Third Reich
Many inspiring stories have emerged from the horror of the Holocaust. This is one of them. Moorhouse's account of the remarkable humanitarians who gave life to thousands of Jews by providing them with forged South American passports, is as gripping as it is moving

Julia Boyd, author of Travellers in the Third Reich
Many inspiring stories have emerged from the horror of the Holocaust. This is one of them. Moorhouse's account of the remarkable humanitarians who gave life to thousands of Jews by providing them with forged South American passports, is as gripping as it is moving

Julia Boyd, author of Travellers in the Third Reich
Many inspiring stories have emerged from the horror of the Holocaust. This is one of them. Moorhouse's account of the remarkable humanitarians who gave life to thousands of Jews by providing them with forged South American passports, is as gripping as it is moving

Julia Boyd, author of Travellers in the Third Reich
Many inspiring stories have emerged from the horror of the Holocaust. This is one of them. Moorhouse's account of the remarkable humanitarians who gave life to thousands of Jews by providing them with forged South American passports, is as gripping as it is moving

Julia Boyd, author of Travellers in the Third Reich
A powerful and painful book. The Forgers offers new details of the brave efforts of the Polish Underground to rescue Jews. It is heartbreaking when Moorhouse details the bureaucracy and bad intentions of the international community who knowingly turned their backs on these rescue operations. This is an intimate portrait of the cycles of hope and despair that the sadistic ruses and bestial atrocities of the Nazis imposed on concentration camp prisoners

Rosemary Sullivan, author of The Betrayal of Anne Frank
A powerful and painful book. The Forgers offers new details of the brave efforts of the Polish Underground to rescue Jews. It is heartbreaking when Moorhouse details the bureaucracy and bad intentions of the international community who knowingly turned their backs on these rescue operations. This is an intimate portrait of the cycles of hope and despair that the sadistic ruses and bestial atrocities of the Nazis imposed on concentration camp prisoners

Rosemary Sullivan, author of The Betrayal of Anne Frank
A powerful and painful book. The Forgers offers new details of the brave efforts of the Polish Underground to rescue Jews. It is heartbreaking when Moorhouse details the bureaucracy and bad intentions of the international community who knowingly turned their backs on these rescue operations. This is an intimate portrait of the cycles of hope and despair that the sadistic ruses and bestial atrocities of the Nazis imposed on concentration camp prisoners

Rosemary Sullivan, author of The Betrayal of Anne Frank
A powerful and painful book. The Forgers offers new details of the brave efforts of the Polish Underground to rescue Jews. It is heartbreaking when Moorhouse details the bureaucracy and bad intentions of the international community who knowingly turned their backs on these rescue operations. This is an intimate portrait of the cycles of hope and despair that the sadistic ruses and bestial atrocities of the Nazis imposed on concentration camp prisoners

Rosemary Sullivan, author of The Betrayal of Anne Frank
A powerful and painful book. The Forgers offers new details of the brave efforts of the Polish Underground to rescue Jews. It is heartbreaking when Moorhouse details the bureaucracy and bad intentions of the international community who knowingly turned their backs on these rescue operations. This is an intimate portrait of the cycles of hope and despair that the sadistic ruses and bestial atrocities of the Nazis imposed on concentration camp prisoners

Rosemary Sullivan, author of The Betrayal of Anne Frank
Every now and again a new story emerges about the Holocaust despite the wealth of literature already available. Roger Moorhouse is to be congratulated for finding the remarkable account of thousands of Jews rescued by the efforts of a determined circle of Polish helpers. Original and thought-provoking, the history of the Lados circle challenges the argument that there was no way for the Allies to rescue Jews from Hitler's Europe. With sufficient will and ingenuity, it was possible, against all the odds, to rescue a fraction of those otherwise doomed to die

Richard Overy, author of Blood and Ruins
Every now and again a new story emerges about the Holocaust despite the wealth of literature already available. Roger Moorhouse is to be congratulated for finding the remarkable account of thousands of Jews rescued by the efforts of a determined circle of Polish helpers. Original and thought-provoking, the history of the Lados circle challenges the argument that there was no way for the Allies to rescue Jews from Hitler's Europe. With sufficient will and ingenuity, it was possible, against all the odds, to rescue a fraction of those otherwise doomed to die

Richard Overy, author of Blood and Ruins
Every now and again a new story emerges about the Holocaust despite the wealth of literature already available. Roger Moorhouse is to be congratulated for finding the remarkable account of thousands of Jews rescued by the efforts of a determined circle of Polish helpers. Original and thought-provoking, the history of the Lados circle challenges the argument that there was no way for the Allies to rescue Jews from Hitler's Europe. With sufficient will and ingenuity, it was possible, against all the odds, to rescue a fraction of those otherwise doomed to die

Richard Overy, author of Blood and Ruins
Every now and again a new story emerges about the Holocaust despite the wealth of literature already available. Roger Moorhouse is to be congratulated for finding the remarkable account of thousands of Jews rescued by the efforts of a determined circle of Polish helpers. Original and thought-provoking, the history of the Lados circle challenges the argument that there was no way for the Allies to rescue Jews from Hitler's Europe. With sufficient will and ingenuity, it was possible, against all the odds, to rescue a fraction of those otherwise doomed to die

Richard Overy, author of Blood and Ruins
Every now and again a new story emerges about the Holocaust despite the wealth of literature already available. Roger Moorhouse is to be congratulated for finding the remarkable account of thousands of Jews rescued by the efforts of a determined circle of Polish helpers. Original and thought-provoking, the history of the Lados circle challenges the argument that there was no way for the Allies to rescue Jews from Hitler's Europe. With sufficient will and ingenuity, it was possible, against all the odds, to rescue a fraction of those otherwise doomed to die

Richard Overy, author of Blood and Ruins
Precise yet heartfelt. The Forgers is an important and harrowing contribution to Holocaust literature. Essential reading

Clare Mulley, author of The Women who Flew for Hitler
Precise yet heartfelt. The Forgers is an important and harrowing contribution to Holocaust literature. Essential reading

Clare Mulley, author of The Women who Flew for Hitler
Precise yet heartfelt. The Forgers is an important and harrowing contribution to Holocaust literature. Essential reading

Clare Mulley, author of The Women who Flew for Hitler
Precise yet heartfelt. The Forgers is an important and harrowing contribution to Holocaust literature. Essential reading

Clare Mulley, author of The Women who Flew for Hitler
Precise yet heartfelt. The Forgers is an important and harrowing contribution to Holocaust literature. Essential reading

Clare Mulley, author of The Women who Flew for Hitler
This is a powerful story about a group of brave individuals who found a unique way of saving Jewish lives from the Nazis. Moorhouse's original research is characteristically scholarly, his insights illuminating and his narrative gripping. An inspiring read and an important addition to the history of the Holocaust

Jonathan Dimbleby, author of Barbarossa
This is a powerful story about a group of brave individuals who found a unique way of saving Jewish lives from the Nazis. Moorhouse's original research is characteristically scholarly, his insights illuminating and his narrative gripping. An inspiring read and an important addition to the history of the Holocaust

Jonathan Dimbleby, author of Barbarossa
This is a powerful story about a group of brave individuals who found a unique way of saving Jewish lives from the Nazis. Moorhouse's original research is characteristically scholarly, his insights illuminating and his narrative gripping. An inspiring read and an important addition to the history of the Holocaust

Jonathan Dimbleby, author of Barbarossa
This is a powerful story about a group of brave individuals who found a unique way of saving Jewish lives from the Nazis. Moorhouse's original research is characteristically scholarly, his insights illuminating and his narrative gripping. An inspiring read and an important addition to the history of the Holocaust

Jonathan Dimbleby, author of Barbarossa
This is a powerful story about a group of brave individuals who found a unique way of saving Jewish lives from the Nazis. Moorhouse's original research is characteristically scholarly, his insights illuminating and his narrative gripping. An inspiring read and an important addition to the history of the Holocaust

Jonathan Dimbleby, author of Barbarossa
The Forgers is an important contribution to the way we understand international responses to the Holocaust. Powerfully told and meticulously researched, Moorhouse's new book outlines the courageous efforts of the Lados Group, a circle of Polish diplomats in Switzerland who provided false documents for thousands of Jews during the Second World War in an attempt to save as many as possible from persecution and death. The Forgers is an astonishing book about one of the most ambitious rescue operations of the Holocaust

Katja Hoyer, author of Beyond the Wall
The Forgers is an important contribution to the way we understand international responses to the Holocaust. Powerfully told and meticulously researched, Moorhouse's new book outlines the courageous efforts of the Lados Group, a circle of Polish diplomats in Switzerland who provided false documents for thousands of Jews during the Second World War in an attempt to save as many as possible from persecution and death. The Forgers is an astonishing book about one of the most ambitious rescue operations of the Holocaust

Katja Hoyer, author of Beyond the Wall
The Forgers is an important contribution to the way we understand international responses to the Holocaust. Powerfully told and meticulously researched, Moorhouse's new book outlines the courageous efforts of the Lados Group, a circle of Polish diplomats in Switzerland who provided false documents for thousands of Jews during the Second World War in an attempt to save as many as possible from persecution and death. The Forgers is an astonishing book about one of the most ambitious rescue operations of the Holocaust

Katja Hoyer, author of Beyond the Wall
The Forgers is an important contribution to the way we understand international responses to the Holocaust. Powerfully told and meticulously researched, Moorhouse's new book outlines the courageous efforts of the Lados Group, a circle of Polish diplomats in Switzerland who provided false documents for thousands of Jews during the Second World War in an attempt to save as many as possible from persecution and death. The Forgers is an astonishing book about one of the most ambitious rescue operations of the Holocaust

Katja Hoyer, author of Beyond the Wall
The Forgers is an important contribution to the way we understand international responses to the Holocaust. Powerfully told and meticulously researched, Moorhouse's new book outlines the courageous efforts of the Lados Group, a circle of Polish diplomats in Switzerland who provided false documents for thousands of Jews during the Second World War in an attempt to save as many as possible from persecution and death. The Forgers is an astonishing book about one of the most ambitious rescue operations of the Holocaust

Katja Hoyer, author of Beyond the Wall
Once again Roger Moorhouse has produced an original and thrilling narrative which challenges several of the stereotypes about World War II. A tremendous story.

Norman Davies, author of Vanished Kingdoms
Once again Roger Moorhouse has produced an original and thrilling narrative which challenges several of the stereotypes about World War II. A tremendous story.

Norman Davies, author of Vanished Kingdoms
Once again Roger Moorhouse has produced an original and thrilling narrative which challenges several of the stereotypes about World War II. A tremendous story.

Norman Davies, author of Vanished Kingdoms
Once again Roger Moorhouse has produced an original and thrilling narrative which challenges several of the stereotypes about World War II. A tremendous story.

Norman Davies, author of Vanished Kingdoms
Once again Roger Moorhouse has produced an original and thrilling narrative which challenges several of the stereotypes about World War II. A tremendous story.

Norman Davies, author of Vanished Kingdoms
The Forgers is a well-constructed and agreeably concise book with a clear narrative drive and fascinating detail ... Moorhouse's most laudable achievement is the light he shines on Lados and his team, who saved at least 2,000 Jews from extermination. Until now, they have not received the recognition they deserve

Gerard de Groot, The Times
The Forgers is a well-constructed and agreeably concise book with a clear narrative drive and fascinating detail ... Moorhouse's most laudable achievement is the light he shines on Lados and his team, who saved at least 2,000 Jews from extermination. Until now, they have not received the recognition they deserve

Gerard de Groot, The Times
The Forgers is a well-constructed and agreeably concise book with a clear narrative drive and fascinating detail ... Moorhouse's most laudable achievement is the light he shines on Lados and his team, who saved at least 2,000 Jews from extermination. Until now, they have not received the recognition they deserve

Gerard de Groot, The Times
The Forgers is a well-constructed and agreeably concise book with a clear narrative drive and fascinating detail ... Moorhouse's most laudable achievement is the light he shines on Lados and his team, who saved at least 2,000 Jews from extermination. Until now, they have not received the recognition they deserve

Gerard de Groot, The Times
The Forgers is a well-constructed and agreeably concise book with a clear narrative drive and fascinating detail ... Moorhouse's most laudable achievement is the light he shines on Lados and his team, who saved at least 2,000 Jews from extermination. Until now, they have not received the recognition they deserve

Gerard de Groot, The Times
Among the many remarkable aspects of The Forgers is the fact that the prime movers were Poles, many of whom were notorious for antisemitism ... [Moorhouse] does well to highlight that some Poles displayed admirable compassion.

Max Hastings, Sunday Times
Among the many remarkable aspects of The Forgers is the fact that the prime movers were Poles, many of whom were notorious for antisemitism ... [Moorhouse] does well to highlight that some Poles displayed admirable compassion.

Max Hastings, Sunday Times
Among the many remarkable aspects of The Forgers is the fact that the prime movers were Poles, many of whom were notorious for antisemitism ... [Moorhouse] does well to highlight that some Poles displayed admirable compassion.

Max Hastings, Sunday Times
Among the many remarkable aspects of The Forgers is the fact that the prime movers were Poles, many of whom were notorious for antisemitism ... [Moorhouse] does well to highlight that some Poles displayed admirable compassion.

Max Hastings, Sunday Times
Among the many remarkable aspects of The Forgers is the fact that the prime movers were Poles, many of whom were notorious for antisemitism ... [Moorhouse] does well to highlight that some Poles displayed admirable compassion.

Max Hastings, Sunday Times
Absorbing... It is a story that seems not to have been told much outside the academic literature, and it is deeply researched and well reported here

Spectator
Absorbing... It is a story that seems not to have been told much outside the academic literature, and it is deeply researched and well reported here

Spectator
Absorbing... It is a story that seems not to have been told much outside the academic literature, and it is deeply researched and well reported here

Spectator
Absorbing... It is a story that seems not to have been told much outside the academic literature, and it is deeply researched and well reported here

Spectator
Absorbing... It is a story that seems not to have been told much outside the academic literature, and it is deeply researched and well reported here

Spectator
In this fascinating book, Roger Moorhouse shines a light on extraordinary, audacious and little-known rescue operation

Mail on Sunday
In this fascinating book, Roger Moorhouse shines a light on extraordinary, audacious and little-known rescue operation

Mail on Sunday
In this fascinating book, Roger Moorhouse shines a light on extraordinary, audacious and little-known rescue operation

Mail on Sunday
In this fascinating book, Roger Moorhouse shines a light on extraordinary, audacious and little-known rescue operation

Mail on Sunday
In this fascinating book, Roger Moorhouse shines a light on extraordinary, audacious and little-known rescue operation

Mail on Sunday
Roger Moorhouse, the leading historian on Poland's war, publishes a full account of Lados's efforts in an excellent book on the passport ring

Daniel Finkelstein, The Times
Roger Moorhouse, the leading historian on Poland's war, publishes a full account of Lados's efforts in an excellent book on the passport ring

Daniel Finkelstein, The Times
Roger Moorhouse, the leading historian on Poland's war, publishes a full account of Lados's efforts in an excellent book on the passport ring

Daniel Finkelstein, The Times
Roger Moorhouse, the leading historian on Poland's war, publishes a full account of Lados's efforts in an excellent book on the passport ring

Daniel Finkelstein, The Times
Roger Moorhouse, the leading historian on Poland's war, publishes a full account of Lados's efforts in an excellent book on the passport ring

Daniel Finkelstein, The Times
There is much fascinating research in Moorhouse's book

Times Literary Supplement
There is much fascinating research in Moorhouse's book

Times Literary Supplement
A captivating narrative of heroism and an illuminating account of the international diplomatic response to the Holocaust

Publishers Weekly
A captivating narrative of heroism and an illuminating account of the international diplomatic response to the Holocaust

Publishers Weekly
A captivating narrative of heroism and an illuminating account of the international diplomatic response to the Holocaust

Publishers Weekly
A captivating narrative of heroism and an illuminating account of the international diplomatic response to the Holocaust

Publishers Weekly
A captivating narrative of heroism and an illuminating account of the international diplomatic response to the Holocaust

Publishers Weekly
As gripping and dramatic…as any thriller… The Forgers does a remarkable job of shining a light on this little-known truth

Daily Express
As gripping and dramatic…as any thriller… The Forgers does a remarkable job of shining a light on this little-known truth

Daily Express
As gripping and dramatic…as any thriller… The Forgers does a remarkable job of shining a light on this little-known truth

Daily Express
As gripping and dramatic…as any thriller… The Forgers does a remarkable job of shining a light on this little-known truth

Daily Express
As gripping and dramatic…as any thriller… The Forgers does a remarkable job of shining a light on this little-known truth

Daily Express
Moorhouse…is one of today's academic experts on 20th-century Central Europe… I knew little of the extraordinary story he recounts

Jewish Chronicle
Moorhouse…is one of today's academic experts on 20th-century Central Europe… I knew little of the extraordinary story he recounts

Jewish Chronicle
Moorhouse…is one of today's academic experts on 20th-century Central Europe… I knew little of the extraordinary story he recounts

Jewish Chronicle
Moorhouse…is one of today's academic experts on 20th-century Central Europe… I knew little of the extraordinary story he recounts

Jewish Chronicle
Moorhouse…is one of today's academic experts on 20th-century Central Europe… I knew little of the extraordinary story he recounts

Jewish Chronicle