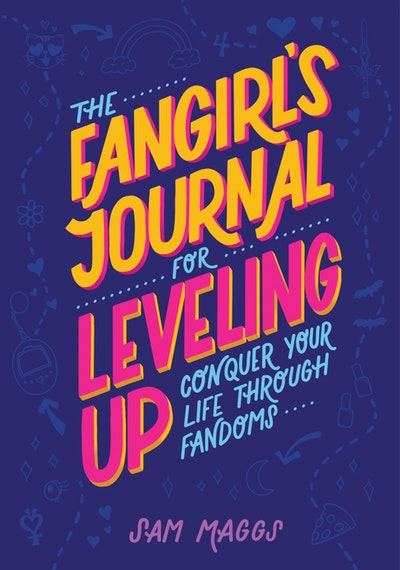 Published:

15 January 2021

ISBN:

9781683692195

Imprint:

Quirk Books Children's

Format:

Hardback

Pages:

160

RRP:

$26.99
The Fangirl's Journal for Leveling Up
Conquer Your Life Through Fandom
---
---
A companion to The Fangirl's Guide to the Galaxy, this guided journal by Sam Maggs includes essays, prompts, and illustrations to help fangirls get in touch with their dreams, plans, and faves.
The Fangirl's Journal: Finding Empowerment and Inspiration in Fandom is a guided journal for geeky girls. Based on Sam Maggs' The Fangirl's Guide to the Galaxy, this wreckable, writeable, and loveable journal encourages girls to think about the things they love, why they love them, and what those things say about themselves.
Fandom is an excellent way to discover who you really are as you're growing up. Your OTPs, NOTPS, and even OT3s actually say a lot about you, if you're willing to listen hard enough. With this journal, girls can have fun examining their current fandoms, explore those they haven't had a chance to love yet, and even push the boundaries of their own creativity. Each section opens with a personal essay by the author, followed by writing prompts made for fangirl self-reflection (like "What are your favorite fanfic tropes?" and "What's a popular fantasy book you've never read - and why?") Users can start their very own transformative works with prompts for fanfic and fanart, alongside inspirational quotes from famous women in fandom and kick-ass female characters from genre fiction. The Fangirl's Journal will also include visual guides to comics, movies, TV shows, and video games, checklists for what to watch or read next, definitions of fandom terms, and wisdom from their favorite geeky gals.
The Fangirl's Journal encourages girls to be their very best, strongest, loudest, and nerdiest selves--and helps them to figure out exactly who that might be along the way.
Published:

15 January 2021

ISBN:

9781683692195

Imprint:

Quirk Books Children's

Format:

Hardback

Pages:

160

RRP:

$26.99