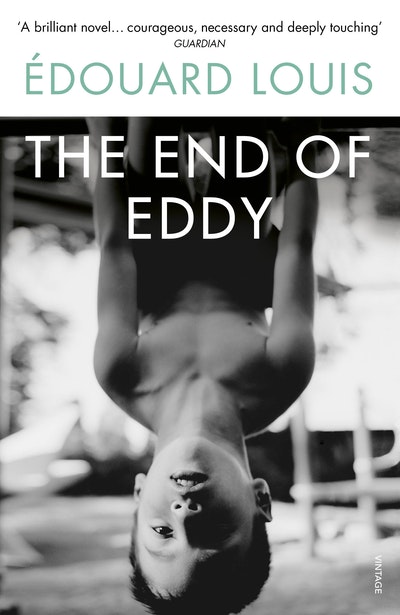 Published:

29 January 2018

ISBN:

9780099598466

Imprint:

Vintage

Format:

Paperback

Pages:

208

RRP:

$22.99
The End of Eddy
---
---
This searing novel of a childhood in a working-class French town has sparked conversations across the globe about social inequality and sexuality
'A brilliant novel. courageous, necessary and deeply touching' Guardian
Édouard Louis grew up in a village in northern France where many live below the poverty line. His bestselling debut novel about life there, The End of Eddy, has sparked debate on social inequality, sexuality and violence.
It is an extraordinary portrait of escaping from an unbearable childhood, inspired by the author's own. Written with an openness and compassionate intelligence, ultimately, it asks, how can we create our own freedom?
'A mesmerising story about difference and adolescence'
New York Times
'Édouard Louis.is that relatively rare thing - a novelist with something to say and a willingness to say it, without holding back'
The Times
'Louis' book has become the subject of political discussion in a way that novels rarely do'
Garth Greenwell, New Yorker
Published:

29 January 2018

ISBN:

9780099598466

Imprint:

Vintage

Format:

Paperback

Pages:

208

RRP:

$22.99
Praise for The End of Eddy
An extraordinary autobiographical novel about class, violence and sexuality in France. It's a vivid, often brutal but immensely touching book that restores my faith in the power of literature

Tash Aw
Even in the wake of Knausgaard and Ferrante it is hard to find a literary phenomenon that has swept Europe quite like the autobiographical project of Édouard Louis

LitHub
A remarkable book which looks at its subject with, in equal parts, revulsion, lust, love and anger. The clarity with which Louis examines the interweaving causes and effects of masculinity, adolescence, shame and community on the working class are unparalleled in anything I've read before. It is ultimately the story of growing up as an economic and sexual outsider; a vital piece of work for our time

Andrew McMillan
The End of Eddy is a remarkable book, powerful, frank, moving and, at the same time, carefully crafted and devoid of sentimentality or self-pity. Most importantly, in writing reminiscent of the unflinching gaze of Zola's social novels, The End of Eddy reveals the huge damage done by poverty and ignorance in a society that, for all its affluence, reduces its most vulnerable to a condition of banal horror

John Burnside
Édouard Louis speaks of violence, both social and familial, with tremendous force and feeling. Revelatory, queerly tough, as intellectual as it is impolite, The End of Eddy is a book to shake you up

Justin Torres
Like a cannonball spilled off the side of a ship, Édouard Louis makes straight for the deeps. The End of Eddy is heart-crushing, soul-stabbing, astonishing, exhilarating. Édouard Louis is exactly the kind of writer we need right now: honest, fearless and, yes, tough

Laird Hunt
A bracingly pitiless account of the psychic and physical violence that lies at the root of masculine identity. Louis's remarkably visceral story of growing up queer in working class France quickly transcends its setting precisely because it delivers us into it with such emotional force

Adam Haslett
The End of Eddy is lean and poignant and masterfully tells the tale of growing up gay, poor, and bullied. No one has told this story as eloquently

Edmund White
An intelligent, revelatory book

Claire Lowdon, The Sunday Times
In stark, unsentimental prose Louis. unblinkingly documents the violence, masochism and racism of rural France in a book that pulses with power

Donal O'Donoghue, RTE Guide
Edouard has produced a critical study of the conservatism of small communities, and an exploration of how we reconcile our individual nature with what is expected of us

UK Press Syndication
The real achievement of the book is not its reportage, but its attitude. It is written entirely without self pity - and, astonishingly, without judgment... courageous, necessary and deeply touching

Neil Bartlett, Guardian
It's more than an unflinching autobiography. it's a sociological study, holding up a mirror to working-class life and the norms of masculinity

Shortlist
An intensely autobiographical novel that spares no one...this young French writer has captured a candid, unaffected voice that resonates... Publisher's hype all to often fails to deliver, but not this time

Eileen Battersby, Irish Times
A candid, necessary call against conventional definitions of masculinity and the fear of difference

Claire Kohda Hazelton, Observer
Michael Lucy's translation conveys both the scorching sorrow and the cool intelligence of a book that - half-misery memoir, half radical tract - finds a voice for so much pain. The scapegoat of Hallencourt has become its spokesman

The Economist
It is a brutal, forceful, gripping read. There is no hipster posing, no ironic distance; its anger and rawness make it refreshing. He has something to say - and it's worth listening to. I suspect we'll be hearing more of Edouard Louis. He is that relatively rare thing - a novelist with something to say and a willingness to say it, without holding back

Robbie Millen, The Times
The book's directness about violence, sex, his family, and those in his neighbourhood is stunning. But it is also far more than a just memoir, it is a scathing condemnation of the cycle of poverty and violence inflicted upon those he grew up with, those same people who tormented him for much of his early life

Bruno Bayley, Vice
Extraordinary... In prose that revels in describing pain and deprivation, moments of extreme tenderness surface even in the midst of violence

Tash Aw, London Review of Books
This is the courageous story of an outsider, in equal parts frank, provocative and compelling

Laura Garmeson, Financial Times
Remarkably brave. This is a devastating achievement

Catherine Humble, The Times Literary Supplement
An absorbing story. It's become food for thought for the masses, a type of which the political elite never approve

Carina McNally, Irish Examiner
The End of Eddy portrays a childhood marked by fear and violence... His use of...language...gives it a devastating emotional force. To write the novel is at once an act of solidarity and an act of vengeance.

Garth Greenwell, New Yorker
A scarifying joy

Philip Hensher, Observer
A savage account of growing up poor, gay and victimised in rural France.

Justine Jordan, Guardian
Stunning... A startling use of the extremely personal to convey a message that is universally relevant

Vice
When new voices come from underrepresented constituencies, there's always the hope of a new perspective... I can read Edouard Louis and know something of what it means to grow up in extreme poverty in contemporary France

Zadie Smith, Observer