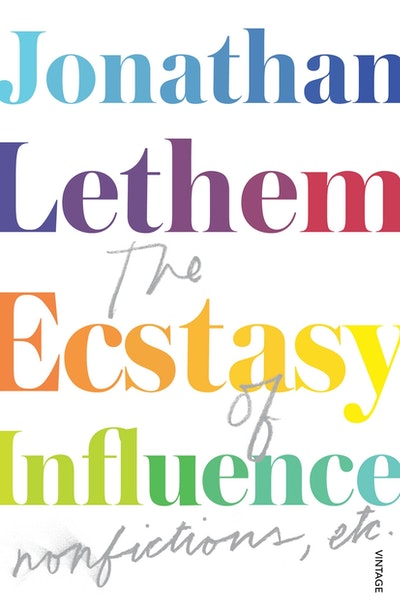 Published:

15 March 2013

ISBN:

9780099563433

Imprint:

Vintage

Format:

Paperback

Pages:

464

RRP:

$35.00
The Ecstasy of Influence
Nonfictions, etc.
---
---
A career-spanning collection of writings - essays, memoir, liner notes, fiction and commentary - from one of the greats of contemporary American literature.
This volume sheds light on an array of topics from sex in cinema to drugs, graffiti, Bob Dylan, cyberculture, 9/11, book touring and Marlon Brando. Then there are investigations of a shelf's worth of Jonathan Letham's literary models and contemporaries: Norman Mailer, Philip K. Dick, Bret Easton Ellis, James Wood, and others. And, writing about Brooklyn, his father, and his sojourn through two decades of writing, one of the greats of contemporary American literature sheds an equally strong light on himself.
In The Ecstasy of Influence, Jonathan Lethem, tangling with what he calls the 'white elephant' role of the writer as public intellectual, arrives at an astonishing range of answers.
Funny and unfettered, The Ecstasy of Influence simmers with direct challenges to conventional wisdom and deep insights into the kaleidoscopic nature of artistic vision, the primacy of the writer in the cultural marketplace, and the way the author's own experiences have fuelled his creative passions.
Published:

15 March 2013

ISBN:

9780099563433

Imprint:

Vintage

Format:

Paperback

Pages:

464

RRP:

$35.00
Praise for The Ecstasy of Influence
Thoughtful and rambunctious ... a jazzy, patchwork memoir ... [a] fresh, erudite, zestful, funny frolic in the great fields of creativity

Booklist
Lethem writes with a commitment to sharing his enthusiasm for whatever obsesses him ... While the results illuminate his formative influences and artistic development, they also cast considerable light on the culture at large, which is both reflected in Lethem's work and has profoundly shaped it

Kirkus Reviews
The pleasure for readers is twofold: on one hand, there is the intrinsic interest in the subjects...On the other, there's the fact that this is Lethem telling us these things, and how it gives an insight into his own creative practice

Guardian
A collage of what makes Lethem tick

Monocle
A high-wire juggling act where all the balls are kept spinning perfectly

Irish Independent
Hefty and remarkable... These byways, all of which make room for eccentric flights as well as proper essays, augment the charm and impact of what Lethem prefers to call an autobiographical collage

The New York Times Book Review
I love this book

The Los Angeles Times
He's a novelist who has spent a lifetime creating his own subversive pantheon, a jumpy CBGB's of the literary soul. Several of the essays here marinate in the fish sauce that is literary gossip. feisty, freewheeling, funny

The New York Times
The Ecstasy of Influence is, more than anything, a record of Mr. Lethem's life as a public novelist, a role for which he is obviously well suited. Mr. Lethem has such a gift, and The Ecstasy of Influence is evidence of it

New York Observer
Jonathan Lethem, the New York novelist, writes superb essays

William Leith, Scotsman
Superb collection of essays. Clever but satisfying, too

Lesley McDowell, Glasgow Sunday Herald
Jonathan Lethem...writes superb essays... lovely subtlety

Evening Standard
Witty, astute and irreverent

James Urquhart, Financial Times
A funny and clever selection of essays

Observer
Impassioned and detailed studies offset with bagatelles

Stuart Kelly, Guardian