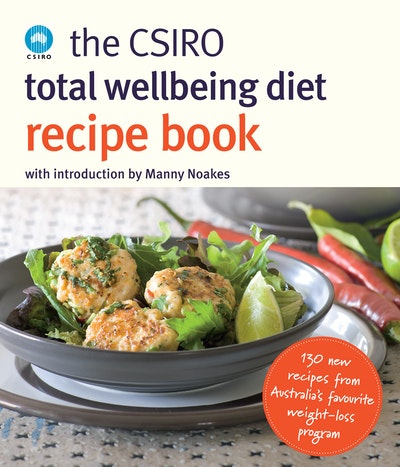 Published:

3 May 2010

ISBN:

9780143203452

Imprint:

Penguin

Format:

Paperback

Pages:

208

RRP:

$35.00
The CSIRO Total Wellbeing Diet Recipe Book
---
---
Extends Australia's most popular diet into everyday life.
On New Year's Eve 2006 we made a pact to follow the principles of the CSIRO Total Wellbeing Diet and let it guide the way we ate. People at work say, 'Are you still on the CSIRO diet?' and I say, 'This is just how we eat now. The CSIRO diet is an education program on how to eat properly. Now that I know how good I can feel, why would I change?' Carla, SAThe CSIRO Total Wellbeing Diet Recipe Book extends Australia's most popular diet into everyday life. With 130 brand-new recipes, this collection aims to inspire the thousands of Australians who have used the diet to continue doing so, and introduces newcomers to an eating plan that promotes long-term weight management and overall good health.
Find out how to:
- cook with different protein options, including fish, legumes, chicken and meat entertain with ease for all sorts of occasions, from formal dinners to casual barbecues
- put together a fast weeknight dinner the whole family will enjoy
- create healthy, tasty meals on a shoestring budget
- cook a meal in advance and freeze to ensure healthy eating during busy periods.
Lose weight and boost your vitality while enjoying the pleasures of good food.
'All (the recipes) are simple to create and tweaked with ingredients you'd be hard-pressed to call 'diet' options.' Sydney Morning Herald
Published:

3 May 2010

ISBN:

9780143203452

Imprint:

Penguin

Format:

Paperback

Pages:

208

RRP:

$35.00
Praise for The CSIRO Total Wellbeing Diet Recipe Book
Since its launch in 2006, the CSIRO Total Wellbeing Diet cookbook has sold more than a million copies - at one point outstripping Harry Potter at the top of the best-seller list. The publishing phenomenon has been praised for singlehandedly helping lift beef consumption across Australia, based on its high-protein, low-carb philosophy. The latest revised version of the book, featuring a bunch of new recipes covering everything from breakfasts to barbecue dinners, is out now through Penguin, retailing for $35. Let's hope it continues to influence the cooking and eating habits of a whole new generation of Australian consumers.

Queensland Country Life
All are simple to create and tweaked with ingredients you'd be hard-pressed to call 'diet' options.

PRH, Sydney Morning Herald