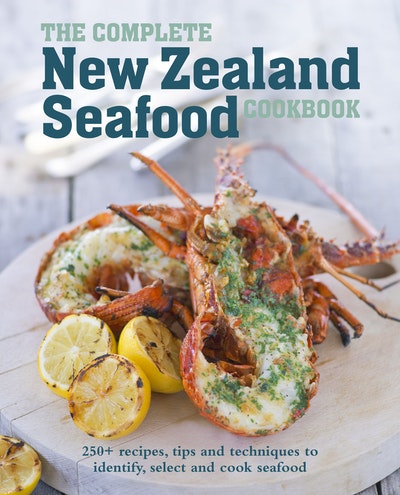 Published:

13 November 2017

ISBN:

9780143771883

Imprint:

Penguin

Format:

Paperback

Pages:

288

RRP:

$45.00
The Complete New Zealand Seafood Cookbook
---
---
Packed with more than 250 delicious recipes, as well as how-to info on identifying and preparing fish, this is the ultimate seafood cookbook. Some of the best seafood in the world can be found in New Zealand waters, and with this cookbook Kiwis will soon be cooking mouth-watering fish and shellfish dishes with ease.
The Complete New Zealand Seafood Cookbook is not just a collection of tasty recipes, it is also your go-to book for all things seafood and includes expert advice on: catching, handling, purchasing and storing fish; preparing fish at home, including scaling, gutting, filleting, boning and skinning, as well as cleaning and preparing shellfish; cooking seafood, including pan-frying, barbecuing, steaming, poaching and baking; and how to choose the ideal seafood option for a meal.
From smoked fish pie and whitebait fritters to fish burgers, gumbo and paella, all of your favourite seafood dishes are here in this cookbook – along with some fresh ideas to try. Packed with more than 250 tried-and-true recipes, covering everything from everyday meals to special events, this is the only seafood cookbook you'll ever need.
Published:

13 November 2017

ISBN:

9780143771883

Imprint:

Penguin

Format:

Paperback

Pages:

288

RRP:

$45.00
Praise for The Complete New Zealand Seafood Cookbook
'An excellent resource for home cooks and keen fishermen alike.' —Dish

PRH, PRH
'Not only does this cookbook have great recipes created by six seasoned chefs, it also has handy practical information'. —Healthy Food Guide

PRH, PRH
'This is a comprehensive text that will have you dreaming up new ways with your catch all year around!' —Waikato Times

PRH, PRH
'. . . an important, useful, and brilliantly illustrated hardback cookbook containing more than 250 recipes along with tips and techniques to identify, select and cook seafood. This book will make an excellent Christmas gift for friends or family who have baches on the coast.'' —Beattie's Book Blog

PRH, PRH
'The recipes are very clear and the illustrations inspirational. This is the only seafood cookbook you need in your kitchen.' —Weekend Herald (Best Books of 2013)

PRH, PRH
'[The launch] was a fantastic way to showcase the variety on offer in this cookbook, a great Christmas gift as it really does cater for all tastes (as long as they're maritime, obviously!). Whether you're a fillet-only kind of cook, you love a good haul of shellfish or you're keen to start cooking some lesser-known species of fish, you'll find inspiration here.' —Taste

PRH, PRH
'This handy book, bringing together recipes from talented chefs at the Auckland Seafood School, will quickly become an essential Kiwi guide to making the most of [seafood].' —Sunday Star Times

PRH, PRH
'Oodles of ideas for making the most of your catch (or fish shop purchase) can be found in this handsome volume.' —NZ House & Garden

PRH, PRH
'The lure of these fragrant, mouth-watering seafood recipes will be too much to resist.' —Taste

PRH, PRH
'If fishing if your thing, The Complete New Zealand Seafood Cookbook is newly published and packed full of great flavour combinations and new ways of cooking our wonderful local seafood.' —Express

PRH, PRH