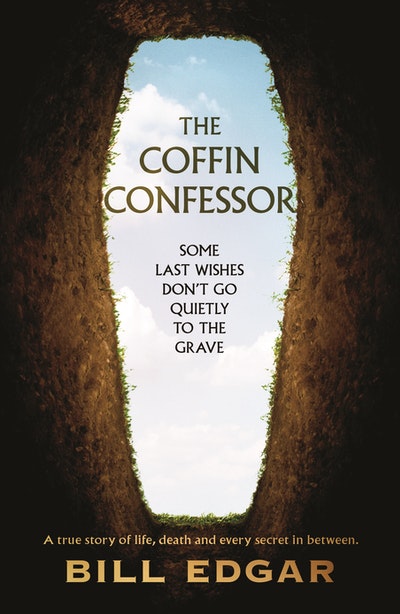 Published:

2 July 2021

ISBN:

9781761042959

Imprint:

Penguin

Format:

Trade Paperback

Pages:

304

RRP:

$34.99
The Coffin Confessor
---
---
---
'That's when I stood up, told the best mate to sit down, shut up or f**k off. That the man in the coffin had a few things to say.'
Imagine you are dying with a secret. Something you've never had the courage to tell your friends and family. Or a last wish – a task you need carried out before you can rest in peace. Now imagine there's a man who can take care of all that, who has no respect for the living, who will do anything for the dead.
Bill Edgar is the Coffin Confessor – a one-of-a-kind professional, a man on a mission to make good on these last requests on behalf of his soon-to-be-deceased clients. And this is the extraordinary story of how he became that man.
Bill has been many things in this life: son of one of Australia's most notorious gangsters, homeless street-kid, maximum-security prisoner, hard man, family man, car thief, professional punching bag, philosopher, inventor, private investigator, victim of horrific childhood sexual abuse and an activist fighting to bring down the institutions that let it happen. A survivor.
As a little boy, he learned the hard way that society is full of people who fall through the cracks – who die without their stories being told. Now his life's work is to make sure his clients' voices are heard, and their last wishes delivered: the small-town grandfather who needs his tastefully decorated sex dungeon destroyed before the kids find it. The woman who endured an abusive marriage for decades before finding freedom. The outlaw biker who is afraid of nothing . . . except telling the world he is in love with another man. The dad who desperately needs to track down his estranged daughter so he can find a way to say he's sorry, with one final gift.
Confronting and confounding, heartwarming and heartbreaking, The Coffin Confessor is a compelling story of survival and redemption, of a life lived on the fringes of society, on both sides of the law – and what that can teach you about living your best life . . . and death.
Published:

2 July 2021

ISBN:

9781761042959

Imprint:

Penguin

Format:

Trade Paperback

Pages:

304

RRP:

$34.99