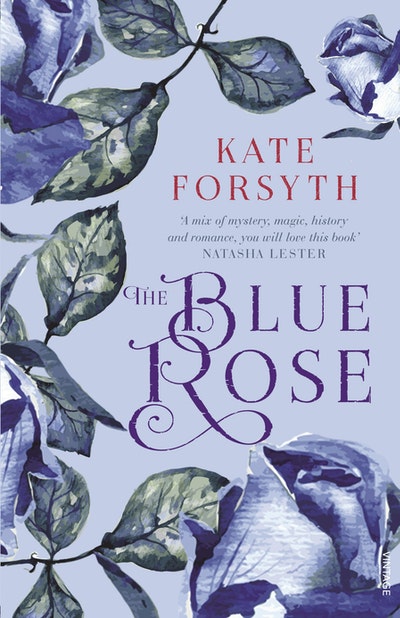 Published:

16 July 2019

ISBN:

9780143786160

Imprint:

Vintage Australia

Format:

Trade Paperback

Pages:

368

RRP:

$32.99
The Blue Rose
---
---
---
Moving between Imperial China and France during the 'Terror' of the French Revolution and inspired by the true story of the quest for a blood-red rose.
Viviane de Faitaud has grown up alone at the Chateau de Belisima-sur-le-Lac in Brittany, for her father, the Marquis de Ravoisier, lives at the court of Louis XVI in Versailles. After a hailstorm destroys the chateau's orchards, gardens and fields an ambitious young Welshman, David Stronach, accepts the commission to plan the chateau's new gardens in the hope of making his name as a landscape designer.
David and Viviane fall in love, but it is an impossible romance. Her father has betrothed her to a rich duke who she is forced to marry and David is hunted from the property. Viviane goes to court and becomes a maid-in-waiting to Marie-Antoinette and a member of the extended royal family. Angry and embittered, David sails away from England with Lord Macartney, the British ambassador, who hopes to open up trade with Imperial China.
In Canton, the British embassy at last receives news from home, including their first reports of the French Revolution. David hears the story of 'The Blue Rose', a Chinese fable of impossible love, and discovers the blood-red rose growing in the wintry garden. He realises that he is still in love with Viviane and must find her.
Viviane escapes the guillotine and returns to the ruin of Chateau de Belisima to rebuild her life. David carrying a cluster of rosehips finds her there, and together they decide to grow the fabled red rose of China in France.
Published:

16 July 2019

ISBN:

9780143786160

Imprint:

Vintage Australia

Format:

Trade Paperback

Pages:

368

RRP:

$32.99
There is something gleeful as well as skillful in the way that Forsyth wields all the main defining characteristics of romance fiction while keeping up a precarious balance of sympathies among her various French characters. She spares her readers none of the terrifying hysteria and gore of the 1790s in Paris.

Kerryn Goldsworthy, The Sydney Morning Herald
I fell headlong into this book, swept away by Viviane's spirit, the tumultuous backdrop of the French Revolution, and the beauty of the love story unfurling in the gardens of the chateau. If you're a fan of Kate's signature mix of mystery, magic, history and romance, you will love this book.

Natasha Lester
This novel is an utter delight. Kate Forsyth combines forbidden love and the real-life quest to find a rare rose with her trademark penchant for impeccable research. The result is a sumptuous and moving tale about a country's loss of innocence and a young woman's resolve to stay true to herself.

Lauren Chater
A gripping and innovative read. Vivid period detail brings this fairy tale to life.

Roxane Dhand
Kate Forsyth is a storyteller like no other. She invites you into a front-row seat to history's lushest moments, then breaks your heart in a thousand magical ways. The Blue Rose stuns with its epic sweep and grandeur, and its intimate heart-felt beauty.

Kimberley Freeman
Article