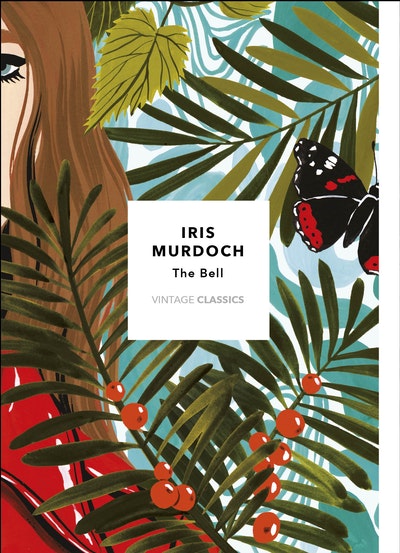 Published:

3 September 2019

ISBN:

9781784875206

Imprint:

Vintage Classics

Format:

Paperback

Pages:

368

RRP:

$22.99
The Bell (Vintage Classics Murdoch Series)
---
---
---
A novel that offers uplifting lessons in love – now republished as part of the Vintage Classics Murdoch Series – six gorgeous editions of her best, funniest and most subversive novels published to mark her centenary.
'In this holy community she would play the witch.'

Imber Court is a quiet haven for lost souls, a utopia for those who can neither live in the world, nor out of it. But beneath the gentle daily routines of this community run currents of supressed desire, religious yearning and a legend of disastrous love. Charming, indolent Dora arrives in their midst, and half-unwittingly conjures these submerged things to the surface.
WITH AN INTRODUCTION BY SARAH PERRY
VINTAGE CLASSICS MURDOCH: Funny, subversive, fearless and fiercely intelligent, Iris Murdoch was one of the great writers of the twentieth century. To celebrate her centenary Vintage Classics presents special editions of her greatest and most timeless novels.
Published:

3 September 2019

ISBN:

9781784875206

Imprint:

Vintage Classics

Format:

Paperback

Pages:

368

RRP:

$22.99
Praise for The Bell (Vintage Classics Murdoch Series)
She's writing about the only things that matter – love, goodness and how to be happy

Patrick Gale, Independent
The plot is both comical and moving, and it's a book that everyone who's ever been tempted to throw in the towel and become a hermit should read....despite the grand subjects at issue, the novel's tone is not at all dry or didactic – it is, on the contrary, wonderfully lively and poignant at the same time, tender with a sprightly social comedy reminiscent of PG Wodehouse and Barbara Pym

Guardian
How bloody good her novels are – how intelligent, how lucent, how divinely crazy. They're fun – I'd forgotten that

Sarah Waters, Guardian
Her characters are described with loving exactitude and in such depth that their struggles to define what it means to live a good life take on dramatic force

New York Times
Above all, she was a consummate story-teller, prodigiously inventive and generous, in the realist tradition of Dickens, Jane Austen, George Eliot, Henry James, Tolstoy and Dostoevsky

Independent
A tragi-comic masterpiece... A magnificent novel

Susan Hill, The Lady
Her best book… Classic Murdoch tropes… are married to a spry and well-developed plot

James Marriott, The Times
The Bell is not frightening, precisely, but it offers that uneasy sensation of being suspended, somehow, between what is familiar and what is strange… a kind of hot, dreamlike muddle… The Bell has, in the 60 years since its publication, lost none of its power to disrupt

Sarah Perry, Daily Telegraph