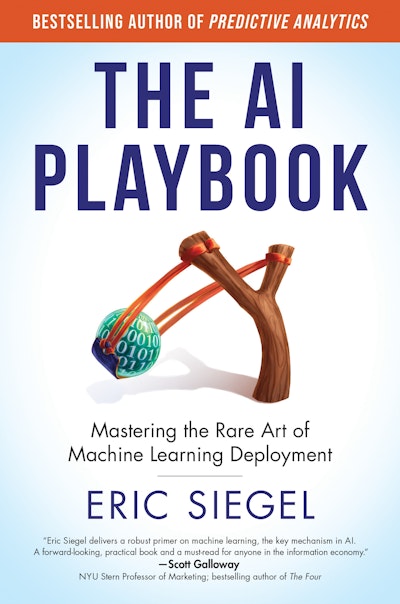 Published:

12 March 2024

ISBN:

9780262048903

Imprint:

MIT Press

Format:

Hardback

Pages:

264

RRP:

$69.99
The AI Playbook
Mastering the Rare Art of Machine Learning Deployment
---
---
In his bestselling first book, Eric Siegel explained how machine learning works. Now, in The AI Playbook, he shows how to capitalize on it.
The greatest tool is the hardest to use. Machine learning is the world's most important general-purpose technology—but it's notoriously difficult to launch. Outside Big Tech and a handful of other leading companies, machine learning initiatives routinely fail to deploy, never realizing value. What's missing? A specialized business practice suitable for wide adoption. In The AI Playbook, bestselling author Eric Siegel presents the gold-standard, six-step practice for ushering machine learning projects from conception to deployment. He illustrates the practice with stories of success and of failure, including revealing case studies from UPS, FICO, and prominent dot-coms. This disciplined approach serves both sides: It empowers business professionals, and it establishes a sorely needed strategic framework for data professionals.

Beyond detailing the practice, this book also upskills business professionals—painlessly. It delivers a vital yet friendly dose of semi-technical background knowledge that all stakeholders need to lead or participate in machine learning projects, end to end. This puts business and data professionals on the same page so that they can collaborate deeply, jointly establishing precisely what machine learning is called upon to predict, how well it predicts, and how its predictions are acted upon to improve operations. These essentials make or break each initiative—getting them right paves the way for machine learning's value-driven deployment.
Published:

12 March 2024

ISBN:

9780262048903

Imprint:

MIT Press

Format:

Hardback

Pages:

264

RRP:

$69.99