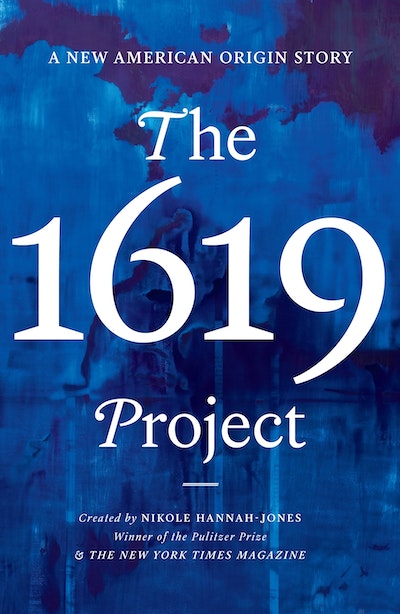 Published:

30 November 2021

ISBN:

9780753559543

Imprint:

WH Allen

Format:

Trade Paperback

Pages:

624

RRP:

$39.99
The 1619 Project
A New American Origin Story
---
---
---
A dramatic expansion of one of the definitive journalistic events of recent years: The 1619 Project, The New York Times Magazine's award-winning reframing of the American founding and its contemporary echoes, placing slavery and resistance at the centre of the American story.
The animating idea of The 1619 Project is that the American story is more accurately told if we begin not on July 4, 1776, but in late August of 1619, when a ship arrived in Jamestown bearing a cargo of twenty to thirty enslaved people from Africa. Their arrival inaugurated a barbaric and unprecedented system of chattel slavery that would last for the next 250 years. This is sometimes referred to as America's original sin, but it is more than that: It is the country's very origin.
The 1619 Project places the consequences of slavery and the contributions of Black Americans at the centre of the story America tells about itself. Orchestrated by the editors of The New York Times Magazine, led by MacArthur "genius" and Pulitzer Prize-winning journalist Nikole Hannah-Jones, this collection of essays and historical vignettes includes some of the most outstanding journalists, thinkers, and scholars of American history and culture -- including Linda Villarosa, Jamelle Bouie, Jeneen Interlandi, Matthew Desmond, Wesley Morris, and Bryan Stevenson. Together, their work shows how the tendrils of 1619 -- of slavery and resistance to slavery -- reach into every part of our contemporary culture, from voting, housing and healthcare, to the way we sing and dance, the way we tell stories, and the way we worship. Short pieces of flash fiction and poetry bring the history to life through the imaginative interpretations of some of our greatest writers.
The 1619 Project ultimately sends a very strong message: We must have a clear vision of this history if we are to understand our present dilemmas. Only by reckoning with this difficult history and trying as hard as we can to understand its powerful influence on our present, can we prepare ourselves for a more just future.
Published:

30 November 2021

ISBN:

9780753559543

Imprint:

WH Allen

Format:

Trade Paperback

Pages:

624

RRP:

$39.99
Praise for The 1619 Project
Visionary... imaginative, all-encompassing... the sheer breadth of this book is refreshing and illuminating, challenging each and every reader to confront America's past, present and future

BookPage (starred)
This invaluable book sets itself apart by reframing readers' understanding of U.S. history, past and present

Library Journal (starred)
Readers will discover something new and redefining on every page ... This visionary, meticulously produced, profound, and bedrock-shifting testament belongs in every library and on every reading list ... [an] invaluable and galvanizing history ... revelatory

Booklist (starred)
A sweeping study of the "unparalleled impact" of African slavery on American society... The result is a bracing and vital reconsideration of American history

Publishers Weekly (starred)
A much-needed book that stakes a solid place in a battlefield of ideas over America's past and present

Kirkus Reviews (starred)
[A] groundbreaking compendium... bracing and urgent... This collection is an extraordinary update to an ongoing project of vital truth-telling

Esquire, "Best Books of Fall 2021"
Restores people erased from the national narrative, offering a motivating, if sobering, origin story we need to understand if we are ever going to truly achieve 'liberty and justice for all'

Women's Review of Books
The ambitious project that got Americans rethinking our racial history... expanded into a book incorporating essays from pretty much everyone you want to hear from about the country's great topic and great shame

Los Angeles Times
The groundbreaking project from The New York Times, which created a new origin story for America based on the very beginnings of American slavery, is expanded into a very large, very powerful full-length book

Entertainment Weekly
Pleasingly symmetrical... [a] mosaic of a book, which achieves the impossible on so many levels -- moving from argument to fiction to argument, from theme to theme, and backward and forward in time, so smoothly

Slate
A wide-ranging, landmark summary of the Black experience in America: searing, rich in unfamiliar detail, exploring every aspect of slavery and its continuing legacy . . . Again and again, The 1619 Project brings the past to life in fresh ways. . . . Multifaceted and often brilliant

The New York Times Book Review
A remarkable reframing of American history in which slavery and the Black experience are at the heart of the narrative

The Guardian