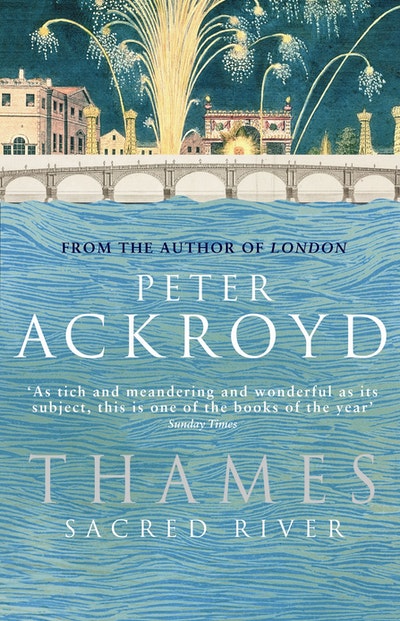 Published:

3 November 2008

ISBN:

9780099422556

Imprint:

Vintage

Format:

Trade Paperback

Pages:

512

RRP:

$49.99
Thames: Sacred River
---
---
Thames: Sacred River displays the same qualities as London: the biography: scholarship, wit, discursiveness, lovely descriptive writing, anecdotes, spirit of place, narrative and character. This hugely enjoyable book is packed with fascinating facts and insights: it will be another mammoth bestseller.
Just as Peter Ackroyd's bestselling London is the biography of the city, Thames: Sacred River is the biography of the river, from sea to source. Exploring its history from prehistoric times to the present day, the reader is drawn into an extraordinary world, learning about the fishes that swam in the river and the boats that plied its surface; about floods and tides; hauntings and suicides; miasmas and malaria; locks, weirs and embankments; bridges, docks and palaces.
Peter Ackroyd has a genius for digging out the most surprising and entertaining details, and for writing about them in the most magisterial prose; the result is a wonderfully readable and captivating guide to this extraordinary river and the towns and villages which line it.
Published:

3 November 2008

ISBN:

9780099422556

Imprint:

Vintage

Format:

Trade Paperback

Pages:

512

RRP:

$49.99
Praise for Thames: Sacred River
[A] magnificent tribute to our capital river...as always with Ackroyd, a London landmark in his own right, it is not just the subject that sets this book apart but also the compelling new perspectives that he brings

The Thames
Mesmerising...This extraordinary history of the river swirls with currents and eddies, drawing one off in sometimes unexpected directions... No one is better than Ackroyd at evoking the texture and atmosphere of the distant past... Ackroyd's gift is to write history in the idiom of a poet. As soon as you open this account of the Thames, you will want to immerse yourself in it

Daily Telegraph
A beautifully produced book... Ancient stonework, fun, daily life on the river, iron constructions, rurality, layers of geography and history, sewage, mystery and magic - this is a great deal to suggest on one cover, and really does go some small way towards indicating the richness and profusion of material that lies within... There is so much to enjoy here

Gillian Tindall, Sunday Telegraph
Splendid... Peter Ackroyd's detailing of the life of the Thames is wonderful. He is comprehensive - everything from mammoths to the Dome is here - but he is also playful and eccentric, so that reading this book is like being in a boat on the river itself... Peter Ackroyd's writing is such a pleasure that Thames: Sacred River can be read all at once, with increasing delight, and afterwards dipped into, like stretches of the great waterway it charts and celebrates

Jeanette Winterson, Financial Times
His exhaustive reclaiming of the Thames inks in colourful new detail

Time magazine
A handsome book... hours of contentment for the armchair boatman... the range of information is impressive

Irish Times
As rich and meandering and wonderful as its subject, this is one of the books of the year

Sunday Times
Ackroyd is a great visionary, able to concertina the present into the past, and vice versa

Craig Brown, Mail on Sunday
An imaginative history of the river with an eclectic cast

Daily Telegraph
It seems the most perfect gift

Annable Croft, Daily Express
A very enjoyable and highly idiosyncratic account of the subject

Spectator