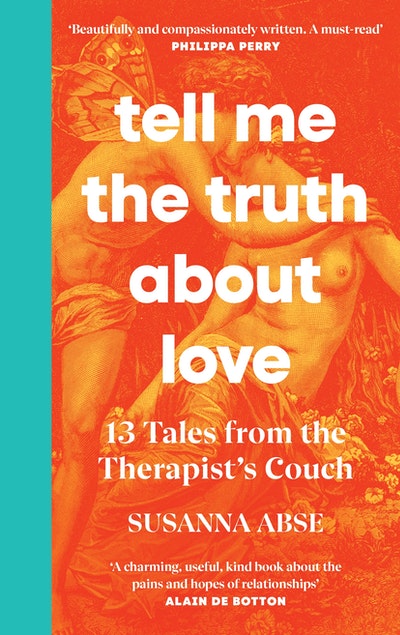 Published:

19 June 2022

ISBN:

9781529107333

Imprint:

Ebury Press

Format:

Hardback

Pages:

288

RRP:

$45.00
Tell Me the Truth About Love
13 Tales from the Therapist's Couch
---
---
The Examined Life meets Three Women: stories of real couples on the couch from one of Britain's most experienced relationship therapists.
Love is what gives life meaning, but relationships also present us with the greatest emotional challenges of our lives.
Tell Me the Truth About Love takes us on a journey into one of the most fascinating realms there is: other people's relationships.
Drawing on over 30 years of working closely with people who have encountered hurdles in their love lives, psychoanalytic therapist and chair of the British Psychoanalytic council Susanna Abse shares poignant, alarming and unforgettable stories that explore how we love, and how we live with those we love.
Abse takes us through six of the challenges most often encountered in the course of a relationship: infidelity, ambition, marriage, children, loneliness, fragility.
We meet couples who have embedded affairs into their relationship yet are in denial about its repercussions; partners who suffer oedipal complexes with the arrival of their first child; and others who are in love, but struggle with the question of what price to pay for their ambition - and how far work can take over from their personal lives.
Whether its knowing when to call time on a relationship versus when to persevere, or how to navigate our changing roles within a single relationship over the course of our lives, Tell Me the Truth About Love explores inspiring true stories that shed light on the human heart - and the strange ways it tries to both embrace life's greatest mystery, and protect itself from pain.
Published:

19 June 2022

ISBN:

9781529107333

Imprint:

Ebury Press

Format:

Hardback

Pages:

288

RRP:

$45.00
Praise for Tell Me the Truth About Love
'A must-read for everyone wanting to understand more about what makes us fall in - and out - of love'

Philippa Perry
'A charming, useful, kind book about the pains and hopes of relationship'

Alain de Botton
'Powerful, masterful, insightful. With every turn of the page I learnt more about people and their relationships and, ultimately, about myself'

Annalisa Barbieri
'Tell Me the Truth about Love is a compelling and thoughtful book which anyone who is interested in the dynamics of romantic relationships should read. Abse is a psychoanalyst so her approach is reflexive, and the complex learnings that couples make during therapy with her seem to unfold in real time. This is not a book about quick fixes. It is a book that demonstrates that no couple is "able to meet each other's desires completely, but the relationship exists in the trying.'

Suzi Godson
'The inner lives of couples fascinate us. We wonder what goes when we sense trouble and heartache. Susanna Abse shows how therapists turn hurts, and misunderstandings into longed for deeper connections.'

Susie Orbach
'Did you happen to marry a prince or a princess who eventually turned into a frog? For anyone who has ever experienced a spousal disappointment or a marital explosion, this masterpiece by Susanna Abse, written in a compelling style with compassion and warmth and humour, provides us with truly brilliant insights about the complexities of couple psychology. This might be the best book ever about the art and the anguish of human relationships.'

Professor Brett Kahr
'This wonderfully wise book would give anyone reading it insight and inspiration on the importance and complexity of our love relationships. Susanna writes with clarity and warmth in a voice that is steeped in decades of experience and means we trust her. Her gentle humour is also a joy.'

Julia Samuel