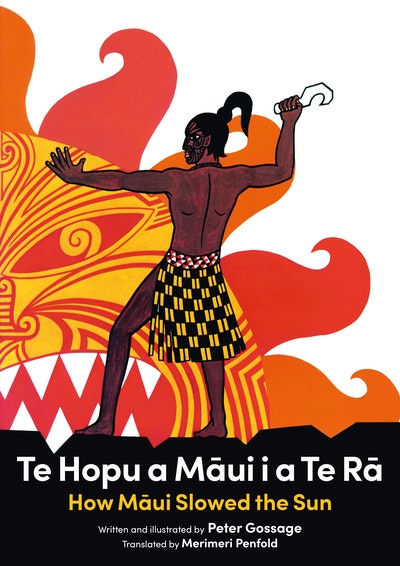 Published:

1 September 2020

ISBN:

9780143774877

Imprint:

Picture Puffin

Format:

Paperback

Pages:

32

RRP:

$17.99
Te Hopu a Maui i a te Ra/How Maui Slowed the Sun
---
---
The iconic Maori myth is now available as a bilingual Maori-English story, with Merimeri Penfold's beautiful translation of Peter Gossage's much-loved text.
Peter Gossage's award-winning Maori myth is now available in a bilingual Maori-English edition, featuring Merimeri Penfold's translation.
He poto rawa nga ra, he roa rawa nga po. Oti ana i a Maui he whakaaro e ata rere ai te ra i te rangi.
He putanga reo Maori–reo Pakeha o tenei tino pakiwaitara o Aotearoa.
Faced with very short days and very long nights, Maui comes up with a plan to slow the Sun's passage through the sky.
Peter Gossage's much-loved retelling of this famous Maori myth has captivated young children for generations.
Other bilingual editions available:
Te Pakanga a nga Maunga/Battle of the Mountains
Te-Ika-a-Maui/The Fish of Maui
Read all the Maori myths by Peter Gossage!
Published:

1 September 2020

ISBN:

9780143774877

Imprint:

Picture Puffin

Format:

Paperback

Pages:

32

RRP:

$17.99
Praise for Te Hopu a Maui i a te Ra/How Maui Slowed the Sun
Ko te pukapuka Te Hopu a Maui i a Te Ra e korero ana mo te hopu a Maui i a Te Ra. This book tells the story of how Maui caught the sun as well as how Maui slowed the sun. Me penei pea te korero, he pukapuka tenei e whakaohooho ana i te wairua, he aha ai? Na te mea he pukapuka tenei i panuitia e au i au e tamariki ana. This book brings back all sorts of good memories, this was one of the many books we read at kura and I couldn't be happier that they've re-released the translated version. It is a book that is unbelievably nostalgic, and I hope that these books give the younger generation a sense of happiness when reading the stories of Maui.

Mihi Henare, The Sapling