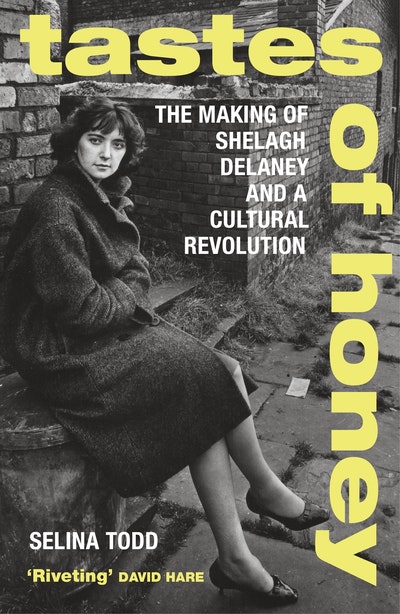 Published:

5 November 2021

ISBN:

9781784703486

Imprint:

Vintage

Format:

Paperback

Pages:

304

RRP:

$22.99
Tastes of Honey
The Making of Shelagh Delaney and a Cultural Revolution
---
---
The ultimate insight into the ground-breaking, firebrand playwright who changed Britain's cultural and social landscape and put working-class lives centre stage.
'A sympathetic and perceptive account of a fine writer at a critical moment in our cultural life' KEN LOACH
On 27 May 1958, A Taste of Honey opened in a small fringe theatre in London. Written by a nineteen-year-old bus driver's daughter from Salford, the play exposed a deeply polarised society in Britain, sparked press and political outrage and transformed its young author into an unexpected star. Shelagh Delaney's assertive female characters struck an immediate chord with working-class women who dreamed of more than just suburban housewifery, and her work and legacy would go on to inspire future generations of writers, musicians and artists.
This is the remarkable story of how a working-class teenager stormed theatreland, exploded old certainties about class, race, sex and taste, and blazed an incendiary new path in British culture.
'A riveting book' DAVID HARE
Published:

5 November 2021

ISBN:

9781784703486

Imprint:

Vintage

Format:

Paperback

Pages:

304

RRP:

$22.99
Praise for Tastes of Honey
Shelagh Delaney keeps her mystery even from beyond the grave, but anyone who values what is best in British theatre and film will want to join Selina Todd as she digs deep into the brilliance of Delaney's work – and her character. It's a riveting book

David Hare
Not just a terrific study of the life and work of an extraordinary talent but a bracing contextualisation of her in terms of class, culture, sex, youth, politics and the North. Selina Todd's biography of Delaney is as tough, smart and lively as Shelagh herself

Stuart Maconie
This is a sympathetic and perceptive account of a fine writer at a critical moment in our cultural life. Selina Todd's enthusiasm for her subject is infectious and she captures precisely the spirit of the times. A lovely and enjoyable book

Ken Loach
Tastes of Honey illuminates the life of a woman of blazing talent

Celia Brayfield, The Times
A clever, hopeful and cheering book…shocking and sobering on how working people have forcibly become divorced from the arts

Megan Nolan, New Statesman
Makes an unassailable case for [Delaney's] importance in British theatre history while showing how her posthumous reputation has been subtly slighted... splendid and illuminating

Kate Kellaway, Observer
Selina Todd's portrait of the artist against the backdrop of her changing times pays a warmly illuminating tribute to Delaney's unique voice… Todd shows in jaw-dropping detail the depth of the hostility to Delaney and her unapologetic work

Boyd Tonkin, The Arts Desk
[A] vivid portrayal… As a social historian, Todd demonstrates the many factors, other than sheer talent and determination, that went into the "making" of Shelagh Delaney…she was part of the new wave of working-class talent that during the Fifties and Sixties transformed every area of creative life, from theatre and literature to art, music and fashion

Michael Todd, Daily Telegraph
In this subtle, thoughtful book, Selina Todd sets out to do more than simply retell Delaney's rags-to-riches story… Instead Todd argues that Delaney offers a route to rethinking the ways in which women's lives in the mid-20th century are routinely written up, especially by feminists

Kathryn Hughes, Guardian
Todd presents a warm but balanced view of a woman who made her own choices. Her work benefits from excellent digging in the BBC archives and many detailed interviews

Jad Adams, Literary Review
Todd shows how Delaney anticipated the concerns of the Women's Liberation Movement of the 1970s, and reveals her continuing influence in the light of similar problems facing working-class women now…fascinating

J A Hopkin, Prospect
A breezy, readable new biography… Todd's portrait is enlivened by anecdotes from friends and family… she uses a polyphonic approach…including many examples from other ordinary women's adjacent experiences

Holly Williams
Delaney was a trailblazer... Tastes of Honey is a biography of a writer whose output has – at times – been overshadowed by distorted versions of her story. By carefully emphasizing the radical qualities of Delaney's oeuvre, and challenging many of the clichés that make up the mythology, Selina Todd offers a more nuanced view

Anna Coatman, Times Literary Supplement
I...hugely enjoyed Tastes of Honey, Selina Todd's heroic attempt to do the impossible and explain the life and work of the mysterious Shelagh Delaney. Alongside Andrea Dunbar, Delaney was our most unexpected and gifted postwar playwright

David Hare, New Statesman, *Books of the Year*
Selina Todd's biography of Shelagh Delaney, Tastes of Honey, is great

Tracey Thorn, New Statesman
Sparky . . . captures what made that 1958 play [A Taste of Honey] an era-defining classic

Daily Telegraph
[A] brilliant biography

Steven Long, Crack