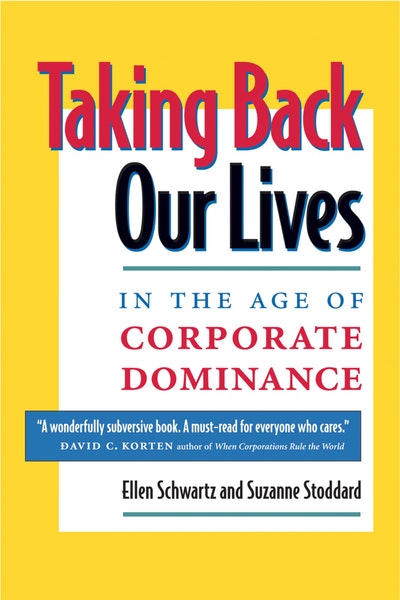 Published:

1 January 2018

ISBN:

9781576750780

Imprint:

Berrett-Koehler

Format:

Trade Paperback

Pages:

240

RRP:

$24.99
Taking Back Our Lives In The Age Of Corporate Dominance
---
---
Corporate structures, products, and processes permeate our society -but what do they really mean to us in our daily lives? The bottom-line mentality that drives corporate America, say Ellen Augustine (formerly Schwartz) and Suzanne Stoddard, is creating a world unresponsive to human needs, corrosive to the democratic process, and destructive to the planet itself. Taking Back Our Lives in the Age of Corporate Dominance shows the links between our mundane everyday struggles and the global corporate economy, image-driven media, and the relentless pace which consumes us all. And it tells us how we can change things by transforming both our work and leisure.
The authors use hard-hitting examples and illuminating personal vignettes about confronting fear, anger, death, family problems, and the stultifying effects of staying in the "comfort zone." They detail over 75 steps for personal and societal actions-some quick and immediate, others in-depth and long term-for retaking control of our lives. The authors include provocative questions for reflection that shock, prod, and jump-start the reader into thinking about what matters most to them.
Deeply moving, outrageous, encouraging, compelling, and inspiring, Taking Back Our Lives in the Age of Corporate Dominance blends unrelenting candor with the comfort of real-life stories of hope-and ultimately shows us that choice is the most important tool we have for reviving our lives and our world.
Published:

1 January 2018

ISBN:

9781576750780

Imprint:

Berrett-Koehler

Format:

Trade Paperback

Pages:

240

RRP:

$24.99
Praise for Taking Back Our Lives In The Age Of Corporate Dominance
"Taking Back Our Lives is a powerful examination of the forces we all face in a society pulling us away from our authentic, deeper selves. It offers refreshing solutions that speak to the heart and uplift our spirits." —Scott and Shannon Peck, coauthors of Liberating Your Magnificence: 25 Keys to Loving and Healing Yourself "Taking Back Our Lives in the Age of Corporate Dominance embodies the message of conscious evolution by giving us guidance on how to transform the corporate structure." —Barbara Marx Hubbard, author of The Revelation: A Message of Hope for the New Millenium "Taking Back Our Lives is a very courageous book by two highly qualified women who dare to speak their truth about a reality the media avoids—the corporate consumer culture eroding our democracy—and then show us practical alternatives that start right at home. A timely imperative for survival. Read it and act now!" —Elisabet Sahtouris, author of A Walk Through Time and Biology Revisioned "Taking Back Our Lives is not just a book. It is a bold and courageous exposé of what is happening to our society without our conscious knowledge. It is well-documented and thought- provoking, giving substance to what most of us only talk about among ourselves. It challenges all Americans to wake up, offering positive action steps that each of us can take to empower ourselves individually and collectively." —Rama Vernon, Founder, Women of Vision and Action, and President, The Center for International Dialogue "Taking Back Our Lives in the Age of Corporate Dominance is a welcome blueprint we should not only read, but also live by. My life changed by reading and living the message." —Howard F. Lyman, author of Mad Cowboy "This book is more than timely. It is a vital guide to the self- improvement we need to move off of the self-destructive path that threatens us and our future." —Margaret Wheatley, author of Leadership and the New Science and coauthor of A Simpler Way "Schwartz and Stoddard have the best plan yet to deal with the world increasingly run by corporations and money: personal disengagement. They tell us how to find our own 'moral alter- native' to economic globalization and live it. A great book." —Maude Barlow, Volunteer National Chairperson of the Council of Canadians "Taking Back Our Lives in the Age of Corporate Dominance interlaces the personal and the political. An original combination of critical politics and New Age optimism." —Michael Parenti, author of History as Mystery and America Besieged "Taking Back Our Lives is a powerful and sharp-cutting truthtelling, a necessary awakening, and an extraordinarily practical collection of solutions for literally the survival of all life on earth." —Thom Hartmann, author of The Last Hours of Ancient Sunlight and The Prophet's Way