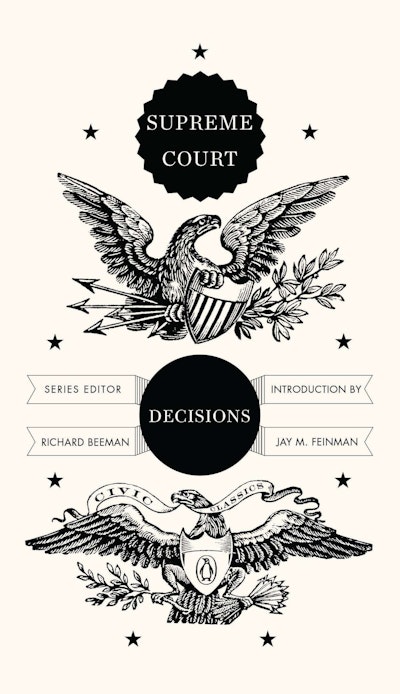 Published:

24 October 2012

ISBN:

9780143121992

Imprint:

Penguin

Format:

Paperback

Pages:

176

RRP:

$22.99
Supreme Court Decisions: Civic Classics Book 6
---
---
The Supreme Court is one of America's leading interpreters of values and daily life. In this volume, legal expert Jay Feinman has collected, abridged, and explained some of the most important decisions of all time-on issues ranging from freedoms of speech and religion to the powers of government-to make the opinions of the most powerful court in the land accessible to all.
Penguin Books Civic Classics
The Declaration of Independence and The United States ConstitutionCommon Sense/Thomas Paine The Federalist Papers Alexander Hamilton, James Madison, and John Jay Lincoln Speeches/Abraham Lincoln American Political SpeechesSupreme Court Decisions Penguin presents great essential texts of American civic life in a portable and accessible series for the politically engaged. Richard Beeman and leading experts introduce the founding documents, pivotal historic speeches, important Supreme Court decision, and historic writings, both revolutionary and inspiring, that express core principles and ideals, raise issues, and tell a story about the American experiment in self-government.
These are the words, ideas, and actions that have shaped American society and government since their founding and that continue to matter and empower. By mapping out our constitutional history, Civic Classics help us navigate through our present challenges, a journey better enjoyed as a participant rather than a bystander.

Published:

24 October 2012

ISBN:

9780143121992

Imprint:

Penguin

Format:

Paperback

Pages:

176

RRP:

$22.99