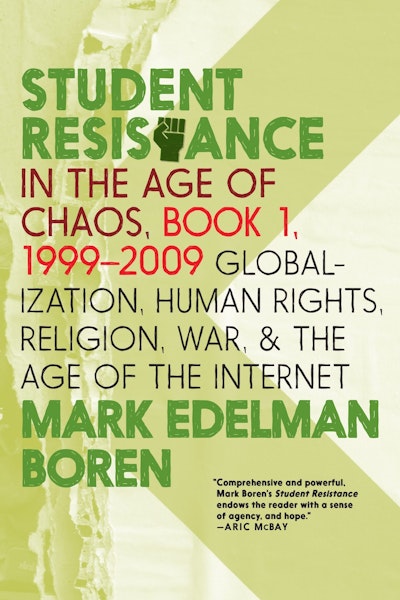 Published:

4 May 2021

ISBN:

9781644210369

Imprint:

Seven Stories Press

Format:

Trade Paperback

Pages:

272

RRP:

$39.99
Student Resistance in the Age of Chaos
---
---
A look at the rise of global student activism since the year 2000—and the forces of repression arrayed against it.
Student resistance in the first twenty years of the 21st century has proven to be one of today's most powerful liberating forces around the globe. Challenging governments—in a few cases, overturning governments—at a time when representational democracies appear weak and authoritarian regimes are on the rise. In Student Resistance in the Age of Chaos, Mark Boren goes country by country, decade by decade, to show us the contours of the new frontlines of resistance, the sacrifices that are being made, and the new powers of surveillance and military technology that governments across the globe are using to monitor, derail and repulse student resistance, raising the stakes and costs of resistance.
Mark Boren's previous book on the subject, Student Resistance: A History of the Unruly Subject (Routledge), charted the history from medieval times through the modern period, stopping in 1999. The new book picks up there, and takes us forward through the next twenty years up to the present moment, detailing the increasing power of student movements and, in country after country, the increasing powers of the state actors arrayed against them.
Published:

4 May 2021

ISBN:

9781644210369

Imprint:

Seven Stories Press

Format:

Trade Paperback

Pages:

272

RRP:

$39.99