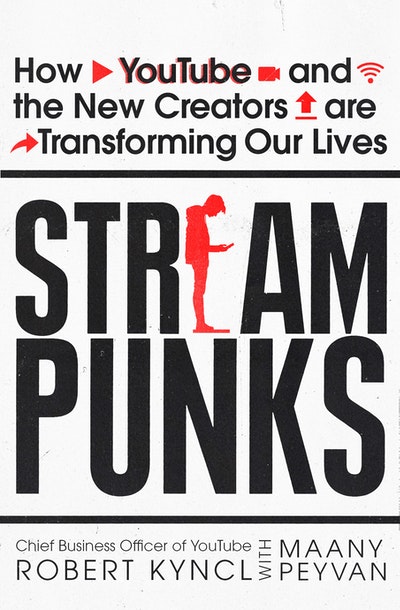 Published:

15 September 2017

ISBN:

9780753545928

Imprint:

Virgin Books

Format:

Trade Paperback

Pages:

272

RRP:

$32.99
Streampunks
How YouTube and the New Creators are Transforming Our Lives
---
---
---
Definitive stories behind the youtubers, vloggers and online video channels remaking entertainment
***Axiom Business Book Award Winner!***


Something massive is shifting in the world of entertainment.
Across the planet, humans spend more of their free time watching video than doing anything else. But increasingly it's not TV they're watching, but online video. In 2016, Swedish vlogger PewDiePie made a record $15 million from his YouTube videos, beating Hollywood A-listers like Harrison Ford, Julia Roberts and Amy Adams. Something massive is shifting in the world of entertainment.
Since its founding in 2005, YouTube has become the first and only truly global media platform, with over a billion users worldwide. It has changed the media industry as profoundly as the development of radio, film and television. In Streampunks, YouTube's Chief Business Officer Robert Kyncl gets to the heart of this creative revolution through behind-the-scenes stories of its biggest stars – YouTubers like Tyler Oakley, Lilly Singh, and Casey Neistat—and the dealmakers brokering the future of media, like Scooter Braun, who scouted 12-year old Justin Bieber on YouTube, and Vice media mogul Shane Smith who used the platform to turn young people onto news and current affairs.
By giving anyone with a smartphone their own TV channel, YouTube is fuelling a new creative boom. Not only is it generating the new faces of entertainment, but also changing how students are taught, how social issues are discussed and how small businesses advertise and develop.
Streampunks is the definitive book on the modern pop-culture juggernaut Youtube, the platform remaking the face of entertainment.
Published:

15 September 2017

ISBN:

9780753545928

Imprint:

Virgin Books

Format:

Trade Paperback

Pages:

272

RRP:

$32.99
If you want to understand how media is changing, you need to understand YouTube. Streampunks is a fascinating look into the imaginative and determined minds of the people who are changing what we watch

Brian Grazer, founder of Imagine Entertainment and producer of APOLLO 13 and FROST/NIXON
Thinking of starting your own new media career? Read Streampunks first. It's a revealing, thoughtful portrait of what success in the digital age really takes

Michelle Phan, YouTuber and author of MAKE UP
Discovering YouTube was the happiest accident of my life. It's allowed me to share my comedy with the world and reach an entirely new global audience. Fans have even told me they've learned English from watching my show on YouTube-which is a mistake

Conan O'Brien
I grew up in Cuba without access to the Internet. When I finally came to the United States, YouTube became my window to the world. Streampunks is an amazing description of experiences similar to mine

Camilla Cabello
Robert's vision is clear and compelling: the future of media will be one in which fans decide what matters

Reed Hastings, CEO of Netflix
A fascinating look into the imaginative and determined minds of the people who are changing what we watch

Brian Grazer