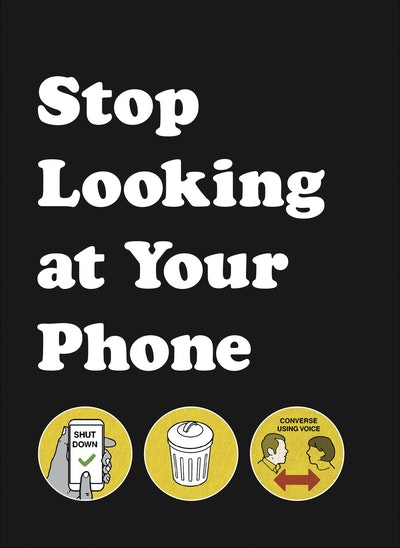 Published:

15 October 2018

ISBN:

9781785039096

Imprint:

Pop Press

Format:

Hardback

Pages:

128

RRP:

$22.99
Stop Looking at Your Phone
A Helpful Guide
---
---
A spoof manual to correct the wide misuse of the iconic device of our age

Haven't you got something better to do?
Our streets are filled with down-facing zombies, blocking up the pavements.
We'd rather Instagram our food than eat it.
We've forgotten how to have real actual conversations .
And in the bedroom. well, that's no place for Candy Crush Saga.
It's time we all repeated the life-changing maxim: STOP LOOKING AT YOUR PHONE.
In his wonderfully deadpan instruction manual for our increasingly tunnel-visioned lives, illustrator Son of Alan taps into the strange truth of our obsession with the tiny screen. Revealing how ludicrous we've all become, and what wonders lie in stall for us a whole metre from our faces, this book will make you want to reclaim your life, your friends and your family from the tyranny of the backlit screen. You'll laugh, sure, but it might also change your life.
Published:

15 October 2018

ISBN:

9781785039096

Imprint:

Pop Press

Format:

Hardback

Pages:

128

RRP:

$22.99