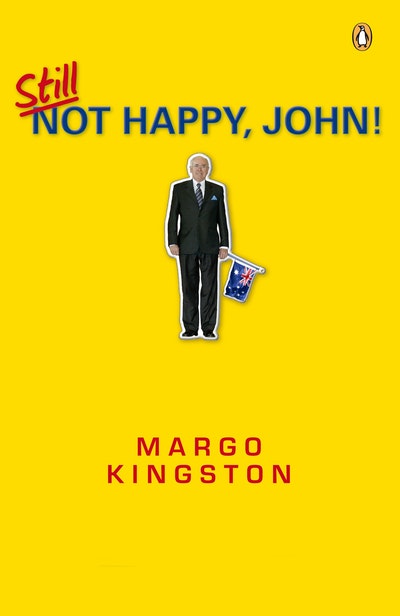 Published:

27 February 2013

ISBN:

9781743481011

Imprint:

Penguin eBooks

Format:

EBook

Pages:

480
Still Not Happy, John!
---
---
The book that launched campaigns, featuring a new 2013 introduction from Margo Kingston.
After the bestselling Not Happy, John! was published in 2004, we had three more years of: secrecy, cover-ups and scandals – think AWB laws like WorkChoices eroding people's prosperity, an unpopular and deceitful war, blind allegiance to a foolhardy American president, draconian measures rushed through a hobbled Senate and applied with equal haste – witness the Mohamed Haneef fiasco, the detention of hundreds of vulnerable people, including children and Australian citizens, and above all, not listening when Australians say they want job, educational and housing security for themselves and their children, our soldiers out of Iraq – and a smart, fair, forward-looking country that finds new solutions for pressing problems like climate change.
Margo Kingston, one of Australia's most fearless political journalists, knew then that it was crunch time for Australia. This is a gutsy, anecdotal book with a deadly serious purpose: to lay bare the insidious ways in which John Howard's Liberal government profoundly undermined our freedoms and our rights. Passionate and clear-eyed about the urgent need for us to reassert the core civic values of a humane, egalitarian, liberal democracy, Still Not Happy, John! remains alarmingly relevant to Australia's political climate today.
'She rages, she hammers, she explains – but most importantly she CARES.' Phillip Adams
Published:

27 February 2013

ISBN:

9781743481011

Imprint:

Penguin eBooks

Format:

EBook

Pages:

480