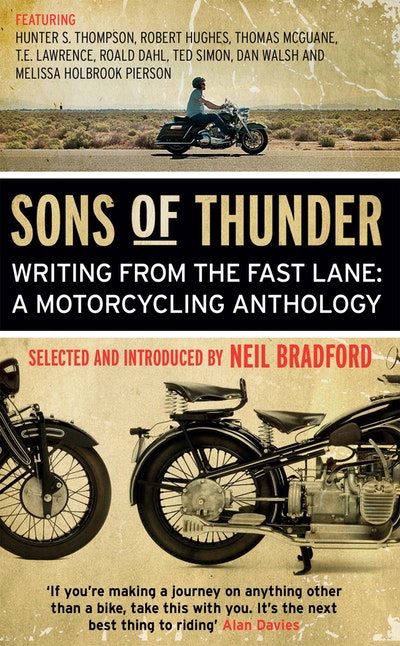 Published:

2 July 2012

ISBN:

9781780575247

Imprint:

Mainstream Publishing

Format:

Trade Paperback

Pages:

272

RRP:

$24.99
Sons of Thunder
Writing from the Fast Lane: A Motorcycling Anthology
---
---
Robert Pirsig, in his groundbreaking Zen and the Art of Motorcycle Maintenance, wrote about the relationship of rider and machine, the fact of 'seeing deeply into the nature of things by direct experience'. T.E. Lawrence described 'the lustfulness of moving swiftly', the sensation of feeling 'the earth moulding herself under me . . . heaving and tossing on each side like a sea'.
Not all the contributors to this exhilaratingly high-octane collection are quite so lyrical or mystical. Hunter S. Thompson concludes his review of the Ducati 900 Supersport with a brutal comparison: 'A fool couldn't ride the Vincent Black Shadow more than once, but a fool can ride a Ducati 900 many times, and it will always be a bloodcurdling kind of fun. That is the Curse of Speed which has plagued me all my life. I am a slave to it. On my tombstone they will carve, IT NEVER GOT FAST ENOUGH FOR ME.' Men don't have the monopoly on mufflers or power-to-weight ratio. Melissa Holbrook Pierson, Lois Pryce and Theresa Wallach have full-throttle tales to tell. There are even poems by Ted Hughes and Thom Gunn about the pleasures and perils of riding this awesome machine.
For the fanatic and even the armchair traveller, Neil Bradford's collection of motorcycle writing, Sons of Thunder, makes the most persuasive case for the unique excitement and emotional experience offered by one of humankind's greatest inventions.
Published:

2 July 2012

ISBN:

9781780575247

Imprint:

Mainstream Publishing

Format:

Trade Paperback

Pages:

272

RRP:

$24.99
Praise for Sons of Thunder
If you're making a journey on anything other than a bike, take this with you. It's the next best thing to riding

Alan Davies
Neil Bradford has chosen an eclectic roster of biking enthusiasts for his inspiring and oddly touching volume about the competing joys and uncertainties of two-wheeled life. A bedside book for all bikers

Peter McKay, Daily Mail
A marvellous book . . . an altogether entertaining read

Frieda Hughes
Conveying to others with words the life-long love of motorcycling - the thrill of it, the sheer joy - is impossible. But that doesn't mean you shouldn't try. And this is a very good attempt

Steve Berry, TalkSport
A treat for motorbike fans

The Bookseller
Selected writings from across a wide canvas of time and space . . . bring forth the power and poetry of this splendid cultural icon

Hindustan Times
An eloquent and unabashedly romantic ode to our love affair with motorcycles . . . a great read not only for those who love motorcycles but also for people who we all have trouble explaining our affliction to: friends, spouses, parents and children

Outlook Traveller