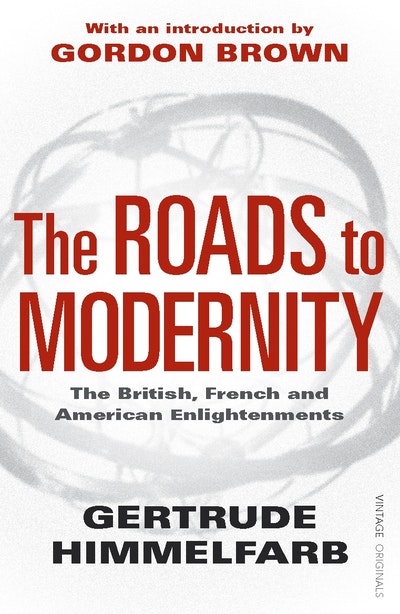 Published:

1 September 2010

ISBN:

9781407014098

Imprint:

Vintage Digital

Format:

EBook

Pages:

304
Something Fresh
(Blandings Castle)
---
---
---
A keenly argued and thought-provoking history of the British, French and American Enlightenments with an introduction by Gordon Brown.
Gertrude Himmelfarb's elegant and wonderfully readable work, The Roads to Modernity, reclaims the Enlightenment from historians who have downgraded its importance and from scholars who have given preeminence to the Enlightenment in France over concurrent movements in England and in America.
Himmerlfarb demonstrates the primacy and wisdom of the British, exemplified in such thinkers as Adam Smith, David Hume, and Edmund Burke, as well as the unique and enduring contributions of the American Founders. It is their Enlightenments, she argues, that created a social ethic - humane, compassionate and realistic - that still resonates strongly today.
Published:

1 September 2010

ISBN:

9781407014098

Imprint:

Vintage Digital

Format:

EBook

Pages:

304
Praise for Something Fresh
Something Fresh has all the trademarks of a Wodehouse classic

The Times
P.G. Wodehouse should be prescribed to treat depression. Cheaper, more effective than Valium and far, far more addictive

Olivia Williams
I've longed to visit the beautifully tended gardens of Blandings Castle with P. G. Wodehouse.

The Guardian, Books to read to cheer us up
P.G. Wodehouse remains the greatest chronicler of a certain kind of Englishness, that no one else has ever captured quite so sharply or with quite so much wit and affection

Julian Fellowes
A comic masterpiece

BBC
An intelligent history... the prose is elegant and the arguments engaging and she weaves her way gracefully and effortlessly across centuries, disciplines and nations

Observer
Exceptionally well written and clever

Washington Post
Exciting intellectual pugilism... Himmelfarb mounts a vigorous argument

New York Times Book Review
Himmelfarb is one of the keenest intellects of our time

Houston Chronicle
She writes with a real grace and her effortless prose brings the history of ideas to life

Sunday Times
Supported with great passion and wide-ranging scholarship... Himmelfarb has written a keenly argued and thought-provoking intellectual history of the eighteenth century

San Francisco Chronicle
This stimulating essay makes a convincing case for the unique character and significance of the British Enlightenment

Guardian