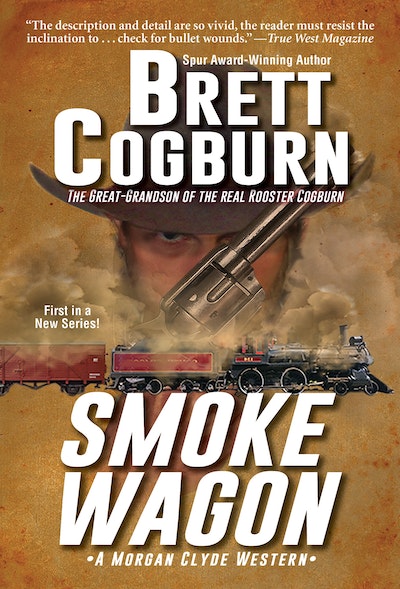 Published:

29 March 2022

ISBN:

9780786048090

Imprint:

Kensington

Format:

Paperback

Pages:

448

RRP:

$17.99
Smoke Wagon
---
---
Spur-Award winner and bestselling western author Brett Cogburn crafts a post-Civil War railway thriller.
"Readers who enjoy tall tales built around real history—and aren't turned off by the sight of a bit of blood—will enjoy this read." —Booklist

LAST STOP ON THE TRAIN RIDE TO HELL
Welcome to Ironhead Station, Indian Territory, where the train tracks end and the real action begins. The hell-on-wheels construction camp is the final destination for hard-drinking sinners, gamblers, and outlaws. And woe to the man who tries to clean it up.
Morgan Clyde is a former New York City policeman and Union sharpshooter who lost everything in the Civil War. But he's still got his guns and his guts. Some folks say he's meaner and tougher than the Devil himself. Which is why the owners of the MK&T Railroad hired Clyde for one hell of a job. They plan to extend the rails through Indian Territory, connecting Missouri and Kansas to Texas…But the ornery citizens of Ironhead Stationwant to keep things just the way they are. They've already killed the first two lawmen who tried to tame their town. Now they've put together a welcome wagon to greet Clyde, including one half-mad preacher, one hillbilly assassin, and twenty trainrobbing bushwackers. They're laying plans to stop the railroad dead in its tracks—along with their new lawman…
There's just two things the folks of Ironhead Station didn't take into account: You can't stop the wheels of progress. And you can't stop a legend like Morgan Clyde…
"Page-turning excitement and fast-paced action . . . a must-read for western novel enthusiasts. The author creates a rich and powerful picture." —Historical Novel Society
Published:

29 March 2022

ISBN:

9780786048090

Imprint:

Kensington

Format:

Paperback

Pages:

448

RRP:

$17.99