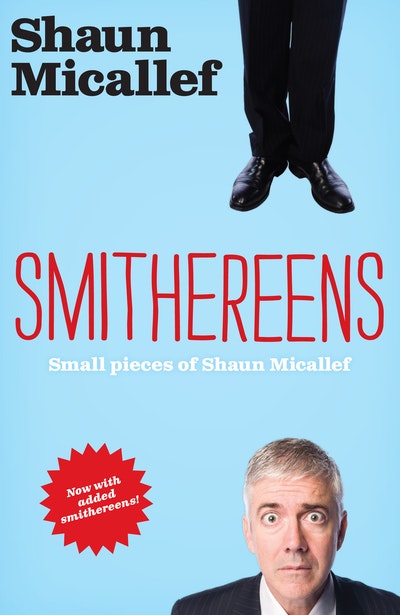 Published:

31 January 2011

ISBN:

9780143565383

Imprint:

Penguin

Format:

Paperback

Pages:

300

RRP:

$25.00
Smithereens: Small Pieces of Shaun Micallef
---
---
Smithereens. Nothing you'd normally ask for in a book, and more . . .

Feel that War and Peace went on a bit? Wish there were more laughs in Catcher in the Rye? Very cross that The Girl with the Dragon Tattoo had no references to three-time world hotdog-eating champion, Joey Chestnut? Then Smithereens is for you. At only 300 pages you can knock it off during one of the ad breaks on Shaun's hit show, Talkin' 'bout Your Generation.
And laughs? What about them? Well, does it have any? Of course it does – it's written by one of Australia's funniest men. Oh, John Clarke? No, not John Clarke. I like John Clarke. So do I, but this is written by Shaun Micallef. And as for references to three-time hotdog eating-champion Joey Chestnut, I'm afraid the only mention of him appears on this back cover. Still, it's one more than Stieg Larsson could manage and he's written three books.
Yes, the popular Australian classic Smithereens is back. Updated and revised, with more commas than ever before, several umlauts and featuring brand-new material never before published in bookular form.
Join multi-Logie winning and much-loved TV star Shaun Micallef as he buys a call centre in India; rides the Governor-General's bicycle; lifts the lid on the Rothschild's mass murder of frogs; has dinner in Canada with the late Norman Wisdom; and provides a cure-all for the global economic crisis.
Smithereens
Nothing you'd normally ask for in a book, and more.
Published:

31 January 2011

ISBN:

9780143565383

Imprint:

Penguin

Format:

Paperback

Pages:

300

RRP:

$25.00