Women of Letters co-curator Marieke Hardy welcomes Angie Hart to the fold.
Dearest Angie,
It feels strange to be writing a letter to you that other, real-life people will read. I've enjoyed so much sending you hand-written missives in the post over the past couple of years as our friendship has continued to happily blossom – hastily scribbled love notes, plaintive cries for counsel, idiotic postcards. There are so many things I'll continue dropping into your letterbox for private purposes but for today I'll seize this opportunity for a little public Feelings Fountain (™) because the people at Penguin are making me and I'm a bit scared of them.
Welcome to your new life as host and co-curator of Women of Letters, Angela Hart. How are you feeling? Personally I am very excited about the coming year(s), working and travelling and sharing brains and hearts and stories with you, as together we breathe oxygen into the WoL format. Did you know I used to take photographs of Michaela sleeping on planes as we flew from show to show? I say this only in the name of utter transparency; I know Michaela has given you a good crash course in 'What To Expect As Host Of Women Of Letters', but I think it's worth ensuring that there are no stones left unturned.
Michaela and I barely knew each other when we started Women of Letters in 2010. Over the past six years we've not only experienced all the giddy joys and tumult of curation and event management, we've built an incredibly lovely friendship in the process. While I am so admiring of her inestimable gifts as a formidable organiser and deliverer of dry bon mots, the biggest unfolding delight of our entire WoL experience was the many times we'd put aside conversations about who we'd get to open the April event and simply talk about our lives, sharing wisdoms and pains and heartbreaks over numerous bottles of wine.
It will be different for you and I, Angie. Our history already goes back, far further back than you possibly recall (the less said about my Frente! scrapbook and penchant for wearing stripy knitted Dangerfield shorts 'just like Angie Hart' in high school the better – let's not make this any creepier than it already is), but certainly far enough that we've already experienced many beautiful and difficult and life-changing human moments together.
We've forged a very deep and very close friendship as two shy people. You've been so open about your shyness, though I know people are still surprised by it due to your being such a formidable songstress. I get the same thing after people see me yelling at Jennifer Byrne on the telly. You and I are both capable of putting on our 'performance faces', but in social settings we are introverts, and that initially made it slightly more difficult for us to reach out and find each other and form a friendship. But we did eventually, didn't we? Boy, did we.
So we're going into this new working relationship having already cemented the foundations of growing old together, and there's something very different and beautiful about that. You're well aware I'd lay down my life for you (please don't ask me to do this just yet) and I have keenly felt you in my corner through some extraordinarily challenging times.  
In short: I see your joining the WoL working team as a gift – not only for the glitter-brain you'll bring to everything we do, but also as another opportunity for our friendship to grow deeper, and stronger, and to occupy even more space where words aren't required.
You got this, Angie. Thank you for saying 'Yes'.
I love you.
Marieke.
---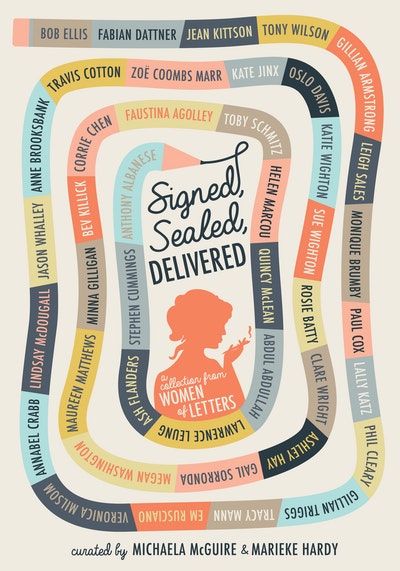 Signed, Sealed, Delivered: Women of Letters is the latest inspiring and engaging collection of all-new letters from some of Australia and New Zealand's best-loved people.
Buy now
Buy now
---