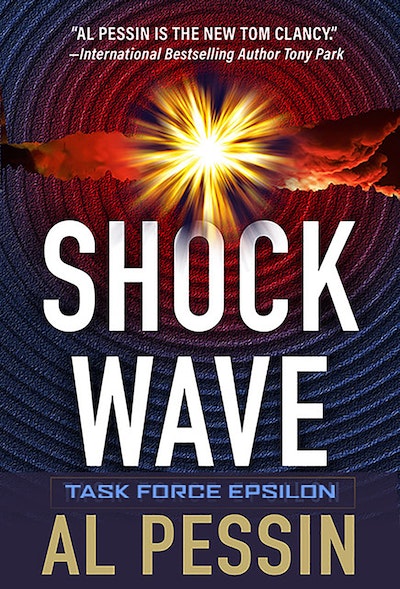 Published:

12 April 2022

ISBN:

9780786046751

Imprint:

Kensington

Format:

Paperback

Pages:

368

RRP:

$13.99
Shock Wave
---
---
In the gripping tradition of Daniel Silva and Nelson DeMille, an American operative infiltrates a dangerous terrorist cell targeting the Israeli and the Palestinian territories in the third Task Force Epsilon Thriller from internationally renowned journalist, former foreign correspondent, Pentagon and war reporter Al Pessin.

A MISSION TO AVERT WAR
Vital seaports in Jordan and Israel erupt in fire and destruction. It's the first strike from a terrorist organization determined to increase hostilities throughout the Middle East. There's only one way to combat the threat. It's time for Operation Shock Wave...
Saddiq Mohammed al-Assali is America's most wanted terrorist. His cells in Israeli and the Palestinian territories are ready and eager to usher in a maelstrom of violence between the two nations. Each will blame the other. Iran will be implicated. And the United States will be drawn into yet another Middle Eastern war.
To stop al-Assali, the Defense Intelligence Agency's Bridget Davenport assigns Lieutenant Faraz Abdallah to infiltrate the terrorist's cabal. But as Faraz uncovers and sabotages al-Assali's plans one by one, Bridget herself becomes the target—and Faraz must take decisive action in a deadly game of international deceit...
Early Praise for Shock Wave
"Intense, unique, and frighteningly real. A standout book with outstanding characters." —Marc Cameron, New York Times bestselling author
"An intense, non-stop ride with characters, action, and geopolitical intrigue written with authenticity and emotion possible only from someone who has been there and seen it first-hand. Pessin proves himself to be a master storyteller in this authentic, heart stopping thriller that is sure to be one of the best reads of the year."
—Andrews and Wilson, authors of the Tier One thriller series
"Strap yourself in! The relentless tension that usually occupies only the final pages of a great thriller takes off early in this fast-paced story. Al Pessin treats his subjects and their struggles with a delicacy and veracity true to his journalistic roots. And he deftly maneuvers his diverse, constantly shifting cast of well-crafted characters across the blood-spattered, shrapnel-littered landscapes of the Middle East."
—Carole Stivers, author of The Mother Code
"Action, intrigue, and adventure—all wrapped up in extraordinary characters and a gripping story. Pessin has it all!"
—J.D. Allen, award-winning author of the Sin City Investigations series
"Al Pessin is the perfect blend of Daniel Silva and Lee Child."
—Dave Zeltserman, author (as Jacob Stone) of the Morris Brick thrillers
"Al Pessin mixes a potent cocktail of political intrigue with high-octane action, serving up a timely thriller that brings a pulse-pounding series to its satisfying conclusion." —M.E. Browning, award-winning author of the Jo Wyatt Mysteries

"Shock Wave combines relentless action and nail-biting suspense with an up-close-and-personal look at the dedicated people and complicated forces behind today's headlines." —Bonnar Spring, author of Toward the Light
"Explosive. The emotional impact hits like a hand grenade."
—Avanti Centrae, international bestselling author of the VanOps thriller series
"Shock Wave is an exciting, authentic, and realistic thriller. I have run into most of the characters in real life as a reporter. I'm left with a feeling that this horrendous scenario could have actually unfolded, and perhaps it sti
Published:

12 April 2022

ISBN:

9780786046751

Imprint:

Kensington

Format:

Paperback

Pages:

368

RRP:

$13.99