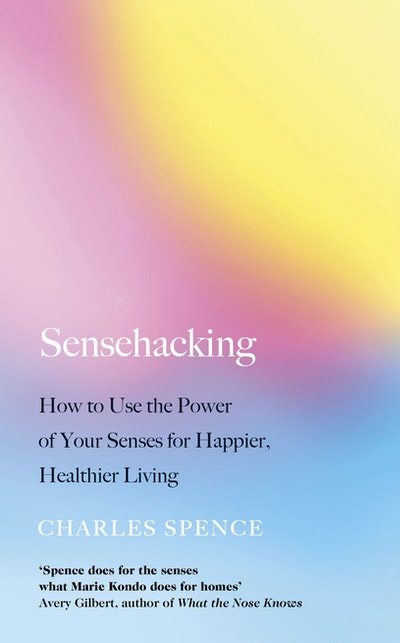 Published:

19 January 2021

ISBN:

9780241361146

Imprint:

Viking

Format:

Trade Paperback

Pages:

384

RRP:

$35.00
Sensehacking
How to Use the Power of Your Senses for Happier, Healthier Living
---
---
---
The world expert in multisensory perception on the remarkable ways we can use our senses to lead happier, healthier, richer lives
How many senses do we actually have? What does 'white' smell like? And why do humans like to be covered when they sleep?
In this revelatory book pioneering Oxford professor Charles Spence shows how our senses change how we think and feel, and how by 'hacking' them we can reduce stress, become more productive and be happier.
From sensory overload and what happens when you lose a sense, to how technology will change the way we perceive the world around us in the future, Spence shows using cutting-edge science how the senses interact and affect one another - and what is happening inside our heads - revealing how to enhance our lives in his signature entertaining way.
Published:

19 January 2021

ISBN:

9780241361146

Imprint:

Viking

Format:

Trade Paperback

Pages:

384

RRP:

$35.00
Truly accessible, entertaining and informative. On every page there are ideas to set you thinking and widen your horizons

Heston Blumenthal, OBE, on Gastrophysics
Popular science at its best

Daniel Levitin, NYT bestselling author of This Is Your Brain on Music, on Gastrophysics
Wonderfully curious and thought-provoking . . . brilliant

Bee Wilson, Guardian, on Gastrophysics
An extraordinary compendium of everything you need to know about how to cope with the hidden sensory overload of modern life, engagingly told

Robin Dunbar, author of How Many Friends Does One Person Need?
In Sensehacking, Charles Spence offers a whole new twist on what it means to 'make sense' of the world around us. Drawing on his renowned expertise in the field of crossmodal science, Professor Spence shares a wealth of insights and practical tips that will help you improve your social, cognitive and emotional well-being through sensory stimulation and management

Steve Keller, Sonic Strategy Director, Studio Resonate at Pandora
A fascinating read. Given how pervasive technology has become, the way we relate to our senses could be the most crucial element in creating environments that are conducive to emotional and cognitive well-being. The science shows how we should evolve from an audiovisual dominated world, to one that caters mindfully to all our senses

Charles Michel, Chef-in-residence at the Crossmodal Research Laboratory, University of Oxford
Charles Spence is the paragon of the transdisciplinary scholar, a Renaissance man for the digital age. From his base at the Crossmodal Research Lab at Oxford, Professor Spence moves comfortably beyond the confines of experimental psychology and across the disciplines of the humanities, social sciences, design art and industry, while also crossing or merging the senses. Sensehacking is a tour de force of the sensory studies literature, a synthesis without equal. This book contains lots of helpful tips about how to use your senses to lead a healthier, happier life (and insights into how designers and marketers are only too happy to arrange your senses for you in the interests of moving merchandise), but it above all concerns "getting the sensory balance right." Rebalancing the senses and diverse sensations relative to each other is vital to our cognitive, emotional and social well-being, so do get hacking by reading this book from the finest and most innovative multisensory (and intersensory) mind of our times

David Howes, author of The Sensory Studies Manifesto
Charles Spence draws on his wealth of experience to provide insights into how our senses are interwoven in every aspect of our lives. Spence shows how sensehacking - which he defines as 'using the power of the senses, and sensory stimulation, to help improve our social, cognitive and emotional well-being' - is all around us. In addition to practical suggestions for enriching our own lives, Sensehacking provides unsettling insights into how commercial interests are manipulating our perceptions and behaviour. This book will shed light on much that goes unnoticed, and is especially timely in these pandemic times.

Roger Kneebone, author of Expert
Talks total sense, lots of fun facts, right up there with the best of the best

Chris Evans
Exceedingly appealing . . . promises to make us feel happier, relaxed, more focused and productive, and improve sleep and perception

Emma Firth, Vogue
Spence does for the senses what Marie Kondo does for homes

Avery Gilbert, author of What the Nose Knows