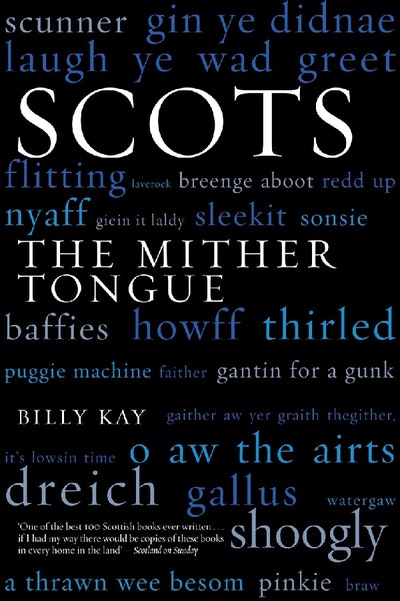 Published:

15 March 2006

ISBN:

9781845960520

Imprint:

Mainstream Publishing

Format:

Trade Paperback

Pages:

224

RRP:

$19.99
Scots
The Mither Tongue
---
---
'One of the best 100 Scottish books ever written . . . if I had my way there would be copies of these books in every home in the land' - Alan Taylor, Editor of Sunday Herald
Scots: The Mither Tongue is a classic of contemporary Scottish culture and essential reading for those who care about their country's identity in the twenty-first century. It is a passionately written history of how the Scots have come to speak the way they do and has acted as a catalyst for radical changes in attitude towards the language.
In this completely revised edition, Kay vigorously renews the social, cultural and political debate on Scotland's linguistic future, and argues convincingly for the necessity to retain and extend Scots if the nation is to hold on to its intrinsic values. Kay places Scots in an international context, comparing and contrasting it with other lesser-used European languages, while at home questioning the Scottish Executive's desire to pay anything more than lip service to this crucial part of our national identity.
Language is central to people's existence, and this vivid account celebrates the survival of Scots in its various dialects, its literature and song. The mither tongue is a national treasure that thrives in many parts of the country and underpins the speech of everyone who calls themselves a Scot.
Published:

15 March 2006

ISBN:

9781845960520

Imprint:

Mainstream Publishing

Format:

Trade Paperback

Pages:

224

RRP:

$19.99
The Scots tongue, like most of the world's minority languages, is under pressure and Billy Kay in this excellent and cogent survey draws together the strands of our concern

Daily Express
Kay is the best writer on his own language I have read since Burchfield on English; his book should be put in schools, for it is capably seditious

The Herald
Moving, delightful, even inspiring

Edinburgh Review
It is not the kind of dry academic tome so cherished by linguistic nitpickers, but a bright, radical examination of the language which is at the heart of our existence

Aberdeen Press and Journal
A fresh and invigorating overview of a fascinating subject

Stirling Observer