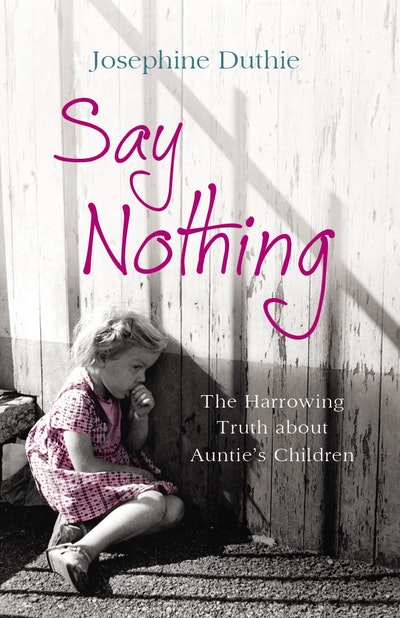 Published:

15 February 2012

ISBN:

9781780575193

Imprint:

Mainstream Publishing

Format:

Paperback

Pages:

320

RRP:

$26.99
Say Nothing
The Harrowing Truth About Auntie's Children
---
---
A true account of four children aged three to eight and traumatic mistreatment endured by them over a ten-year period (1956-1966)
Four neglected children uprooted from their Glasgow home and sent to a small croft in the North-east of Scotland became trapped in a bygone era with an old woman devoid of any emotion, compassion or understanding.
For ten years, they endured daily beatings, a tiraid of physical and mental abuse, and dealt with every aspect of mistreatment at the hands of an inexperienced foster mother. Even in this pathetic environment, a sense of humour emerged as a form of relief in an attempt to ease their nightmare lives.
The responsibilty for the running of the croft and the care of the animals became a burden that dictated the level of punishment prescribed by their guardian. The lack of nourishmnet and affection, disturbed every minute of their day. They ate cat food and hugged any animal that would let them.The friendship and loyalty of a collie dog, who cried and whined with them when they were locked in a shed and lay in the fields with them when they were hiding from 'Auntie'.
Their cries for help were ignored and misunderstood in the naive social climate of the late 1950's, and the story shows the subsequent effect this maltreatment had on their inability to adjust to a normal adult life.
Coxton is a true story that was written as a voice of support for all abused children who were afraid, or never had the chance, to tell their story.
Published:

15 February 2012

ISBN:

9781780575193

Imprint:

Mainstream Publishing

Format:

Paperback

Pages:

320

RRP:

$26.99
A voice of support for all abused children who were afraid or never had the chance to tell their story

The Scots Magazine